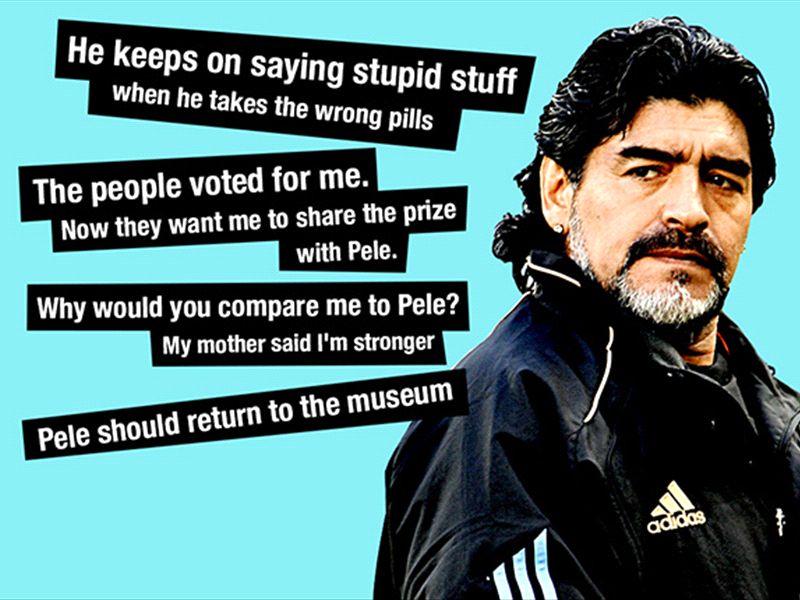 By Carlo Garganese
There have been a number of great personal rivalries in football over the years - Carlos Bilardo vs Cesar Luis Menotti, Samuel Eto'o vs Roger Milla, Luciano Moggi vs Massimo Moratti - but none quite as poisonous as the feud between Diego Maradona and Pele.
Often described as the two best players of all time, the South Americans have been at each other's throats constantly over the past two decades.
Many of the more head-turning one-liners have been delivered by Maradona, and the Argentine has hit the news again after he laughed off the significance of the Brazilian being awarded a lifetime Ballon d'Or for his services to football.
Goal picks out some of Maradona's most memorable and controversial verbal attacks on his bitter rival.
"The people voted for me. Now they want me to share the prize with Pele. I'm not going to share the prize with anybody"

Maradona's reaction in 2000 when Fifa asked him to share their Player of the Century prize with Pele, despite the Argentine winning the public vote by a landslide margin.

"Pele should return to the museum"
After the Brazilian defended the use of the much-maligned Jabulani football at the 2010 World Cup, Maradona snipes that his foe is better suited to being a silent artefact than a talking head.

"He took the wrong pill. Instead of taking the pill for before bedtime, he took his morning pill. He got confused. I suggest that next time he takes the right medication and that he changes his doctor"
Maradona advises that his foe reviews the medicine he is taking after he claimed that Neymar was a better player than Lionel Messi.

"Why would you compare me to Pele? My mother said I'm stronger and that he played with players who couldn't even move"
Pele's opponents during the fifties and sixties weren't the most athletic of specimens, according to El Pibe.

"While presenting this year's Ballon d'Or to Cristiano Ronaldo, Pele uttered his name as 'Cristiano Leonardo'. This just shows where he belongs"
In the museum, Diego? Maradona reacts to Pele mispronouncing Cristiano Ronaldo's name at the 2014 Ballon d'Or ceremony in Zurich.

"My God, that is just stupid. Maybe Neymar is the best player in the world, but only if you say that Messi is from a different planet"
Maradona is still unimpressed by Pele's opinion that Neymar is the best player in the world.

"I don't like comparisons with Pele because of the stupid things he says. He keeps on saying stupid stuff when he takes the wrong pills"
As of 2013, Pele had still yet to get his medication right.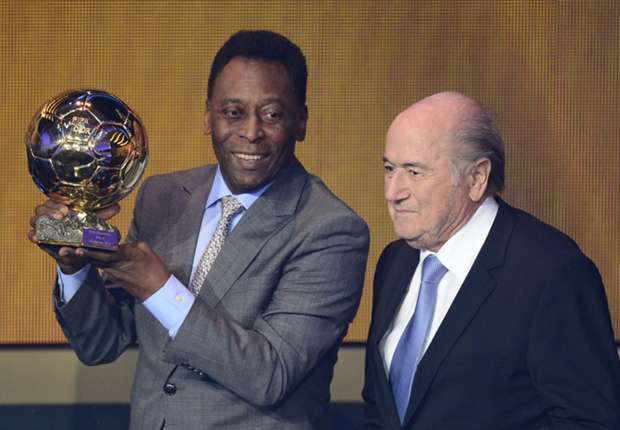 Establishment man |
Maradona has accused Pele of cosying up with politicians
"The good thing when we talk about Messi and me is that there is a coloured man at Fifa who isn't happy that we are being discussed."
Maradona suggests that Pele becomes jealous when critics discuss who is the best Argentine of all time.

"This is maybe due to old age affecting his thought processes. You can't blame the guy, he hasn't been doing anything for the past 20 years. I haven't even seen him in a supermarket. I don't know what he does"
Maybe Pele was in the museum? Maradona reacts in 2012 to the Brazilian's assertion that Messi will never be as good as him.

"Usually, when you see him these days, it's only at award ceremonies next to the president of Fifa and looking like a doll that's being moved by remote control"
Maradona accuses Pele of being a puppet of Fifa president Sepp Blatter.

"When the tragedy happened to the Togolese team, a certain coloured gentleman who played No.10 didn't believe that the World Cup could be played here. But today South Africa answers him 'yes it can', the World Cup begins"
Maradona slams Pele after the Brazilian doubted Africa's ability to stage the 2010 World Cup.

"What do you want me to say? He debuted with a lad"
Maradona's most controversial quote about Pele in 2009. Diego jokingly responds to Pele's criticism that he is a bad role model to children because of his history of drugs abuse by bringing up old claims - repeatedly denied by the Brazilian - that he had a relationship with a man when he was a teenager.

"The biggest and main difference between Pele and Maradona is I have the respect of all footballers, which Pele does not have. Pele is a friend of those who manage football. I am not friends with them. I am with the players"
Maradona accuses Pele of being part of the establishment, while he is a man of the people.

"In 2000 I won the Player of the Century award thanks to the people. Pele was second. He also came second behind Aryton Senna as Brazil's greatest sportsman. The award that Fifa gave Pele isn't worth sh*t"
Dieguito claims that Pele isn't even loved in Brazil and reminds everyone that the Player of the Century prize that Fifa created for the Brazilian has no credibility.

Follow Carlo Garganese on