SPECIAL REPORT
By Ben Hayward | Spanish Football Writer
It has been described as the least transparent transfer in the history of football. Neymar's sensational move from Santos to Barcelona remains, some seven months later, about as clear as mud.
How much did he cost? Who got what? Where did the money go? Were there additional payments? The official figure released by Barcelona is €57 million, yet Santos say they only received €17.1m, third-party owners are annoyed by feeling short-changed and then there's an unusual first-option payment for three of the Brazilian side's youngsters, plus a couple of friendly fixtures between the two teams thrown in for good measure.
Deals involving South American sides and third-party ownership are always complicated. Nothing new there; even going back to the days of Diego Maradona, such deals took time, intense negotiations and plenty of patience as the money is dished out to all of the parties involved.
The real cost of this transfer, including the three Santos starlets who will probably never end up at the Catalan club (Victor Andrade, Gabriel Barbosa and Giva), plus the two friendly fixtures, means the total transfer fee alone for the Neymar deal could stand at around €69.5m, not €57m.
REAL MADRID ALSO 'PAID' FOR NEYMAR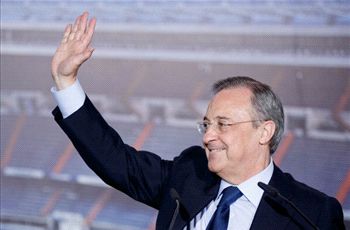 Real Madrid made Neymar their No.1 target in 2011 but missed out on the deal and ended up paying a world-record fee for Gareth Bale.

Red tape ruled out a deal for the 13-year-old Neymar in 2005 as part of the move which brought Robinho to Madrid from Santos. Neymar, back then, travelled to Spain and was even registered as a Madrid player for a short time.

Club president Florentino Perez (above) kept in touch and later paid money to Neymar's agent, Wagner Ribeiro, in order to ensure his club would have first option on the forward. Ribeiro was keen to push through a deal in 2011, as were Santos, but Perez upset Neymar on two conference calls, when he told the player he would need to start off in Madrid's youth team and earn his place. Real, he said, were the world's greatest club and he wouldn't be able to walk into the team.

By this time, Neymar was already a superstar in Brazil and this stance is said to have let in Barcelona, with Sandro Rosell, their president, saying all the right things to win over the youngster and his father.

Madrid also paid for Neymar to undergo a medical in Brazil in 2011, but the player was by now keen on Barcelona. From the age of around 17, he was set on joining the Catalan club and longed to play alongside Lionel Messi.

Real remained interested right until the end and offered more money than Barca, with Perez prepared to pay virtually whatever it took to get his man.

Santos told Neymar they would rather he joined Madrid, but the forward's mind was made up even though the player's father kept Real in the loop.

With his son in such high demand from two of the world's biggest clubs (and eternal enemies), Neymar Sr could virtually name his price.

Though entering the final year of his contract, the sum officially received by Santos seems surprisingly low for a player who has been described, after Pele, as the finest footballer to grace the Brazilian club. It is worth remembering that Santos closed down their futsal and female football teams just to pay out a lucrative new contract and keep Neymar in a controversial deal back in 2011.
Meanwhile, supermarket chain DIS - who paid €2.8m for 40 per cent of Neymar's rights some years ago - want to know what they are owed. According to Santos, the fee was €17.1m (meaning DIS take €6.84m), but Barca's claim that the deal cost €57m means the supermarket chain would be entitled to €22.8m and even €27.8m if the three young players and two friendlies are included (which, of course, they weren't - not officially anyway).
A source close to the deal in Brazil claims Santos and Barca agreed an unusual structure for the cash to be paid. "Santos believe they are owed money by DIS (something DIS are thought to dispute) and the relationship is anything but good. They decided, along with Barcelona, for the money to be paid in different concepts and therefore reduced the amount owed to DIS."
That explains how Santos may have recouped extra funds from the deal, but still leaves the question of the remaining €40m. DIS received none of that, either, with just a quarter of it accounted for by Barca. The club revealed paying an initial €10m payment to Neymar's father in 2012 to ensure the player would ultimately choose the Catalans and not rivals Real Madrid. That figure appeared in Barca's accounts for last year and was confirmed by vice-president Josep Maria Bartomeu on the day of Neymar's unveiling at Camp Nou back in June. "Negotiations with Santos began back in 2011," he said. "And that's why there is, in last year's budget, a payment of €10m, as a contingency fund."
Santos claim Neymar's father did not take that €10m, yet the club cannot explain where the money did go.
But what about the other €30m? That money was never seen by Santos, nor DIS. "We saw on the television that Barca said the deal was €57m but here [in Brazil], Santos speak of €17m. We feel cheated," said DIS CEO Roberto Moreno in a radio interview in the summer.
DIS is also unhappy about the €10m down-payment made by the Catalan club. "Barca admitted making a previous payment of €10m when Neymar was at Santos," Moreno added. "And that, in Fifa regulations, is seen as a serious infringement when a player is under contract with another club."
The other key claim is that Neymar's father - and his company N&N - may have pocketed the entire €40m. "We paid €17.5m (sic) to Santos and €40m to an association who owned the rights to Neymar," Barca president Sandro Rosell said last week, but the Catalans' chief refused to elaborate on those figures.
Rosell has been reported by Barca
socio
Jordi Cases for "inappropriate use" of club funds. Cases, who had hoped to go ahead with a censure motion against Rosell but was forced to scrap that plan due to the difficulty of finding sufficient support from fellow
socios
, says he and others have a right to know how that money was spent. "I would say that in no circumstances should such an important payment as €40m be concealed. As a
socio
and co-owner of our beloved club, I should have the right to know under which concept those €40m were paid out."
Cases, like many others, also believes the €40m may have been paid to Neymar and his father in the form of a signing-on fee or as wages not included in the official figures. And if that were the case, Barcelona could be liable to pay tax on those funds, propelling the total cost of the transfer fee to in excess of €100m. "If that €40m was a hidden salary for the player, those monies should have been declared to Hacienda [the Spanish tax office]," he said. "And that would have taken the cost of the signing to over €100m."
Including Neymar's (official) wages over five years, plus the fee, the total outlay stands at €124m by Barcelona as it is. Seven months after the deal was closed, however, it remains unclear just where a lot of that money ended up - and whether the Catalan club should in fact have paid more for their brilliant Brazilian in the form of taxes. Just like the forward bamboozles defenders in La Liga, the riddle of his transfer is proving similarly enigmatic.
Follow Ben Hayward on

THE GOAL TRANSFER LIST 2013