COMMENT
By
Wayne Veysey
at Old Trafford
The delirious Everton fans made no attempt to curb the ordeal of the man they once worshipped.
ROCKIN' ROMELU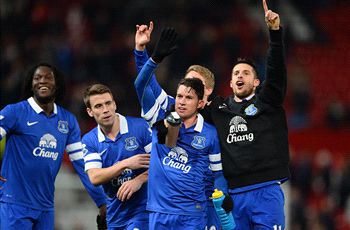 LUKAKU RATING VS MAN UNITED






A towering display from the dreadlocked one. Tore Vidic a good'un with his pace and power, held the ball up well and set up the game's only goal with the cross to Oviedo.
FROM OUR LIVE! COMMENTARY


EVERTON TAKE THE LEAD! Moments after Mirallas' free kick crashes against the post, Bryan Oviedo wheels away to celebrate in front of the travelling fans as he drills a shot into the far corner after connecting with Lukaku's low deflected cross. Everton are set for their first win at Old Trafford in 21 years, sensational!
Chants of 'Are you watching David Moyes?' and 'You're getting sacked in the morning' emanated from the away end within minutes of Bryan Oviedo's historic late winner at Old Trafford.
This was a ghastly evening for the Manchester United boss. It would be unfair to castigate his team for being a long way below par. United hit the woodwork twice and forced Tim Howard into some fine, athletic saves during their spells of dominance.
But the manner in which Moyes' former side out-manoeuvred his new one with their ambition and intensity is every bit as worrying as the trio of September league defeats to Liverpool, Manchester City and West Brom.
"It doesn't hurt more," the Scot said afterwards, when asked about losing to Everton. "I know they're a good team."
Indeed they are. Moyes has enough on his plate without thinking unduly about his former side but the evidence is growing that he is not being missed at Goodison Park. Roberto Martinez appears to have kept the good bits of Moyes' team - the steel, eager commitment and counterattacking excellence - and sprinkled them with added flair and tactical virtuosity.
United fans will remember only too well that Moyes played a major role in preventing their team marching off with the 2011-12 Premier League crown, when Everton staged a famous comeback to draw 4-4 at Old Trafford.
But, even the man regarded as a miracle worker during his decade on Merseyside did not leave the club with a victory at Britain's biggest club on his CV.
Martinez's impressive start to his Everton tenure entered exciting new territory with this headline-grabbing result, which even a mono-syllabic Moyes in his post-match press conference could not say was not fully deserved.
Outstanding blue-shirted players were peppered across the pitch. Phil Jageilka and Sylvain Distin were titans at the back, Gareth Barry screened the defence in exemplary fashion, while James McCarthy and Ross Barkley fused intensive closing-down with an imaginative use of the ball. Oviedo demonstrated why there will be life after Leighton Baines, and wingers Kevin Mirallas and Gerard Deulofeu showed they can be a handful for any Premier League defence.
Martinez's trump card, though, was a player who is his for this season only. Romelu Lukaku has added greater aggression and awareness to his game in his second consecutive campaign out on loan from Chelsea, and it is a testament to the 20-year-old's awesome physical weapons that he made a defender as battle-hardened as Nemanja Vidic look like a weakling on a few occasions on Wednesday night.
There is no better player in the league than Lukaku at holding the ball up and laying on passes to wide attackers bursting from deeper positions, but there is enough variety to Everton's attacks to make them formidable opponents.
Martinez's side played more enterprising football than United, even though the better chances fell to the home side.
Crucially, Everton were more than the sum of their parts – their greatest strength during the Moyes era – while the home side were barely the sum of theirs.
The league table makes depressing reading for Sir Alex Ferguson's chosen successor. United sit in ninth position on 22 points, 12 behind leaders Arsenal and five behind Everton in fifth.
On the one hand, this defeat was United's first in 13 games and came only a week after they were lauded for sweeping aside Bayer Leverkusen. On the other, it was their fourth league loss this season, continuing a patchy run in which they have collected just two points from their last three domestic fixtures.
It is too early to say with certainty that United will not compete for the league title this season. Their squad is too strong, particularly in attack, to merely battle with Liverpool, Tottenham and Everton for fourth place.
But Moyes has much work to do before he starts to be regarded by the Old Trafford faithful as the messiah he was once considered at Goodison Park.