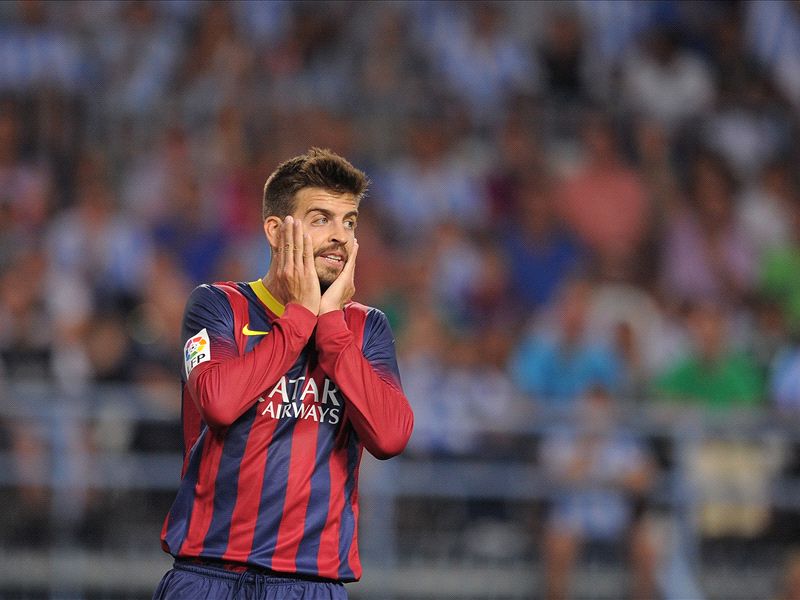 SPECIAL REPORT
By Ben Hayward | Spanish Football Writer
His decline is a cause for concern. Once considered one of the world's finest defenders and even earmarked as a future skipper at Camp Nou, Gerard Pique has looked clumsy and cumbersome in recent months - a shadow of the player he once was.
Pique's problems began in Pep Guardiola's final season at Barcelona. PG and GP enjoyed an excellent relationship initially, but the coach grew frustrated at his player's attitude towards training and conditioning. As the defender's relationship with Shakira grew, so too did his waistline: Pique fell in love with one of the world's most glamorous singers - and fell out of love with the beautiful game.
Guardiola tried everything to get Pique back on board, but was increasingly irked by the player's irresponsibility off the pitch: Gerard and Shakira posted pictures of them white-water rafting - an activity strictly forbidden in the player's contract at Camp Nou. That was in the summer of 2011, and during the winter break, the two shared some snaps of them jet-skiing in Miami. That, too, was supposed to be off-limits.
Pep, although a media-friendly coach, hoped his players would shun the spotlight and was concerned at Pique's priorities - especially as the defender was flouting the rules on his holidays. Gerard also incurred the wrath of his boss by leaving his car parked in a bus lane in central Barcelona with the door open ahead of a crucial Champions League trip to Bayer Leverkusen. On and off the pitch, he was becoming far too distracted.
It has since emerged that Guardiola hired private detectives to spy on the defender in a desperate attempt to learn the full extent of his off-field behaviour and, in that final season under Pep, Pique played just 22 times in La Liga and only five games in the Champions League.
The defender made more appearances under Tito Vilanova in 2012-13 and is a regular for Gerardo Martino this term too, but has been blighted by a series of muscle injuries in the last few seasons and looks to have entered a disturbing decline at the tender age of 26. Slow and ungainly, the centre-back is now prone to making many more mistakes than in the past and has the dubious honour of having scored past his own team in each of the last two Champions League campaigns following Wednesday's own goal in the 3-1 win over AC Milan.
RONALDO MAKES BALLON D'OR STATEMENT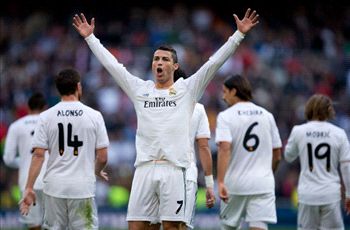 He said he didn't want to talk about it, but he didn't have to: the Ballon d'Or was on everyone's lips at the Santiago Bernabeu on Saturday.

Straight after beating Real Sociedad 5-1, Ronaldo said: "I demonstrate [my abilities] on the pitch."

He had done that on an eventful evening, which started with a fierce strike which rattled the crossbar (the sixth time he had hit the woodwork in La Liga this season) and then gave Madrid the lead with a well-worked team goal capped with a fine finish.

Then there was an assist for Karim Benzema to make it 2-0, later a penalty which he himself won and then converted, before his 20th free-kick goal for Real in the second half and a cross to Alvaro Morata for what should have been 6-1 but was woefully wasted by the youngster.

"Cristiano, Ballon d'Or!" the Bernabeu sang. Votes for the prestigious individual award close on November 15 and this was Ronaldo's last chance to impress. He did so emphatically.

The previous OG had come against Bayern Munich in the Catalans' 3-0 home defeat to the Bavarians in the semi-finals of last season's competition, when the defender sliced the ball into his own net in a botched attempt to clear his lines.
After that match and the 7-0 aggregate loss, Pique told reporters that things would need to be altered for Barca to challenge once more. "Changes are needed," he said. But boss Vilanova hit back with a threat: "Perhaps the player who spoke about changes didn't imagine that he could one of them ..."
It wasn't all Pique's fault. Barca were overrun in midfield and exposed down the flanks against Bayern, while the Spain stopper has not been helped by having to play with a number of different partners at centre-back, including Javier Mascherano (who is not a natural defender), Marc Bartra (still gaining experience at this level), Adriano (a left-back) and even Alex Song (a midfielder), nor by needing to cover for not one but two attacking full-backs in Dani Alves and Jordi Alba.
Alongside icon and club captain Carles Puyol, Pique produced his very best in Barca colours. With an experienced head to guide him, the former Manchester United man maintains his focus and stays switched on. "Often he'll be shouting 'Geri, Geri, Geri' and I'll turn around and say 'What?' And he will say 'Nothing - I just wanted to make sure you were concentrating,'" said Pique in 2011. It summed up the dynamic perfectly.
Puyol has also been known to furiously berate his team-mate after Barca have conceded a goal at 4-0 up - and it is that kind of commitment and concentration from which Pique benefited.
On the pitch, he had Puyol beside him with constant instructions. Off it, there was Pep to stay on top of the young defender.
However, with Puyol sidelined for much of 2011-12 and Shakira's influence now more prominent than that of Pep, Pique's lifestyle became an issue.
"Pique is a player who needs to be pushed and without such a coach, he can become somewhat complacent," a source close to the Catalan club told
Goal
.
"There was a point when he seemed more interested in his celebrity life off the pitch and that is when his performances dipped. He put on weight and lost some of his pace, while he was also injured increasingly. Perhaps he lost some of his hunger as well, having won everything at such a young age."
Guardiola, in fact, had considered selling Pique prior to his decision to leave in 2012, but the defender remains a key part of the club's plans these days.
"The defence has had some problems, but Martino is happy with Pique's contribution," the source added. "It's a long season and he is still working towards optimum fitness."
And at the end of the season, Spain defend their World Cup crown claimed in 2010 - with Pique a part of that team alongside Puyol in South Africa and likely to feature alongside Real Madrid's Sergio Ramos (his partner at Euro 2012) in Brazil.
"Pique is one of Spain's best players, but he has had to play a huge amount of games over the last couple of years," former
Los Blancos
defender Alvaro Mejia told
Goal
. "That is perhaps why he has struggled physically, but I am sure he will be in his best shape by the time the World Cup comes around."
Barcelona fans, however, will hope he finds form much sooner than that.
Follow Ben Hayward on