COMMENT
By Carlo Garganese

From the moment Gianluigi Buffon took to a professional pitch for the first time in a baptism of fire against Fabio Capello's all-conquering AC Milan on November 19, 1995, it was clear that a new phenomenon had been born. At just 17 years of age, Buffon earned Parma a goalless draw with world-class saves from Ballon d'Or winners Roberto Baggio and George Weah, as well as an even better stop from fellow striker Marco Simone.
Still a teenager, Buffon's stardom was confirmed two years later on his international debut. The Azzurri were contesting a crucial World Cup 1998 first leg play-off in Russia and the omens were not good. Hosted in the freezing Moscow winter, the pitch was covered in snow and mist, and the teams even used an orange ball so appalling were the conditions.
In the 32nd minute, goalkeeper Gianluca Pagliuca was forced off injured. As regular No.1 Angelo Peruzzi was also unavailable, a lean and lanky 19-year-old stepped into the snow for his Italy bow. Most Italians feared the worst. Everything pointed to a home victory: the weather, the Azzurri's miserable record in Russia and, most importantly, the presence of a rookie goalkeeper.
ITALY'S 10 MOST CAPPED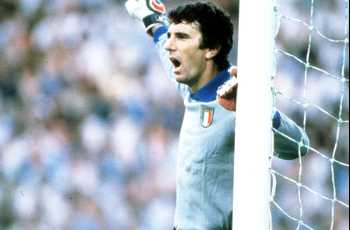 | | | |
| --- | --- | --- |
| NO. | PLAYER | CAPS |
| 1 | Gianluigi Buffon | 137 |
| 2 | Fabio Cannavaro | 136 |
| 3 | Paolo Maldini | 126 |
| 4 | Dino Zoff (above) | 112 |
| 5 | Andrea Pirlo | 104 |
| 6 | Gianluca Zambrotta | 98 |
| 7 | Giacino Facchetti | 94 |
| 8 | Daniele De Rossi | 93 |
| 9 | Alessandro Del Piero | 91 |
| 10 | F.Baresi, G.Bergomi, M.Tardelli | 81 |
Yet Buffon proved to be the saviour and sold himself to the watching world with a string of stunning saves. For someone so young, his personality and confidence shone through as Italy miraculously escaped with a 1-1 draw. Cesare Maldini's men won the return leg in Naples 1-0 and qualified for France '98.
Fast forward another 16 years and Buffon is still going strong, having long since established himself as an unequivocal legend of the sport. A key component in Italy's 2006 World Cup success – where he conceded just two goals in seven games, an own goal and penalty - the 35-year-old has won a hoard of individual and team honours, including six Scudetti and nine Serie A Goalkeeper of the Year awards.

When it comes to positioning, decision-making, aerial ability and organising a defence, Buffon is the greatest there has ever been in his role. The best goalkeepers are usually those who don't need to make saves because they prevent them from being created, not those who are forced into dramatic highlight-reel stops because they are slow off their line or can't arrange a wall competently.

Friday's appearance against Denmark in Copenhagen was Buffon's 137th for Italy, overtaking former team-mate Fabio Cannavaro as the most capped player in his country's history. The World Cup final acrobatics against Zinedine Zidane, the European Championship penalty stops from Adrian Mutu and Ashley Cole, the miracle scooped saves versus Bulgaria and Georgia – the magical Azzurri moments for Buffon are never-ending.

And though his reflexes and reactions may not be what they once were, and more Bayern Munich-like errors are creeping into his game, Buffon is still one of the world's premier shot-stoppers.

In terms of longevity, there has never been a goalkeeper who has been consistently brilliant for so many years. Buffon is set to play in his fifth World Cup next summer. Only two players have ever managed such a feat – Mexico glovesman Antonio Carbajal between 1950 and 1966, and Germany legend Lothar Matthaus from 1982 to 1998.

And don't rule out Buffon from ending his career with a sixth World Cup in 2018 (fittingly in Russia) when he will be 40 – the same age that Dino Zoff was when he captained Italy to glory in 1982.

Together with Lev Yashin and Gordon Banks, for many years Zoff was widely regarded as one of the best three goalkeepers of all time. By the time Buffon hangs up his gloves, he may have overtaken them all.