COMMENT
By Carlo Garganese
It is not often you lose a first-choice midfielder to injury after 20 minutes and are actually strengthened by the enforced substitution.
But that is exactly what happened to Juventus at the Stadio Olimpico during Sunday's Supercoppa Italiana against Lazio, as Claudio Marchisio hobbled off with a knee complaint and was replaced by French wonderkid Paul Pogba.
While Juve laboured in the opening exchanges, it took just three minutes for the ex-Manchester United man to make an impact as he swivelled brilliantly in the area to break the deadlock with a left-footed snapshot past Federico Marchetti.
Juventus reigned supreme thereafter to crush the Romans 4-0 in the Eternal City and claim the first piece of silverware of the new Italian season. Along with flying wing-back Stephan Lichtsteiner, the long-legged Pogba was the outstanding player on the pitch – powerfully dominating the midfield and setting up new signing Carlos Tevez for his first official Juve goal.
With Marchisio having since been ruled out for 30-35 days with a first to second degree tear of his medial collateral ligament, Pogba will now start Saturday's Serie A opener in Genoa against Sampdoria alongside Andrea Pirlo and Arturo Vidal.
Just like on Sunday, Marchisio's injury could prove to be a blessing in disguise for Juve (and a devastating blow for the Italian). And not just in the short-term.
At just 20 years old, Pogba is already arguably superior to the Euro 2012 runner-up. Physically, mentally, technically – he possesses all the credentials to develop into the most complete midfielder in the world. Hence why former manager Sir Alex Ferguson - never fazed at having to supplant top class stars such as Jaap Stam, Ruud van Nistelrooy and David Beckham – was so enraged at losing the youngster on a Bosman a year ago.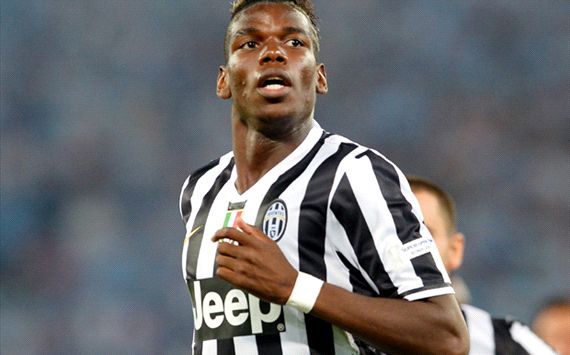 Top Pog | Marchisio could be second-choice to Pogba by time he returns from injury
Coach Antonio Conte acknowledged towards the end of last season's successful Scudetto defence that Pogba was too good to be a deputy. The problem was that his MVP midfield trio of Marchisio, Vidal and Pirlo was untouchable. Pirlo was the best creator on the peninsula, Vidal the number one ball-winner in Europe and Marchisio the silent complement to the world class duo.
Conte attempted to shoehorn them all into the same line-up by tweaking his formation from a 3-5-2 to a 3-5-1-1, with Pogba taking Marchisio's place and the Italian pushing into the 'hole', but the experiment failed. Marchisio lacks the guile and fantasy to interpret such a role, meaning that only three of the four midfielders can play at one time.
Despite being strongly linked with a transfer throughout the summer – particularly to big-spending Monaco – Marchisio remained. But his position within the club and the first team had been significantly weakened due to a lack of public support from his employers during the 'silly season'. Not to mention some anonymous performances for club and country at the tail end of 2012-13, including at the Confederations Cup.
The feeling is that Conte recognises that Pogba is already a superior option to the 27-year-old but that he has to play the situation smartly from a political sense.
Il Principino
(Little Prince) is hugely popular among the Juventus fanbase; born in Turin, a graduate of the youth system – he bleeds black and white and is regarded as a future captain of the club.
Now Conte's hand has been forced by Marchisio's injury. Should Pogba excel, as expected, then the ex-Siena boss will have no choice but to retain the Under-20 world champion in his starting XI
(unless, of course, pigs fly and Arsenal sign Pogba this summer)
. While Juventus' assault on three fronts - plus Pirlo's advancing years - mean that Marchisio would still enjoy plenty of game time, he would be officially behind Pogba in the pecking order.
And with Marchisio turning 28 in January and entering the peak years of his career, his future in Turin will undoubtedly be brought into question once again.
Follow Carlo Garganese on