By Graham Lister
Bert Trautmann, who has died at his home near Valencia aged 89 on Friday, is a Manchester City goalkeeping legend who earned a special place in the hearts of English football fans.
Former member of the Luftwaffe, ex-paratrooper and prisoner of war, he overcame initial anti-German prejudice in post-war Britain through his skill and courage, becoming the first goalkeeper and first foreigner to be voted Footballer of the Year.
He earned that honour in 1956 - two days before playing the last 17 minutes of the FA Cup final with a broken neck, collecting a winners' medal and entering footballing folklore.
Trautmann sustained the injury diving head-first at the feet of Birmingham's Peter Murphy, who had looked certain to score with Manchester City leading 3-1. Trautmann bravely dashed from his goal to dispossess
Murphy, literally putting his neck on the line as he collided with the striker's knee.
In an era before hi-tech on-pitch medical treatment, Trautmann was revived with smelling salts and the 'magic sponge', staggering around his goal area in obvious pain before again hurling himself at an onrushing forward's boots, one of a string of vital saves he pulled off before the final whistle. He then struggled up Wembley's steps to receive his medal from the Queen, who inquired with concern about his injury.
He even attended City's post-match victory dinner at the Cafe Royal thinking he'd merely exacerbated a previous muscle strain. Several painful days later an x-ray revealed five dislocated vertebrae in his neck; his second vertebra was broken in two but had jammed against the third, holding the pieces in place and saving Bert's life.
The blond giant required an operation that necessitated drilling into his skull, sidelining him for seven months. But he made a full recovery and confirmed his status as one of British football's best-loved personalities.
Bernhard Carl Trautmann was born on October 22, 1923, in Bremen. Adept at several sports including football in his youth, he was an apprentice motor mechanic at the outbreak of the Second World War, but joined the Luftwaffe in 1941 before becoming a paratrooper and being sent to the Eastern Front, where he won five medals including the Iron Cross.
Transferred to the Western Front, Trautmann - who had earlier been captured by, and escaped from, the Russian army and French resistance - was taken by the British and sent to a prisoner-of-war camp in Lancashire, one of only 90 of his original 1,000-man regiment to survive the conflict. At the camp he played football, switching from centre-half to goalkeeper during one game due to injury and remaining in goal thereafter.
Becoming known as "Bert" because the locals struggled to pronounce "Bernd", he declined an offer of repatriation following his release in 1948, settling instead in Lancashire to combine farm labouring and bomb disposal work in Liverpool with keeping goal for St Helens Town. With a growing reputation as an outstanding goalkeeper, he met and married the club secretary's daughter, and attracted the interest of several Football League teams.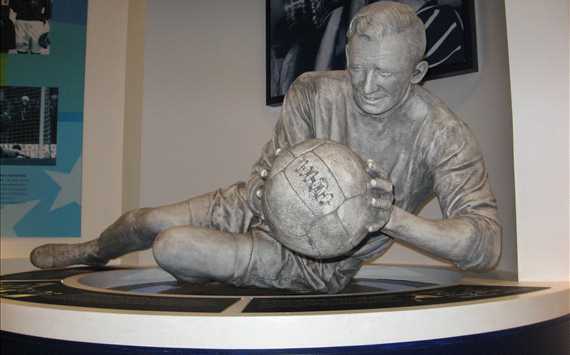 HONOURED | Trautmann was awarded an OBE in 2004 and inducted into English football's Hall of Fame in 2005
Manchester City, whose legendary keeper Frank Swift had recently retired, offered Bert a contract in October 1949, though some City fans were opposed to a former member of the Luftwaffe being in the team. Protests were mounted and boycotts threatened, with 20,000 people attending one demonstration.
However, his performances on the pitch earned him gradual acceptance, and he missed just five of the
club's next 250 matches.
After continuing to receive abuse from opposition fans, a turning point came on Trautmann's first game for City in London, against Fulham in 1950, when his defiant display earned him a standing ovation from both sets of players and supporters. He became a popular character at most grounds, frequently applauded by - and thanking - the crowd behind the goal when he took up his position.
Following relegation and immediate promotion back to the top flight, City reached successive FA Cup finals, losing to Newcastle in 1955 before returning to Wembley 12 months later to beat Birmingham in the match that earned Trautmann global acclaim and defined his career. Overall he made 545 appearances for City between 1949 and his testimonial in 1964, aged 40, which attracted an attendance of nearly 50,000.
Agile and a renowned shot-stopper with sharp reflexes, he saved some 60 per cent of the penalties he faced during his career, and also excelled at throwing the ball out to team-mates to launch attacks – a legacy from his days as a skilled handball player. His trademark, though, was his fearless diving at forwards' feet, a trait that later goalkeepers such as Bob Wilson emulated, the Arsenal man citing Trautmann as his hero.
After ending his playing career he had spells in management with lower league teams in England and Germany before becoming a development worker with the German Football Association, who sent him on coaching assignments to Burma, Tanzania, Liberia, Pakistan and Yemen until 1988, when he retired and settled in Spain.
In November 1995, Trautmann returned to City's Maine Road ground to open the rebuilt Kippax Stand (since demolished along with the stadium), and in 2004 was appointed an honorary OBE in recognition of his efforts to promote Anglo-German understanding through football. The following year he was inducted into English soccer's Hall of Fame at the National Football Museum.
He continued to follow his old team and visited Manchester to watch them play, saying in 2010: "I watch all City's games on TV, they're still my club. I love England too and still shout for them - even if they're playing Germany!"
Sadly, West Germany's policy of selecting only home-based players denied one of their best ever goalkeepers any caps; at the 1954 World Cup he translated for the German squad rather than kept goal for them.
Tellingly, however, iconic Russian keeper Lev Yashin said of Trautmann when asked to name the greatest goalkeeper ever: "There have only been two world-class goalkeepers. One was Lev Yashin, the other was the German boy who played in Manchester: Trautmann."