COMMENT
By Andrew Wychrij
A little over two years ago it would have been inconceivable to many that Samuel Eto'o would swap one of Europe's most iconic clubs for a little-known team from Dagestan.
However, billionaire Suleyman Kerimov's acquisition of Anzhi Makhachkala in January 2011 has made attracting marquee signings to the club very much the norm, though not without significant investment on his part.
The deal that brought Eto'o from Inter landed the
Nerazzurri
a €28 million transfer fee and earned the striker a contract worth €20 million a year after tax - the most lucrative in world football.
Despite that, reports emerged a couple of weeks ago that Eto'o's representatives had met Besiktas presidential candidate Serdal Adali over a move to Istanbul. The transfer appears unlikely after Adali's failed campaign but it does pose the question whether the Turkish entrepreneur could even have come close to matching the forward's incredible salary - in comparison, Real Madrid's Cristiano Ronaldo earns €13 million a year (before tax).
ETO'O IMPACT IN 2012-13


GAMES PLAYED
GOALS SCORED
GAMES WON WITH ETO'O PLAYING
WIN % WITH ETO'O PLAYING

45
21
25
55.5%

It is difficult to believe that Eto'o could receive so much at Besiktas, but does he even deserve his wages at Anzhi? After all, it is not as if the Russians have hit the lofty heights they might have hoped by now.
"We are striving to be like Barcelona, they are the inspiration," Eto'o remarked shortly after his move in 2011.
"The goal at Anzhi is to achieve something from a region that has not been explored and to bring this team, through a nice football philosophy, to a better standing in the world of football. And that is it."
High intentions indeed, but those goals certainly remain unrealised. A third-place finish in last season's Russian Premier League, meaning failure in the quest for Champions League qualification, and defeat on penalties in the Russian Cup final to CSKA Moscow hardly represents an exceptional return on Kerimov's sizeable outlay.
There is dissent amongst the Anzhi support too. A banner at the Russian Cup final mocked Guus Hiddink, depicting the coach tumbling down a flight of stairs accompanied by the headline "step by step" - the Dutchman's habitual response whenever questioned about his team's lack of achievement.
Though the club have fallen short of silverware again this season, their Premier League finish does represent the single greatest achievement in the club's history - and Eto'o played a decisive role in securing it.
The four-time African Player of the Year has fired in goals throughout his career and his time in Dagestan has been no exception. Anzhi's captain grabbed 21 in all competitions last campaign, with a smattering of world-class strikes amongst them. If there was any doubting Eto'o's ability, seeing him weave effortlessly past four AZ defenders before firing the ball across the keeper in a 5-0 Europa League play-off win is enough to prove that he remains a magical player.
Undoubtedly, if Anzhi are to mount a serious trophy-winning campaign next season the Cameroonian will be an essential cog - although, judging by the dip in form that followed Christopher Samba's exit from the club in January, a centre-half may be a necessary signing this summer.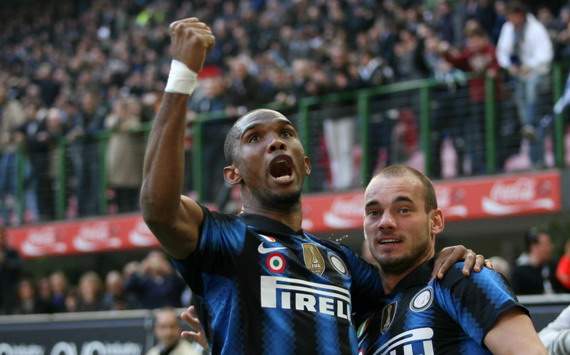 Heyday | Eto'o has four Champions League titles to his name - most recently at Inter in 2010


However, despite the accolades Eto'o and his teammates might enjoy amid criticism of under-delivering, the real failure of the striker's move to the Makhachkala-based club is not so much what has happened on the pitch as what is happening off it.
Kerimov's riches had been hyped as being set to help transform Dagestan, providing much-needed employment to an impoverished region and revamping the reputation of a part of Russia characterised by violence and terrorism. On both counts, the Anzhi project has succeeded partially at best.
Mere hours before Eto'o was sealing third place in a 2-1 win over Lokomotiv Moscow in the penultimate game of the season, two car bombs killed three and wounded dozens in Makhachkala - a terrifying reminder of the insurgency rooted in two post-Soviet wars in neighbouring Chechnya. Anzhi have not altered that impression of Dagestan and are yet to make enough of an impact on the world stage to be the transformative symbol the region is yearning for.
Equally, there is an uncomfortable juxtaposition between the abject poverty of many Dagestanis and the lavish spending at Anzhi. For instance, Kerimov supposedly gave veteran defender Roberto Carlos a €1.8m Bugatti Veyron for his 38th birthday, a gesture that simply doesn't sit comfortably in a place where the average monthly wage is just €183. It's a sobering reminder that this is a club built on billionaire excess.
This stark contrast continues to define the Russian side as trophies and success continue to elude them. On this backdrop, it is hard to see how Eto'o could be considered to be value for money at Anzhi. He's a remarkable player, who continues to exude quality, but he evidently has not been able to deliver silverware single-handedly. Despite splashing out over €150m since 2011, there is far more required to turn Anzhi from uber-rich playboys into a footballing powerhouse.