COMMENT
By Ed Dove | Nigeria Expert
A goal down against Uruguay in their Confederations Cup clash,
Nigeria
needed a hero. Despite enjoying a period of dominance, the Super Eagles were unable to make the most of their chances and struggling to find cohesion among the strikers.
Step forward John Obi Mikel.
On 37 minutes the midfielder received the ball just outside the opposition box; he shimmied, shifted his weight to escape the prowling defender, and curled a delectable finish past Fernando Muslera. It was a sublime moment, and a delicious glimpse into the player Mikel might once have been.
The goal was reminiscent of Lionel Messi, a man with whom the Nigerian once shared a great deal in common.
Back in 2005, the two were the outstanding players in the Under-20 World Cup. Argentina beat Nigeria in the final, with Messi going on to pick up the Golden Shoe and the Golden Ball. Mikel, meanwhile, received the Silver Shoe - outshining nascent talents such as Cesc Fabregas and Sergio Aguero.
Back then, like the two aforementioned superstars, Mikel was an attacking talent. Though it might be quite hard to believe for anyone who has witnessed his occasionally ponderous Premier League performances, the teenage John Obi was a prodigal creative prospect, a genuine all-round midfield talent.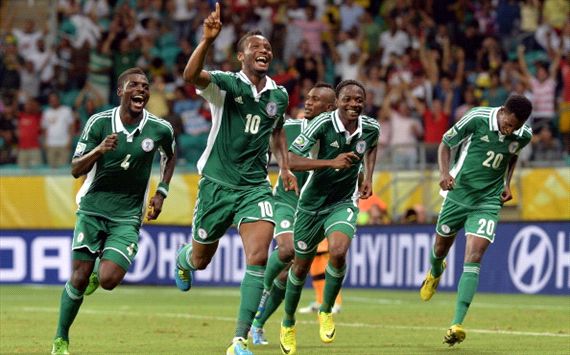 Super Eagle | Mikel has lived up to his potential more with Nigeria
As a youth international he displayed intelligent ball retention, forceful tackling and a certain guile, allowing him to spread play creatively and effectively. While it might seem fanciful to suggest as much today, Mikel was once seen by Nigerians as the eventual successor to Jay-Jay Okocha.
The reality is, however, that he fell away from his upward trajectory.
Ever since those heady days as a precocious youngster, Mikel was destined for a top European side. After a protracted transfer - via a curious press conference where he was unveiled as a Manchester United player - he arrived at Chelsea, where Jose Mourinho's spell of dominance was well under way.
Mindful, maybe, of the impending retirement of Claude Makelele, Chelsea's defensive linchpin; seduced, perhaps, by the stereotype that pervades of the physical West African defensive midfielder; aware, surely, of Frank Lampard and Michael Essien's attacking prowess; the manager opted to use Mikel in a withdrawn role in front of the defence.
Overcoming some early criticism, the Nigerian eventually began to demonstrate his worth to the team in this position. He won Chelsea's Young Player of the Year award in both 2007 and 2008 and started to utilise his terrific physical presence and aerial dominance to positive effect.
Despite this, and despite a string of trophy-laden seasons in West London, doubts remain as to whether Mourinho's remoulding of this prodigal attacking talent was the best way to profit from his raw natural ability.
As Mikel won Chelsea's Young Player of the Year in 2008, Messi was featuring in Uefa's team of the year, as Mikel lifted the FA Cup in the summer of 2009 - his second, Messi lifted the Champions League - his second.
Such comparisons deserve a context, certainly. As Xavi once memorably said "I don't ever want to compare Messi to anyone else – it just isn't fair. On them." However, it is hard to look beyond the reality that while the Argentine breaks every scoring record under the sun, Mikel is left pottering around in Chelsea's midfield.
| | |
| --- | --- |
| | JOHN OBI MIKEL | ALL-TIME CHELSEA STATS |

MORE ON
JOHN OBI MIKEL


| | | | | | |
| --- | --- | --- | --- | --- | --- |
| Season | Games | Goals | Assists | Booked | Sent off |
| 2006-2007 | 42 | 2 | 4 | 8 | 2 |
| 2007-2008 | 41 | 0 | 1 | 9 | 2 |
| 2008-2009 | 49 | 0 | 2 | 11 | 0 |
| 2009-2010 | 35 | 0 | 3 | 4 | 0 |
| 2010-2011 | 37 | 0 | 3 | 5 | 0 |
| 2011-2012 | 37 | 0 | 0 | 9 | 0 |
| 2012-2013 | 38 | 0 | 0 | 7 | 0 |
| Total | 279 | 2 | 13 | 53 | 4 |
Joe Cole offers another example of a player whose potential wasn't maximised by Mourinho. Like Mikel, the east London wonderkid had the verve and innovation all but coached out of his game by the Portuguese, so convinced by the power of systems and structures. The pair represent sublime talents who have fallen into the wrong hands, dexterous perhaps, but not able to make the most of their nascent flair and creativity.
Attacking midfielders with physical presence have been particularly fashionable in recent seasons, and had the Nigerian continued his trajectory, he would surely have been in good company alongside the likes of Yaya Toure and Marouane Fellaini.
While Mikel continues to have his critics at Stamford Bridge, he has all but won over the Super Eagles fans that have previously been unconvinced by his contribution.
He was the influential midfield general the side had long craved during their run to the African title, and against Uruguay he was at times imperious, navigating the midfield with a genuine majesty, and imbuing those around him with confidence and composure.
Mourinho's return to Stamford Bridge this summer provides us with a fascinating circular narrative.
Mikel's future in west London is uncertain, with Turkish champions Galatasaray heavily linked with his signature, and while tomorrow will doubtless bring its own speculation as clubs across Europe chase a competent, destructive midfielder, that subtle slalom through Uruguay's defence reminded the world of the man Mikel might have been.
Follow Ed Dove on