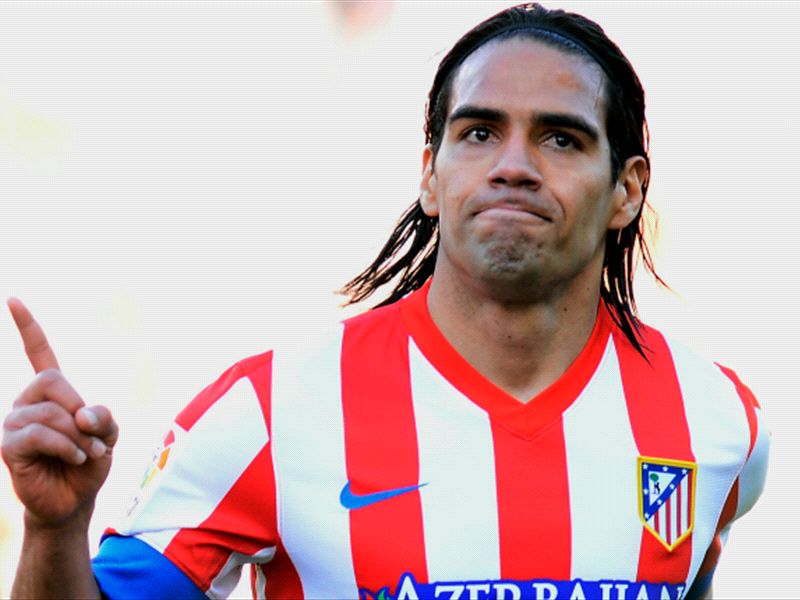 COMMENT
By Mark Doyle
Radamel Falcao
is arguably the third-best forward in the world, coveted by Europe's biggest clubs and at 27-years-old set to embark on the prime of his career. Yet he has now just joined the champions of Ligue 2. How could any true football fan be anything but bewildered by that last statement?
Of course, the former Atletico Madrid ace does not owe us neutrals anything. He has got where he is today all on his own; through a combination of exceptional talent and hard work. He deserves his success. He deserves his wealth (as much as any top footballer can truly 'deserve' the ridiculous riches bestowed upon him by the modern game).
FALCAO'S RECORD IN EUROPE


PORTO

GAMES PLAYED
GOALS SCORED
GOALS TO GAME RATIO

87
72
0.82


ATLETICO MADRID

GAMES PLAYED
GOALS SCORED
GOALS TO GAME RATIO

87
69
0.79

As Tottenham's refreshingly honest Benoit Assou-Ekotto likes to point out, injury can curtail a career at any moment, so the onus is on a rational-thinking professional to make as much money as possible while he can.
However, Falcao has already been handsomely rewarded for his ability to place a ball in the back of a net with great regularity, having been the subject of two multi-million euro transfer deals during an eight-year professional career that has taken him from Argentina to Spain via Portugal.
His next move was always guaranteed to be his most lucrative. Indeed,
Chelsea were willing to meet the Colombian's reported €60 million buy-out clause
in order to take him to Stamford Bridge on what would have been a very handsome wage.
Regardless of how the game views the Blues, and the way in which they have acquired their domestic and European success, one would have at least been able to accept Falcao at face value if upon signing for the Premier League outfit, he had claimed that he had joined Chelsea in order to realise his ambition of winning the Champions League. Given the Londoners lifted the trophy last year, we might very well have believed him when he said it wasn't about the money.
However, how else are we expected to react to the news that he is instead to move to Monaco than by presuming that Falcao is motivated solely by financial gain? Surely he won't have the audacity to claim that he has been lured to Monte Carlo by anything other than a near tax-exempt status that will enable him to earn a net salary of €14m-per-year? Surely he won't insult our intelligence by suggesting that he is driven by anything other than avarice? Surely he won't speak of 'new challenges' and 'exciting projects', as Samuel Eto'o did when he accepted a world-record wage to join Anzhi Makhachkala two years ago?
At least in Eto'o's case, he could hide behind the fact that he had won all there was to win in the club game. The Cameroonian arrived in Russia a three-time Champions League winner; Falcao is merely the 'King of the Europa League'.
THE VIEW FROM SPAIN

Falcao signed up with Portuguese super-agent Jorge Mendes in 2011 and that led many to believe he would be moving to Madrid. And he did - but to Atletico and not Real. The two teams have a non-aggression pact, a gentleman's agreement which means they cannot sign each other's players. That stopped Sergio Aguero from crossing the city divide and likely halted Falcao from moving to the white side of the capital divide, too - at least for now.

Mendes, whose Gestifute agency is rumoured to have put up half of the €40 million fee paid by Atletico to Porto in 2011, boasts a healthy relationship with Real as Jose Mourinho, Cristiano Ronaldo, Pepe, Ricardo Carvalho (now Monaco) and Angel Di Maria are all on his books. And it is being speculated in Spain that the Portuguese has inserted a clause into Falcao's Monaco contract which will allow him to move to los Blancos.

As a teenager, the Colombia striker revealed his dream to play for Real, a desire reiterated by his father last year. In the meantime, he will earn around €14 million tax free per year on the French Riviera. For a fourth season in a row, however, he will have no Champions League football.

- Ben Hayward | Spanish Football Expert
Yet by moving to Monaco that moniker could be as good as it gets for Falcao in terms of his legacy. Indeed, even if
les
Rouge et Blanc
do win
their battle with the French Football Association (FFA) over an extremely advantageous tax system
that will allow them to attract other money-motivated characters to Monte Carlo, it will be at least another year before Monaco are in the Champions League.
Even then, as we have seen with Paris Saint-Germain, it is likely that it will take the Dmitry Rybolovlev-owned outfit a couple of years to establish themselves among Europe's elite. By that stage, Falcao will be pushing 30 and what should have been the best years of his career will have passed, wasted while plying his trade away from a top club and outside of a truly top league.
In a sporting sense, that would be tragic. This is a player who almost single-handedly destroyed Chelsea in this season's Super Cup final with a hat-trick of the highest order. Four months later, he lit up Camp Nou with a goal of such class that even the home fans could not help but applaud in admiration.
It was a perfectly understandable reaction from the Barcelona faithful. It has been obvious to anyone with a modicum of interest in the game that this is a player of rare talent. He belongs at the very highest level. He deserves to be playing Champions League football every year and seemed eminently capable of transforming Atletico into a major European force.
Falcao has been blessed with a precious gift and it would genuinely be a crying shame if he does not realise his full potential.
As the saying goes, the saddest thing in life is wasted talent. Falcao and his army of agents and financial benefactors have made his choice. It is the wrong one. And it will shape how we remember him forever.