Well done Sunderland. Replacing Martin O'Neill with Paolo Di Canio is the best possible decision the club could have made and it will prove inspirational come the end of the season.
Things had gone stale at the Stadium of Light over the last few weeks, and although a narrow defeat to Manchester United doesn't look too bad at first glance, the Black Cats were utterly insipid yet again.
The board, led by chairman Ellis Short, decided to act, but many expressed their shock as O'Neill was sacked late on Saturday. Apparently having seven games to play means a club should stick, rather than twist. But action had to be taken and taken it was.
TRICKY TIMES AHEAD
Sunderland's run-in


Apr 7



Chelsea (A)


Apr 14



Newcastle (A)


Apr 20




Everton (H)

Apr 29



Aston Villa (A)

May 4

Stoke (H)


May12

Southampton (H)

May19

Tottenham (A)
Less than 24 hours later, the enthusiastic, larger-than-life Di Canio has been appointed and new life has been breathed into the club.
Many disagree with his methods and even beliefs - Labour MP David Miliband immediately stepped down from his role at the club due to the Italian's "past political statements", and a major Swindon sponsor did likewise back in 2011.
Furthermore, Di Canio had several bust-ups with his players while with the Robins. He fought with striker Leon Clarke in the tunnel not long into his first full season at the County Ground, and earlier in this campaign he substituted goalkeeper Wes Foderingham after a shaky opening 20 minutes at Preston. Foderingham was furious, and when captain Luke Rooney was also substituted at half-time, both men sat with the travelling fans for the second half in an act of defiance.
But he knows how to galvanise a dressing room as well. The players that were with him would tell of their enthusiasm for his methods, whether public or private, and they would fight for their lives, partly in fear of a very vocal reprisal. Clarke never played for Di Canio again, but those were the early days. Foderingham, who had signed for Swindon because of the "ledge" Italian, returned to the first team after the Deepdale debacle after apologising to his manager.
Di Canio knew how to rile the rivals, too. Ahead of a derby with Oxford, he claimed that United's star striker James Constable was "Swindon through and through". The Italian was also embroiled in a long-running, bitter feud with then Crawley manager Steve Evans. Date for the diary: Sunderland play Newcastle in two weeks' time.
And it was not only Swindon Town Football Club that was transformed. The town itself buzzed, and local journalists, so often used to quiet southwestern life, would hang on his every word. His pre- and post-match conversations with the press would last for at least half an hour and everything he uttered would be gold.
THE VIEW FROM ITALY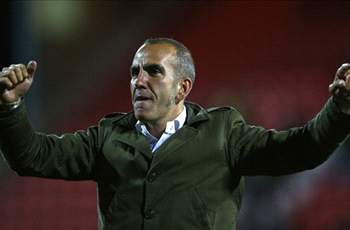 'HE HAS THE TOOLS TO DO WELL AT SUNDERLAND'
Paolo Fiorenza | Goal.com Italy

"Paolo Di Canio had two dreams in his second life as a manager: manage at Lazio or join any Premier League club. He realised the only option within his reach, due to the presence of his 'old enemy' Claudio Lotito at the Italian club and for his human and technical qualities that fit English football, was to stay put.

"A controversial figure, Di Canio has long been scrutinised for his political ideas and behaviours. In Italy he is out of the spotlight, while in UK he has built a solid reputation thanks to an excellent career as a player and two extraordinary years as Swindon Town boss. Passionate, energetic, sensitive to the moods of the fans and ready to inflame them, Di Canio knows the style of football, and the media, in the UK and has a fierce motivation. He has all the tools to do well at Sunderland."
He was the life and soul of the club, the town, the division, the Football League.
Fans, players and journalists alike always had a sense - a fear even - that one day he would leave and things would go back to normal, back to the hum-drum. That is a rare thing for any manager at any level.
He now brings the whole show to Wearside, a football community in dire need of a jolt or two. He will not waste any time telling some of the Sunderland shirkers what their duties are. He may not have top-level managerial experience, but he has been in these relegation dog fights as a player and will not stand for the below-par performances that had become the norm under O'Neill.
So often football clubs turn to a new manager in the hope of a miraculous reversal of fortunes; a short, sharp upturn in results brought about by a fresh face. Reading have shown how it shouldn't be done by replacing Brian McDermott with Nigel Adkins.
But Di Canio is a wildcard. Sunderland will be the focal point of British football for the next couple of weeks, and if Manchester United wrap up the title before the middle of April, the Black Cats will be the centre of attention in the run-in. That is the Di Canio factor.
And that is why Sunderland have pulled off a masterstroke. Players will arrive for training on Monday to be faced by a man who will not accept their recent effort levels. The fans will no longer stand for it, either. In the space of 24 hours Sunderland have been transformed, and the board deserve nothing but credit for making the club exciting once again.
Follow Sam Lee on