SPECIAL REPORT
By Emanuel Rosu
At first glance the name Mihai Nesu will mean very little to those reading this page and even a quick Google search will fail to unmask the full story behind his moving tale.
To do that we must firstly rewind the hands of time two years and go back to the scene of a story that is a stark reminder of the fragility of life.
The morning of May 10, 2011 had begun like any other Tuesday for Mihai Nesu. At 28-years-old he was embarking on the peak years of his football career with Eredivisie side FC Utrecht and the prospect of his team's final game of the season at home to AZ Alkmaar the following Sunday was one he approached with a typical relish.
A left-back by trade, the Romania international had built a reputation as a rugged and committed defender and with 36 appearances to his name in all competitions in 2010/11, his place in the starting XI for the season finale was all but assured.
Regardless of that fact, Nesu's attitude remained the same. Utrecht boss Ton du Chatinier put his side through their customary warm-up and then watched on as the squad did battle in a smaller-sided game.
"There's only usually one survivor in 100 people injured like I was"
As ever, the defender was a cocktail of energy and industry, until the most innocuous of collisions with team-mate Alje Schut saw him collapse to the floor, motionless and screaming for the help of his stunned colleagues.
"Mihai took a knock and fell to the ground, he was not moving, but screaming towards us," remembers defender Jan Wuytens.
"He said he couldn't breathe and move. We expected him to get up, like he always did. But it didn't happen this time. It was a horrible moment. We felt helpless, we really loved this guy."
An ambulance quickly arrived at the scene and an oxygen mask was strapped over his mouth as he cried for those around him to contact his wife. Paramedics quickly diagnosed a fractured C3 vertebra and rushed him to hospital for a five-hour operation on his cervical spine.
"I was lucky the ambulance came quickly and the hospital wasn't far away," Nesu told
Gazeta Sporturilor
.
"Doctors told me in cases like mine you can die if you don't get an oxygen mask quickly. In fact, there's only usually one survivor in 100 people injured like I was. There weren't any blackouts for me, but I knew something bad had happened. I didn't feel pain, I just couldn't move."
As he came round from his procedure in a daze of confusion and fear, he quickly realised that while he was very much alive, he had in fact left his previous life behind - waking to the news he was paralysed and confined to a wheelchair.
The seemingly harmless nature of the accident made his predicament all the more difficult to comprehend. He hadn't been struck by a passing vehicle or even been the victim of malicious foul play from one of his team-mates – as he admits himself, it was just the cruellest twist of fate.
"I didn't want to think about the accident, but it's good to say just how it was, so that no one comes up with alternative versions about it," Nesu continues.
"They said Alje Schut fell over me, but that's not true. We just bumped into each other. As simple as that. He was in possession, I tackled, he came with the ball and we both took a knock. It was a common tackle. Just bad luck. When I watch football, I see moments like these once every two or three games."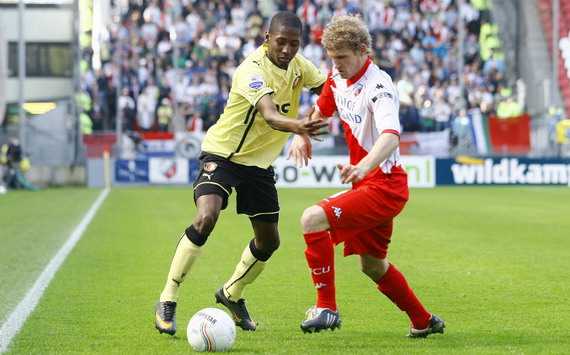 Fighting back |
Mihai Nesu in action prior to his accident
From an athlete at the peak of his powers, the defender was faced with the biggest fight of his life to perform even the most simplest of tasks, with movement in his head and right arm almost completely restricted.
But while most would struggle to even begin to piece together a life that had been both physically and mentally shattered, Nesu's faith in God and trademark strength of character began to pull him through.
His first steps were to communicate with fans through a gadget designed by the hospital specifically for his needs and even now he controls his mobile phone with his mouth, thanks to a stick invented by an IT specialist at his recovery centre.
Once over, Nesu dreamt of spending his post-football life on an anonymous Greek island with his wife and drifting off into the sunset. But with retirement forced upon him far sooner than he could ever have expected, he is now focused on a project that will help others now and in the future.
"Recovery conditions in Holland are way better than in Romania. That's why I'd like to move things over there too," explains the former Steaua Bucharest servant about the Mihai Nesu Foundation he has set up to help others in the same position as himself.
The likes of Wesley Sneijder, Kevin Strootman, Michael Vorm and Dries Mertens have all done their bit through donations and training sessions for the foundation's youth team. The latter of that quartet, Mertens, even flew out to California to visit Nesu last year as he underwent an intensive recovery programme.
| | |
| --- | --- |
| From an athlete at the peak of his powers, the defender was faced with the biggest fight of his life to perform even the most simplest of tasks, with movement in his head and right arm almost completely restricted. | |
Doctors do not like to make predictions. In many cases it can take years before sufferers of spinal injuries experience even the smallest of improvements.
On Tuesday night the two nations that have defined much of his life face one another at the Amsterdam Arena, as the Netherlands and Romania do battle in their latest World Cup 2014 qualifier.
Now 30, there is every chance Nesu may have taken to the field and added to a tally of eight international caps for Romania before his terrible accident. Instead he will watch on proudly from the stands as a guest of honour of the two nation's respective football associations.
It is not the life he foresaw just a short time ago, but just as one of his favourite songs is titled, Viva La Vida, Mihai Nesu continues to live his life.