COMMENT
By
Wayne Veysey
at Etihad Stadium
It is hard to judge the mood of
Carlos Tevez
simply from his facial expression.
As a man who wears the almost permanent frown of one who has lost a fistful of dollars and found a peso, Manchester City's Argentine enigma is notoriously difficult to read.
It takes a particular brand of vexation to score a hat-trick and lay on two assists to steer your club to a 5-0 win and the semi-finals of the FA Cup, yet still manage to appear angry with your manager when you leave the pitch even though you had personally signalled to be replaced.
WELCOME TO MANCHESTER
Tevez's testing times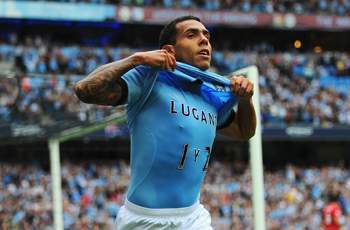 JUNE 2009

Joins Manchester City after failure to renew his deal with rivals United. City fans erect "Welcome to Manchester" banner on

Deansgate

.
DECEMBER 2010

Hands in written transfer request despite being made club captain in August. The club refused to give in and

Tevez

apologises and vows to stay.
SEPTEMBER 2011

Refuses to warm-up in Champions League match against Bayern Munich. Mancini says that the Argentine is "finished" at the club. Tevez plays golf in his home country and misses out on £10m in income.

FEBRUARY 2012

Returns to first-team action after apologising unreservedly. Celebrates with golf swing celebration after hat-trick at Norwich in April.
A riddle, wrapped up in a mystery, inside an enigma. Winston Churchill's quote about 1939 Russia could have been coined for Tevez, who is keeping the cod psychologists busy now that Mario Balotelli has taken his own version of unpredictability back to Italy.
Will the notoriously restless El Apache also fly the nest this summer? Tevez is careful not to fashion an emotional allegiance to a mere football club yet, somehow, amid all the grumbles, strikes and disregard for officialdom, he is about to complete his fourth season in the sky blue half of Manchester.
For a player who forfeited nearly £10 million in wages, fines and lost bonuses in a forlorn attempt to tunnel his way out of Etihad Stadium last season, that represents an achievement of sorts.
Tevez lost his primary status in the City striking roster the moment the infinitely more gifted and hassle-free Sergio Aguero signed.
Yet, with Aguero injured, Balotelli gone and Edin Dzeko openly eyeing a return to the Bundesliga, suddenly Tevez is the forward being relied upon by Roberto Mancini to win matches.
Conveniently, the Argentine is in a rich vein of form. His clinical hat-trick against Barnsley extended his recent run to six goals in four games, lifting his season's haul to 15, two more than both Aguero and Dzeko.
After sweeping in the third of his goals at the 49-minute mark, the home support, who never lost faith in Tevez even during his prolonged estrangement from the club, were treated to the rare sight of a broad grin on his face.
The satisfaction of a job well done did not last. In keeping with the player's perverse nature, he had what looked like a testy exchange with Mancini as he left the pitch.
"He asked to come off," confirmed the Italian, with the bluntness that is common when addressing the misbehaviour of one of his charges. "He said, 'It's better for me to come off'. Maybe he was tired."
Second guessing Tevez is a dicey occupation, but it does beg the question why he had the temerity to be angry with his manager when he had hooked himself.
Mancini admitted he had considered resting Tevez for the home cup tie against a side placed 22nd in the Championship, particularly in light of the latest controversy in his player's rollercoaster life.
On Thursday, Tevez was arrested on suspicion of driving while disqualified. He will return to Macclesfield police station on Tuesday to find out if he has been charged and will face trial.
In the aftermath of the striker's game-changing display, his manager attempted to make light of what is a serious situation. "If it is a problem to him, I hope the police stop him every day – I hope they do it next Friday because he scored three goals today and won the game."
While Tevez remains innocent, Mancini will be satisfied that the player who is ending the season with the same vim with which he began it is writing stories for the sports pages rather than the news pages.
As to what the future holds, it is anybody's guess as far as Tevez and his notoriously impatient entourage are concerned.
His age (he turned 29 last month), £198,000-a-week basic wages and accident-waiting-to-happen persona is an acid combination for all bar a handful of clubs.
But Carlito's way is not to follow the obvious path. He revealed in January that he had snubbed City's offer a two-year extension to his contract, which expires in the summer of 2014.
Explaining that his plan is to link up with Boca Juniors for a second time, Tevez said: "i would prefer to return home, but it is very difficult because City won't let me leave for nothing. I will stay in Europe for another two years and then go back."
For Tevez and City, the romance is long dead. But while he is doing the business, it is a convenient marriage for both parties.