COMMENT
By Kris Voakes | Italian Football Writer
Once upon a time, Alexis Sanchez was the hottest property in world football. After Manchester United were linked with the Chilean wide man, neighbours City and Spanish giants Barcelona went headlong into a race for his signature. The Citizens went as far as to have him followed around as he went about his daily routine in Udine so that they could check that he had a desirable lifestyle.
That was back in 2011, when Sanchez was tearing it up on a weekly basis for Udinese in one of the most blistering counter-attacks European football had to offer. But since his €37 million transfer to Barcelona, things have not exactly gone his way.
Despite impressive initial performances, Sanchez has fallen foul to the Catalans' Lionel Messi-dependent style of play. The Argentine's form over the past two seasons has demanded that Barca set their base more than ever around their star No.10, but as the Blaugrana have played more and more narrow and at an increasingly considered pace to suit Messi, Sanchez's attributes have not been catered to one bit.
The ex-River Plate man's form has not helped his cause. Having struck 12 times in his final season in Friuli Venezia-Giulia, he followed up with 15 more in his first season in Catalunya, but this term he has netted only on four occasions in 31 appearances, including just a solitary league goal.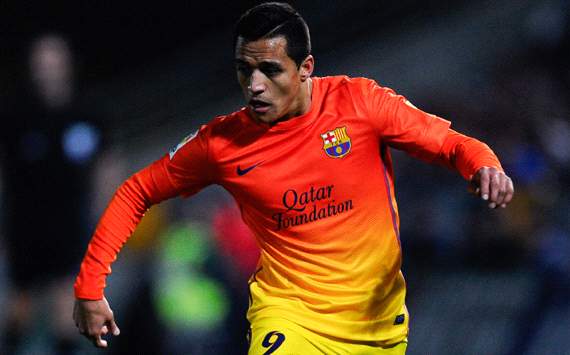 Sanchez | Off-colour when he's been called upon in 2012-13
As so often happens with top class players at world class clubs, Sanchez just hasn't been able to show the consistency necessary to persuade Tito Vilanova and Jordi Roura to cater more to his explosive style, meaning he has been asked to simply adapt or suffer the consequences.
Now, with Barcelona likely to consider bids for the 24-year-old, Juventus are hoping to show their interest with a bid for the Chilean's services as early as this week, perhaps initially with a loan offer. And if the transfer materialises, it could well suit everybody involved, particularly a Bianconeri side who face Celtic on Wednesday night with a three-goal lead from the first leg leaving them on the verge of the Champions League quarter-finals.
While Barcelona's shape and style has proven not to fit with Sanchez's attributes longer term, Juventus could well offer him exactly what he needs. The Bianconeri showed an initial interest in his services back in 2011, but the pursuit of Barca and City soon took Udinese's asking price out of Juve's reach. But now, with the Turin club having made huge profits since moving to Juventus Stadium, and with the player's stock at a more attainable level because of his recent struggles, it could be a case of perfect timing this time around.
And it's not just the timing that may prove to fall in Juve's favour. With the Old Lady's approach being hugely dependent on their ability to stretch opponents and force space in which Andrea Pirlo can thrive, the addition of a pacey winger such as Sanchez could take them onto the next level. That would particularly be the case in the Champions League, where the intelligent injection of pace can kill opponents.
One alteration which would be necessary, though, is a change in formation. Sanchez has played as a quasi-trequartista for Udinese in the past as part of a 3-5-1-1, but it is on the flanks that he excels. And a Juve side which has so many options already available to it would only benefit from a switch to 4-3-3.
INCREASED OPTIONS | How Juve could line up

GOALKEEPER

Gianluigi Buffon
RIGHT-BACK

CENTRE BACK

CENTRE BACK

LEFT-BACK


Stephan Lichtsteiner
(Isla/Caceres)

Andrea Barzagli
(Caceres)

Giorgio Chiellini
(Bonucci)

Federico Peluso
(Chiellini/De Ceglie)
CENTRE MIDFIELD

CENTRE MIDFIELD

CENTRE MIDFIELD


Arturo Vidal
(Padoin/Isla)

Andrea Pirlo
(Pogba/Marrone)

Claudio Marchisio
(Asamoah/Giaccherini)
RIGHT FORWARD

CENTRE FORWARD

LEFT FORWARD


Alexis Sanchez
(Quagliarella/Isla)

Fernando Llorente
(Matri/Vucinic)

Sebastian Giovinco
(Vucinic/Giaccherini)
The 3-5-2 system currently favoured by Antonio Conte was originally used to cover for the lack of a top quality left-back, but the Bianconeri now have so many options elsewhere that a change can easily be catered for. Switching to a 4-3-3 would create greater competition for places, with the central three of Claudio Marchisio, Arturo Vidal and Pirlo being given food for thought from those pushing for places. Up front, Sebastian Giovinco would be utilised in his more suited left forward position. At the back, there would be a tightening up of some of the spaces that Juve have allowed to form at times in recent months.
And Sanchez's arrival would mean that sheer pace down the right would also cause a threat to opponents. Not only that, but the Chilean would take little time to adapt, with his previous experiences in Italy meaning he has friends at the club in the shape of Simone Pepe, Kwadwo Asamoah and Mauricio Isla. Throw in countryman Vidal, and you have a network that would help Sanchez make a speedy adaptation.
His recent troubles at Barcelona should hold no concern for Juve, moreover they should be considered an opportunity. The Blaugrana's shape and approach simply haven't been conducive to Sanchez's qualities, but Juve's should suit him well, and the fact that Barca can't find a space for him in the first team right now suggests that a cut-price deal could be negotiated.
You can never afford to stand still in football, and while the 3-5-2 formation has served Juve well since Conte arrived, now is the time to seek a change that will make the most of what the club has available. And the addition of Sanchez could take a new-look Bianconeri onto another plain.