COMMENT
By Kris Voakes | Italian Football Writer
The vast majority of football enthusiasts had Barcelona down for a positive result of some kind before Wednesday night's trip to San Siro, but what developed over the following 90 minutes was a reminder of something so very Italian. AC Milan's 2-0 win in the Champions League last-16 first leg showed why there will always be a great reason not to disregard the qualities of the game in the bel paese.
There is no getting away from the fact that calcio is not what it once was. There are no Van Bastens, Zidanes, Baresis or Matthauses around these days. The stands across the country are not bursting with people waiting to see the game's greatest players in action. There are many across the world who didn't even bother to turn over from a corny current affairs show or a dull awards ceremony to watch the captivating fixture at San Siro on Wednesday such was their disdain for Milan's hopes of causing a stir.
But those who ignore Italian football, put it down, or even outwardly oppose it, are simply railing against one of the finer arts of football. Because even today, when it is considered to be playing catch-up on the rest, Italian football is the king of tactical ingenuity.
While Barcelona certainly had the edge in technique on Wednesday, there was just no breaking Milan down. And it wasn't as though they were battered and bruised by the end either. Their effective pressing in the right areas, blanket smothering of Lionel Messi, effective counter-attacking and fantastic organisation in all phases of play meant they actually won with a little bit to spare.
CHAMPIONS LEAGUE LAST-16 FIRST-LEG RESULTS

The cliches would tell you that "against Barcelona, you have to take all of the chances that come your way", but the Rossoneri gained their win whilst also passing up opportunities in the first half, most notably when Stephan El Shaarawy took a heavy touch as he bore down on Victor Valdes. Instead, it was an effective use of coach Massimiliano Allegri's tactical set-up that won the day.
After Fiorentina's demolition of Inter at the weekend, this writer made the point that the Nerazzurri had failed where others had followed in suppressing the Viola, citing Italian football's knack of quickly finding an answer to a team's strength and setting up to counter it as a reason why Inter should have known how to make the most of the recent struggles of Vincenzo Montella's side.
And that tactical know-how isn't just seen in Serie A and the Champions League. If ever you get the chance to go down to an Italian club's youth complex, as this writer attempts to regularly and did so as recently as Tuesday at Milan's Vismara site, you will see this is very much ingrained from early on in a player's career.
Kids as young as eight or nine can be seen taking part in training games holding their position, staying in shape, admonishing themselves for not getting the weight of a pass exactly right, or even slightly misreading an opponent's run. The sense that a game is won in the carrying out of certain methods, instructions and ideologies is something that comes long before first-team level.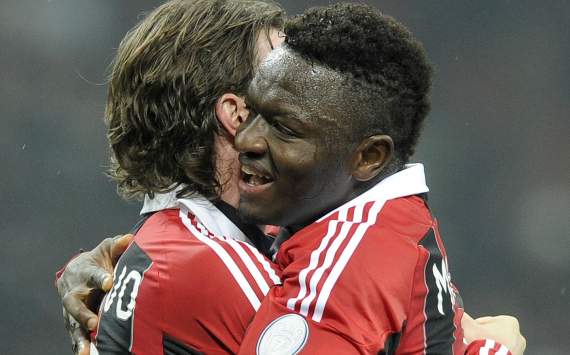 Montolivo & Muntari | Part of a hugely effective team display against Barcelona
When football 'fans' dismissively speak about "boring, defensive Italians" they simply show an ignorance for the ability and intelligence that goes into playing to such an exact gameplan. The famed fantasisti and trequartisti of Italian football have been unconditionally loved over the years, but so have the greatest defenders. For every Ruud Gullit, Diego Maradona and Alessandro Del Piero there is a Paolo Maldini, Antonio Cabrini and Giacinto Facchetti. Italian supporters have always appreciated that the flair players cannot win trophies by themselves.
Wednesday night was also a great example of how a team with no real stars, lacking some key players, and up against the football world's biggest collection of technical geniuses, can still win by carrying out their tactical roles as a collective.
And in a way similar to last week, when much of the British reaction was about 'penalties' not given, and an energetic display by Celtic being proof that the Scots had outplayed Juventus, any over-emphasis on Barca's no-show would be to ignore what won the game for Milan.
Juve have now been to both Shakhtar and Celtic and won with superbly-drilled 90-minute performances, and the Rossoneri head to Camp Nou with a 2-0 lead thanks to a display right out of the same coaching manual. Two of the last-16's five winners come from Italy, and they have succeeded by doing what Italians do best.
When Barcelona turn up at practically every away ground in La Liga and stick three or four on the opposition, it soon gets boring. Results like Wednesday's make football exciting. Performances like Milan's make football worth watching.
In a modern world in which we are always told that biggest, brightest and fastest is best, it pays to remember where we come from. And Italian football is the perfect reminder that in a team sport, great team performances will always have a place at the top of the game.