PROFILE
By Ben Hayward | Spanish Football Writer
"Football has given me everything in this life; tobacco almost took it all away." The phrase belongs to Johan Cruyff, one of the game's great players, coaches, innovators and the man behind much of the magnificent modern-day
Barcelona
. But had he not quit smoking in 1991, the legendary team of today at Camp Nou may never have been born.
Cruyff smoked from an early age and even football failed to deter the Dutchman in his playing days. Only one coach confronted the forward over his half-time habit of lighting up a cigarette. That was
Hennes Weisweiler in 1975
and the German soon found himself out of a job.
Cruyff lit up straight after his first game for
Barcelona
and then again as he emerged from the showers. This was an all-assuming addiction, but it was as coach at the Catalan club when his smoking became a real issue.
The Dutchman took over at Camp Nou in 1988 and claimed the European Cup Winners' Cup and the Copa del Rey in his first two seasons in Catalunya. Nevertheless, his position was far from secure as the 1990-91 campaign got underway. Feeling the stress and the strain, Cruyff began to smoke more and more, puffing away nervously in the tunnel before games and getting through at least 20 cigarettes per day.
Then, in late February of 1991, the stress and the effects of the tobacco took their toll; Cruyff suffered severe pains in his heart and subsequently underwent double bypass surgery to correct the problem. His doctor, Mario Petit, later explained: "Cruyff has been very lucky because his injury is very bad and he has arrived in time to treat it." The surgeon told his patient that a return to coaching was possible, but there were two conditions. The first: he must take two months' rest. The second: he had to give up smoking.
Carry on and there would be no football anyway, no nothing, "I do not smoke because I was told I would die if I continued smoking," Cruyff later revealed. And there was also a warning from his wife: this has to stop!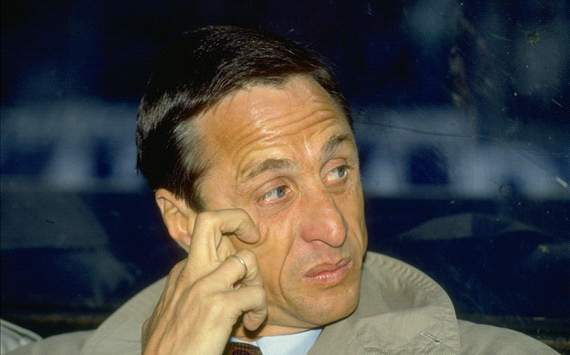 Kicked the habit | Barca coach Cruyff in 1991, months before he suffered a heart attack
And it did. The Camel cigarettes were famously replaced by lollipops and Cruyff kicked the habit, even juggling a cigarette pack 16 times and booting it into touch in an awareness advert sponsored by the Catalan Department of Health.
Back on the pitch, a golden era began. Positive results reduced tension and the next four seasons brought four Liga titles, as well as a maiden European Cup. The 'Dream Team' was born.
Barcelona
were 'smoking' but, crucially, Cruyff was not.
The Netherlands legend had recommended the creation of a youth academy as he departed Camp Nou as a player in 1978, and a young Pep Guardiola was taking his first steps in the first team when the Dutchman was laid low with his heart problem. Cruyff changed Pep's position in the youth side and the midfielder formed a 'pivotal' part of the team which claimed the European Cup in 1992 at Wembley.
Back at English football's showpiece stadium in 2011, Guardiola's side sealed their second Champions League crown in three years for the Catalan club - a fourth success for Barca in Europe's premier competition. The second had arrived in 2006 under Frank Rijkaard who, like Pep, had been recommended to then president Joan Laporta by Cruyff. So the Dutchman, beyond his own Dream Team and the creation of La Masia, remains ever-present in the mechanics of modern-day Barca.
And while there may be less links with the
Barcelona
board of today and president Sandro Rosell, Cruyff was there with comforting words for current coach Tito Vilanova after it was announced in December the Catalan would need to take time out to recover from a relapse of his tumour.
"My first thoughts go to his wife and children. Those are the ones who suffer the most. You have to be with the family," Cruyff said. "Of course Tito will return. I always believe so. I think so because when you are sick you have to be positive."
Thanks to Cruyff's positivity and his ability to kick cigarettes into touch,
Barcelona
fans are currently enjoying perhaps the finest club side in the history of the game. Hard to imagine now that those dreams almost went up in a puff of smoke.
For those looking to quit smoking, Barcelona have teamed up with the European Commission's "Ex-Smokers are Unstoppable" campaign (www.exsmokers.eu) to launch the innovative 'Quit Smoking with Barça' programme. To find out more information and read about the FCB iCoach app, visit www.quitsmokingwithbarca.eu
Follow Ben Hayward on