PROFILE
By Charlie Scott
The perfect word to describe Ever Banega's playing style and personality is fiery - and not just because his Ferrari burst into flames before his eyes at the Valencia training ground last July.
Still just 24, the Argentine has hit the headlines for his off-pitch behaviour more times in five years than most 25-man squads manage in a decade, and this has impacted on him failing to fulfil his undoubted potential.
In February 2012 Pep Guardiola singled the midfielder out for praise ahead of Barcelona's Copa del Rey semi-final match against Valencia, describing him as "a fantastic player", and opining that his side "would have to really concentrate to limit Banega's effectiveness".
On that occasion the
Blaugrana
successfully muzzled Banega, but that was not the case last week as he rifled home a goal in the first half to secure his side a draw as Valencia became just the third team to take points off Tito Vilanova's side this season.
WHAT EVER NEXT...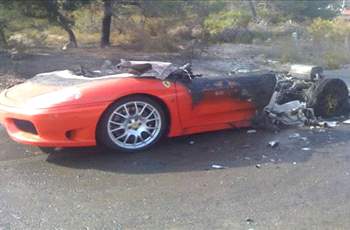 LIGHTS, CAMERA, ACTION

Shortly after joining Valencia a video of the midfielder pleasuring himself on a webcam became an Internet sensation
.
REMEMBER TO BRAKE

In February 2012 the Argentine broke his ankle and leg after forgetting to put his handbrake on and running over his own foot.
FIRE-STARTER

The 24-year-old watched his car set on fire in July after a problem with the circuiting.
Just two days before influencing a match against arguably the best side in Europe, Banega hit the headlines after a report in the Spanish press claimed that he had turned up drunk for training. Coach Ernesto Valverde denied it but admitted the player was late for training and the furore led to Banega saying sorry on Twitter: "I apologise to whoever I offended and the fans of Valencia. I recognise things, learn, and move on."
The latest misdemeanour comes not as a shock but as a disappointment, particularly for those who have seen the tenacious midfielder blossom this season.
The Rosario-born Argentine international moved to Valencia from Boca Juniors in January 2008 for a fee in the region of €18 million, having made just 28 appearances for the South American giants.
The previous summer Banega had starred alongside Sergio Aguero for Argentina as they triumphed at the U-20 World Cup in Canada.
Though Banega was lauded for his displays in that tournament, there was also an early warning sign of his potential to step out of line when he and some others reportedly smashed up their hotel room in celebration - and filmed themselves.
At 19 the midfielder was expected to slot into the first team by the then Valencia coach Ronald Koeman, with the young Portuguese player Manuel Fernandes failing to hold down a starting spot.
Ironically perhaps, Banega was the man chosen to replace Fernandes due to the latter's penchant for enjoying nightclub visits. Valencia would soon find out that this was in fact something the two had in common.
Within days of arriving in Spain, Banega was embroiled in an internet sex scandal after being caught performing a lewd act on webcam.
The club's first impression of him was not a good one.
A brush with the law followed that incident, when he was reported to have been stopped by police in the early hours - while allegedly over the drink limit.
The midfielder spent the 2008-09 season on loan at Atletico Madrid, but started just six times and was sent off twice during his short spell at the club. By all accounts his considerable free time was spent sampling Madrid's vibrant nightlife.
Less than two years after signing Banega for €18 million, Valencia were willing to accept half of that in order to get the player off their books. With no-one willing to gamble on Banega he remained at the Liga club and since then has (for the most part) focused on what is happening on the pitch rather than off it.
Within six months he was regarded as a crucial component in Valencia's starting XI and remained that until he suffered an absurd injury on February 19 last year, just weeks after Guardiola had labelled him "fantastic".
After leaving training Ever went to fill up his car - only to depart the petrol station in an ambulance. The playmaker failed to set his handbrake after parking and the car subsequently rolled backwards, trapped his foot, and broke his ankle and leg in the process.
"Banega is a genius on the field, but a madman off it"





- Cesar Hurtado, Goal.com Espana

Of course the Argentine's rehabilitation period was far from dull. In July as he continued to receive treatment for his bizarrely sustained injury, further disaster struck. On this occasion Banega watched on as his brand new Ferrari caught fire after short circuiting.
Since making his comeback in October the inventive midfielder has impressed in his 25 appearances this term and has even been reintegrated into the Argentina set-up under Alejandro Sabella.
Then, just as he was finding some rhythm for his club the reports of him turning up to training late and drunk appeared. He would go on to score and deliver a brilliant performance against Barcelona less than 72 hours later.
There is no point even trying to second-guess Banega these days. He is impossible to predict. At times he appears a cruel victim of circumstance, at others simply a naive young man, but through all that he remains a hugely talented player as he continues to demonstrate whenever he pulls on his No. 10 jersey. "Banega is a genius on the field, but a madman off it," as
Goal.com
Spain's Cesar Hurtado labels him.
Valencia host Paris Saint-Germain in the Champions League at Mestalla on Tuesday and though the media will fawn over the likes of Zlatan Ibrahimovic and Ezequiel Lavezzi, don't rule out a sensational showing from the home side's unpredictable Argentine.
Follow Charlie Scott on