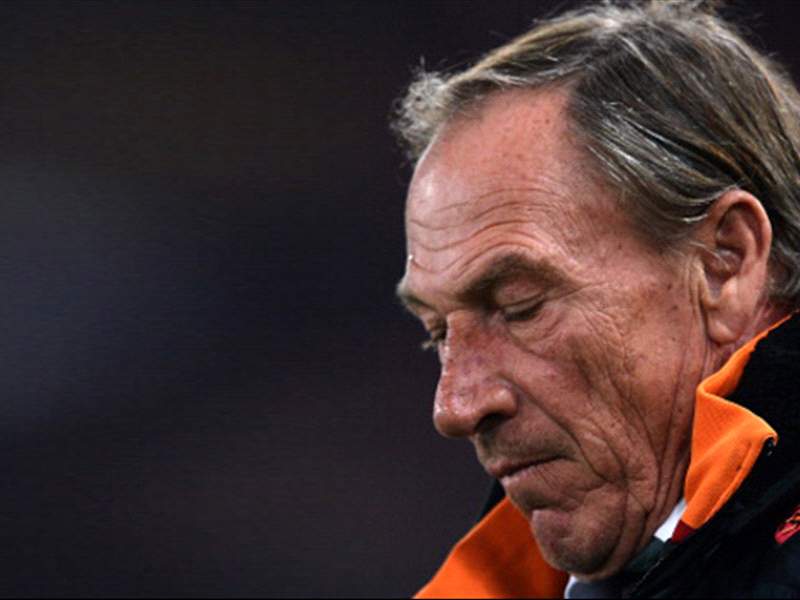 COMMENT
By Mark Doyle
"We decided to remove the coach from his post,"
Roma
director general Franco Baldini announced on Saturday. "This was the only decision we could make. We evaluated the situation and, knowing the players, this is the best decision to make at this moment."
It is difficult to argue with the conclusion that they had been left with no other option but to part company with Zdenek Zeman, with Baldini's use of the words "knowing the players" particularly significant. It effectively confirmed one of the worst kept secrets in Serie A: Zeman had lost the
Giallorossi
dressing room. That nearly always fatal development, coupled with a dismal run of results in Serie A, made Zeman's dismissal sadly inevitable.
In truth, given the notoriously cut-throat nature of Italian football, it was something of a surprise that the colourful Czech had even been allowed to take charge of Friday's abysmal 4-2 defeat at home to Cagliari. The Roma board had called an emergency meeting after yet another dreadfully disjointed display in last weekend's 3-3 draw at Bologna. In the end, Zeman survived, but it proved merely a stay of execution.
No doubt Zeman will feel hard done by. "I won't resign because of one bad game," he declared in the aftermath of Friday's defeat. Unfortunately for Zeman, though, the Cagliari capitulation was just the latest in a long line of bad results. Indeed, they have not won a single Serie A match since the turn of the year.
IN NUMBERS
Zeman's coaching career

2
He has coached Roma twice, having previously sat in the Stadio Olimpico hot seat between 1997 and 1999.
3
Zeman has claimed three trophies, leading Licata to the Serie C2 title in 1985 before winning Serie B with both Foggia (1991) and Pescara (2012).
5
His longest stint with a club was the five years he spent at Foggia before leaving for Lazio in 1994.
18
Zeman has had a total of 18 jobs since starting his coaching career as youth team boss at Palermo.
As expected, Roma have been wonderfully entertaining since Zeman returned for a second stint with the
Giallorossi
last summer. Their 23 games have yielded a total of 91 goals. As that figure suggests, they have produced some wonderful attacking football, never more memorably than in their home victory over AC Milan, the
Giallorossi
racking up four unanswered goals during a glorious 60-minute purple patch. Two late goals added an air of respectability to the scoreline that undeniably flattered Milan, who had been utterly unable to live with their opponents' offensive brilliance.
However, Zeman admitted afterwards that his side had tried to sit on their lead "and we don't know how to do that." But the truth was that Zeman's Roma didn't know how to defend. Full stop.
The Czech is many things, chief among them an admirable advocate of free-flowing attacking football. However, he is also frustratingly stubborn. His sides only know how to play one way, with a high-pressing 4-3-3 formation, and that is just the way he likes it. He holds a frankly ridiculous disregard for the defensive side of things. And it has ever been thus, and while Zeman is undeniably one of the most iconic and compelling figures in the history of Italian football, he is not a winner. He has never lifted a trophy of note, with all due respect to Serie B.
Zeman can perhaps claim with some justification that his career was somewhat hindered by his long-running feud with Juventus, the most powerful force in Italian football. "I had been able to work peacefully as a trainer until 1998. All of my troubles started when I reported Juventus' use of doping. They played me off as an idiot and in the meantime Luciano Moggi was preventing clubs like Bologna and Palermo from signing me with his influence. I was one of the best European trainers, and that man willfully ruined me."
However, the fact remains that he failed to win any silverware during a total five-and-a-half years at the Stadio Olimpico, having spent three seasons with Lazio before crossing the city divide in 1997 to take charge of Roma for the first time. Furthermore, he had a glorious opportunity to prove his worth with the current
Giallorossi
squad. One could easily argue that Roma have a better panel of players than not only the two sides currently occupying second and third in the standings, Napoli and Lazio, but also the two Milanese giants.
Zeman admitted as much himself before the season began. "I have a squad that covers every position with two players," the 65-year-old stated. "Then it depends on their fitness levels and my decision on which ones I use."
Presuming their fitness levels are not the problem (there were the usual reports last summer that Roma's new boss was working his players too hard in pre-season), the only logical conclusion to draw is that Zeman has erred in his team selections.
Certainly, his treatment of Daniele De Rossi was ridiculously ill-advised. An infamous disciplinarian, the Czech clearly felt the need to impose his will on his players right from the off, but consigning one of the best midfielders in Europe to the role of bit-part player always felt like a case of cutting off one's nose to spite one's face.
Baldini, of course, repeatedly denied that there had a falling out between coach and vice-captain but even after De Rossi had returned to the starting line-up to play a crucial role in the stunning win over Milan, Zeman could barely bring himself to sing the praises of the Italy international: "De Rossi had a decent performance, although after the break he too struggled and was unable to catch his man."
It was a similar story with Maarten Stekelenburg. Zeman described the Dutchman as one of the best goalkeepers in Europe before the season began. However, by the time of his dismissal, he had restricted the former Ajax man to the role of a second-choice shot-stopper. That Stekelenburg's replacement, Mauro Goicoechea, made a dreadful error in the defeat at home to Cagliari that ultimately sealed Zeman's fate seemed somehow apt.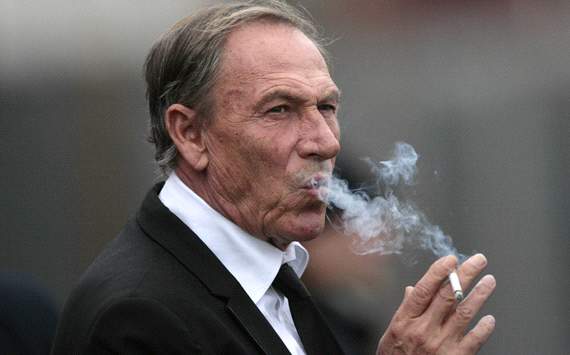 Up in Smoke | The Czech's second spell with Roma has again ended in failure
Zeman is his own man. He makes no apologies for who he is or what he believes in. He is never afraid to speak his mind. He stands up for old-fashioned values and his philosophy fits in nicely with that of Danny Blanchflower, who argued: "Football is about glory. It is about doing things in style and with a flourish, about going out and beating the lot, not waiting for them to die of boredom."

One thing Zeman certainly is not is boring. He should also be commended for standing up for the little guy and championing 'the beautiful game'. However, as he himself has admitted, "Football has become an individual sport. You see these kids with their headphones on, listening to their music. In the past, they used to talk. Football has become primarily business and politics these days and much less sport."

Essentially, the game has changed. Zeman, for better or for worse, refused to change with it. Consequently, his stubbornness has ultimately cost him his job at Roma. Again.