COMMENT
By Peter Staunton
Lance Armstrong admitted on Thursday to Oprah Winfrey that, yes, he had taken Performance Enhancing Drugs (PEDs) and no, he could not have won seven Tours de France without them.
The Festina affair, which came during the 1998 Tour, exposed the shocking extent to which PEDs had permeated professional cycling while the BALCO scandal in 2003 dredged up evidence of the systematic doping which took place in baseball, athletics and elsewhere - an investigation which eventually led to the downfall of Marion Jones, the American sprinter.
Football has not yet had a Festina or a BALCO. Cycling, after the false start which was the Lance era, and athletics both now ostensibly take a zero tolerance stand on doping; drug use is highlighted, condemned and punished.
Football has already missed too many chances to admit its problem because - quite simply - there is nothing to suggest that the use of PEDs is any less prevalent here than it is in those other sports; those dirty sports whose legacies and records are tainted and annulled. It is time for football to examine its practices throughout the decades and face up to its murky past.
Beneath the surface, there would seem to be an ugly historical legacy stemming from the use of drugs in football. The health problems and early deaths suffered by scores of Italian players from the 1960s (including numerous members of
La Grande Inter
) and 1970s as well as the birth defects present in the offspring of Algeria's 1982 World Cup team would seem to illustrate that the use of PEDs in football has made prisoners of competitors and their families long after a career's end. It leaves an irrefutable residue.
In 2011 the World Anti-Doping Agency (WADA) recorded 117 Anti-Doping Rule Violations among Fifa-registered athletes. That was the highest number of positive tests in any sport signed up to WADA's procedures. As recently as August 2012, two FK Rabotnicki players were sanctioned after testing positive for a controlled substance following a Uefa Europa League match against Lazio.
"At Parma we were given an IV drip before games. They said it was a mixture of vitamins but before entering the field I was able to jump up as high as the ceiling"

- Matias Almeyda
That proves that Fifa and Uefa have their anti-doping controls in place but it could be argued that those tests are more to confirm the cleanliness of the overwhelming majority tested on a matchday than to actively seek out the transgressors who are using PEDs when they should be; away from competition, away from detection. "If you test positive at the Olympics that is more of an IQ test," said BALCO laboratory founder Victor Conte around the time of the London Games, and the same logic must be applied to football.
Cycling and athletics have been denuded for the last decade in public on doping counts yet those sports continue to expose cheating, and, crucially, ostracise the cheats. They continue to turn up positive tests for the sake of transparency and purity. The cleaner they try to become, the dirtier they look.
The recent outing of Armstrong as the ringleader in the most sophisticated sports doping operation of all time cast the use of PEDs back in the spotlight. Obscured among the myriad allegations against cycling's biggest fraud was the publication of Matias Almeyda's autobiography in September 2012.
Almeyda, a former Argentina international, was playing for Parma in Serie A at the same time that Armstrong was dominating the Tour de France with Erythropoietin (EPO) - a blood booster, Human Growth Hormone (HGH) and whatever else coursing through his body. The book was serialised in
La Gazzetta dello Sport
and it contained, and not for the first time, what could have been the spark needed to instigate football's equivalent of a Festina or a BALCO.
Almeyda's revelation that Parma's players were injected with an unidentified, yet seemingly performance enhancing substance was met only with fleeting curiosity. It scarcely warranted a mention after publication.
"At Parma we were given an IV drip before games," Almeyda wrote. "They said it was a mixture of vitamins but before entering the field I was able to jump up as high as the ceiling."
Doping, still, due to skewed perceptions, seems not too big a deal in football. It is a game of skill, balance, vision; a game played as much in the head as the legs. The elite players would never need PEDs; why would they? Drugs are for inferiors, seeking to catch up and not for those who lead. That perception is naive; as if, somehow, being fitter and recovering stronger, at the foremost levels of the game, does not confer a competitive advantage over rivals during the course of a 60 or 70-game season.
Arsene Wenger revealed in 2004 that he suspected some players transferred to Arsenal from overseas clubs had been subjected to blood doping practices.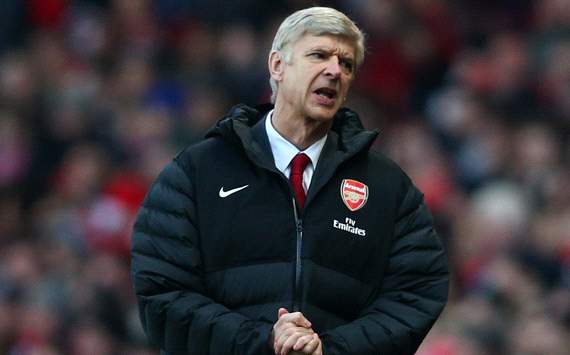 Doubtful | Wenger believes some of his imports have been subjected to doping
"We have had some players come to us at Arsenal from other clubs abroad and their red blood cell count has been abnormally high," he said at the time. An increased red blood cell count is consistent with EPO use.
"That kind of thing makes you wonder," he said. "There are clubs who dope their players without the players knowing. The club might say that they were being injected with vitamins and the player would not necessarily know that it was something different."
That tallies with the Almeyda testimony. The suspicions and accusations don't stop there.
The sports historian, Erik Eggers, has uncovered evidence which suggests that the West Germany team, during the 1954 World Cup, were under the influence of pervitin - a methamphetamine used in the trenches of World War II. West Germany produced a superhuman performance to beat leggy favourites Hungary in the final with Magyar talisman Ferenc Puskas patently unfit. If only he could have had what the Germans allegedly had. Syringes were found to be discarded on the West German dressing room floor in the aftermath by a caretaker at Bern's Wankdorf stadium.
The former Marseille midfielder Jean-Jacques Eydelie details in his autobiography how he and his team-mates were administered injections of an unknown substance prior to the Champions League final against Milan in 1993. Marseille won. No sanctions were ever brought by Uefa. Indeed, Sepp Blatter, Fifa president, is on the record as stating that he is 'not in favour of' retrospective punishment, such as the stripping of titles, against biological cheats.
Before Inter's Champions League last 16 tie against Chelsea in 2010, for which the goalkeeper Petr Cech was struggling to win his fitness race, Jose Mourinho told the press that: "Dr Needles [Bryan English] in Chelsea will do the miracle." The implication clearly being that Chelsea had the medical capabilities to recover their keeper before nature intended. A nod and a wink from Mourinho; he should have been hauled in front of Uefa to explain himself.
| | |
| --- | --- |
| | "Football has already missed too many chances to admit its problem because - quite simply - there is nothing to suggest that the use of PEDs is any less prevalent here than it is in other sports" |
Mourinho ran foul of Dick Pound, then-president of WADA, for his avocation of Platelet-Rich-Plasma (PRP) therapy in relation to an Arjen Robben injury in 2005 while still in charge of Chelsea. It was on WADA's banned list when Mourinho intimated that Cech would be a beneficiary.
PRP, or blood spinning as it is popularly known, has had a chequered history. There have been reports that 'spun' blood can be fortified with other substances before re-injection. A former assistant accused renowned Canadian sports medicine specialist Dr Anthony Galea of that illicit practice. PRP is now legal in the eyes of WADA but was once covered in legislation by a Therapeutic Use Exemption (TUE), which permits athletes to be treated with controlled substances in the event of a pressing medical need.
Fabio Cannavaro failed to file his TUE in time when he tested positive for cortisone in 2009. He was stung by a bee and required treatment. That issue showed clearly the nonchalance in football's attitude to the gravity of doping controls. Jonathan Vaughters, an American cyclist, by contrast, withdrew altogether from the 2001 Tour de France after suffering a bee sting over his right eye because the required medical treatment contravened the UCI's doping policy. What is regimented, standardised behaviour in other sports - the procurement of a TUE - is an impertinence in football.
Galea, incidentally, was arrested in 2009 on suspicion on supplying PEDs to his stable of athletes. In his stash was HGH as well as a substance called Actovegin. Derived from calves' blood, Actovegin increases aerobic oxidation and is a banned substance in the US and other countries. It was widely used by Lance Armstrong's US Postal cycling team as it cheated its way around the 2000 Tour de France. It is not, however, banned in Germany, the home of the Actovegin pioneer - Dr Hans-Wilhelm Muller Wohlfahrt.
If that name is familiar it is because the 70-year-old has been the Bayern Munich team doctor since the mid-1970s. He also looks after the Germany national team. A good deal of high-class footballers, as well as athletes in other sports like Usain Bolt, trust and rely upon Wohlfahrt. Nonetheless, he is the man to which a journalist referred to in a radio interview who would provide Barcelona's Xavi with 'growth hormone' before a Champions League match last season in order to expedite his recovery from injury. The radio station to which he made the revelation beat a hasty retreat and 'clarified' what the journalist intended to say.
Those seeking to initiate the discussion of drugs in football are quickly talked down. Take Jean-Pierre Paclet, a former France national team doctor. He revealed in his book,
L'Implosion
, that certain members of the 1998 World Cup winning squad provided suspect samples at the tournament - won by the French on home soil. "Blood tests showed anomalies from several Bleus just before the 1998 World Cup. When you know the clubs where certain players were raised, it gives rise to strong suspicions."
Jean-Michel Ferret, who was the team doctor at France 98, did, indeed admit to 'slight abnormalities' in the samples provided by two players, which he attributed to 'tiredness from the league'.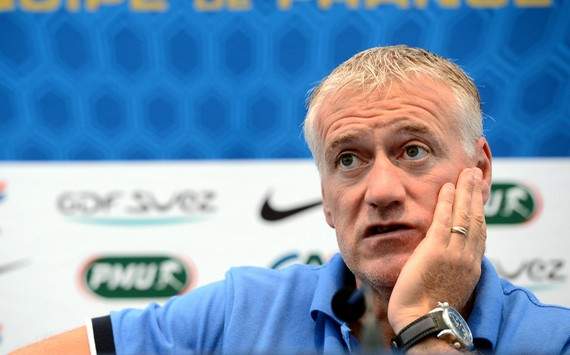 Abnormal | Deschamps' red blood cell levels would have been investigated in cycling
"It's public knowledge that there were practices going on at the time that were borderline, to say the least," Paclet later told
Le Parisien
. "I am saying what everyone knows. I haven't made anything up. Having a raised haematocrit [red blood cell indicator] level did not prove that they had taken EPO. As there was no proof, we didn't bother them with it."
Didier Deschamps, France captain at the time, once registered a red blood cell count of 51.2 per cent, a reading which would have earned him a reprimand in competitive cycling.
Deschamps was playing for Juventus at the time, a club implicated by Zdenek Zeman in 1998 as having participated in widespread performance enhancing practices during the 1990s. Juventus club doctor, Riccardo Agricola, it was revealed in court, administered powerful medication to players who did not require it. Up to 281 medical substances were found on Juventus premises; not illegal but certainly not ethical either. The result? Improved performance. Enough meds to help win three Scudetti, a Champions League and a Club World Cup between 1994 and 1998.
There was 'no therapeutic justification' for Juventus to provide those treatments to fit and healthy players, according Eugenio Muller - a pharmacologist called to the Juventus doping trial as an independent witness. That is revealed in the Ivan Waddington and Andrew Smith book,
Addicted to Winning?
. Furthermore, it was 'very probable' that Deschamps used EPO, according to haematologist Giuseppe D'Onofrio, who was also 'practically certain' that Alessio Tacchinardi and Antonio Conte used EPO in order to aid recovery from anaemia.
Even Zinedine Zidane, the talisman of France's World Cup win, admitted, when testifying on the doping case, to having used Creatine during his time in Turin, in order to facilitate muscle recovery, and having taken intravenous vitamin mixtures in order to help him through 70-game seasons. This full disclosure from the world's best player should have opened football's eyes to the extent that PEDs, even those outwith WADA's banned list, had infiltrated its culture and practices.
Lance Armstrong, as he was so fond of declaring, 'never tested positive'. We see, now, how much that is worth. Likewise, Marion Jones. Football, well it has not failed its tests either. But only because it has not taken them.