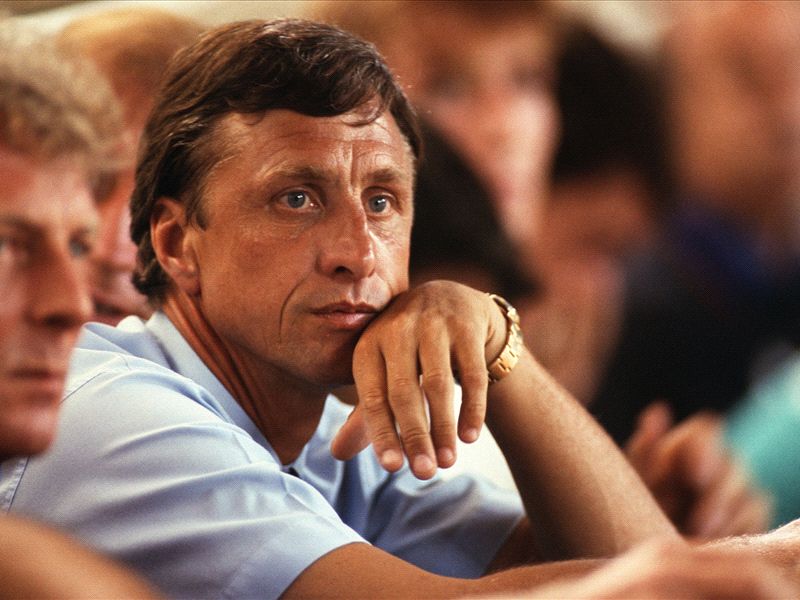 It is often said that footballers with extraordinary technical ability do not go on to become good coaches. The game comes so naturally to these players that they struggle to convey their message when they make the transition from pitch to bench. But there is an exception to every rule and, in this case, it was Johan Cruyff.
The Dutchman, who has died aged 68 after a battle with cancer, was a brilliant forward and symbol of 'Total Football'; the finest footballer in the great Netherlands side which won countless admirers but lost out to West Germany in the final of the 1974 World Cup.
He was the remarkable reference in the astonishing Ajax team which claimed three consecutive European Cups in 1971, 1972 and 1973; and he was the man who made Barcelona believe they could beat Real Madrid after a long period in the wilderness, inspiring the Catalan club to a title triumph in 1974 following a 14-year drought - as well as a famous 5-0 win over their fiercest rivals.
Indeed, after Pele, Diego Maradona and, latterly, Lionel Messi and Cristiano Ronaldo, Cruyff is among a group of players considered to be the finest to ever grace the game - certainly the greatest-ever European - yet his influence off the pitch may have been even greater.
He led his first professional club Ajax to two Dutch Cups and a European Cup Winners' Cup between 1985 and 1987, although his free-scoring side missed out on an Eredivisie crown in that time, despite ending one season with an incredible goal difference of +85.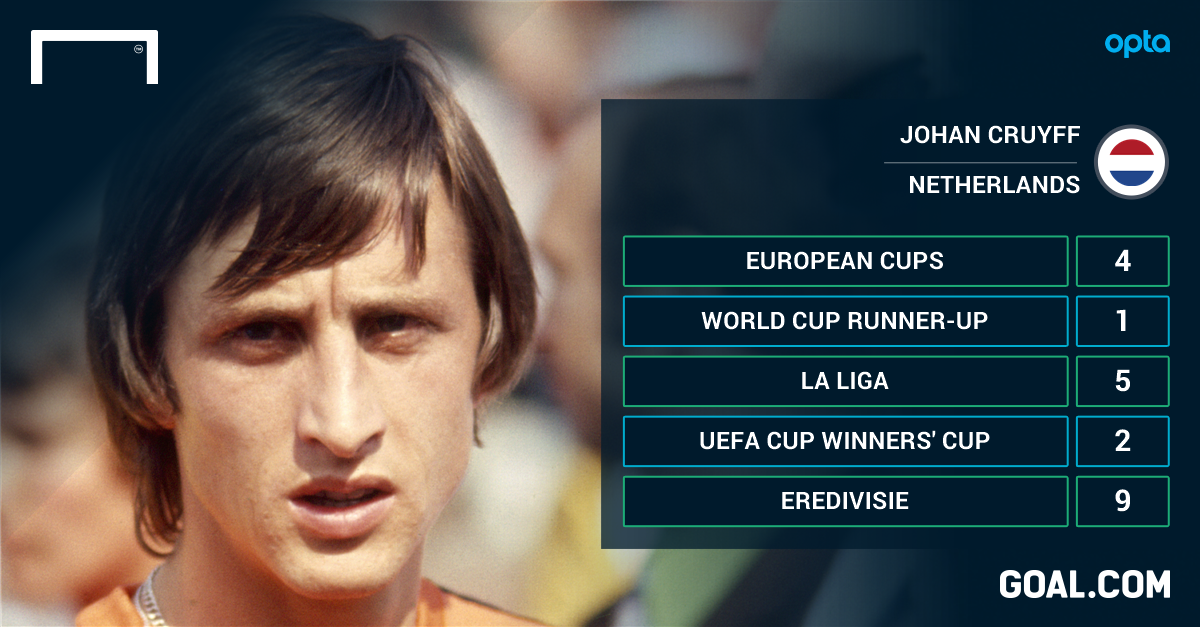 That meant there was no chance of claiming the European Cup he had won thrice as a player, either, yet the formation he himself introduced - which comprised a three-man defence, a deep-lying defensive midfielder, two more mobile middle-men, two wingers, a support striker and a versatile centre-forward - was long-lasting. Years later, with the same system, Ajax would win the Champions League under Louis van Gaal, in 1995.
By then Cruyff had made his name as a coach of the very highest calibre after building what is widely regarded as one of the greatest sides in the modern game and the precursor for the brilliant Barcelona version of today - the 'dream team'.
A similar system was used at Camp Nou and after the
Quinta del Buitre
had led Real Madrid to five league titles in a row between 1986 and 1990, Cruyff took Barcelona back to the very top with four straight successes of their own from 1991 to 1994.
There were 11 titles in all, an unprecedented total at the time and which also included a European Cup Winners' Cup, a Uefa Super Cup, three Spanish Supercopas and a Copa del Rey. The biggest one of all, however, was the maiden European Cup claimed in 1992, when Ronaldo Koeman's famous free kick edged out Sampdoria at Wembley.
That was a watershed moment in Barcelona's history and, unbeknown to many at the time, there had been another in 1978 when Cruyff the player departed Camp Nou with one wise wish for president Josep Lluis Nunez: "Set up an academy."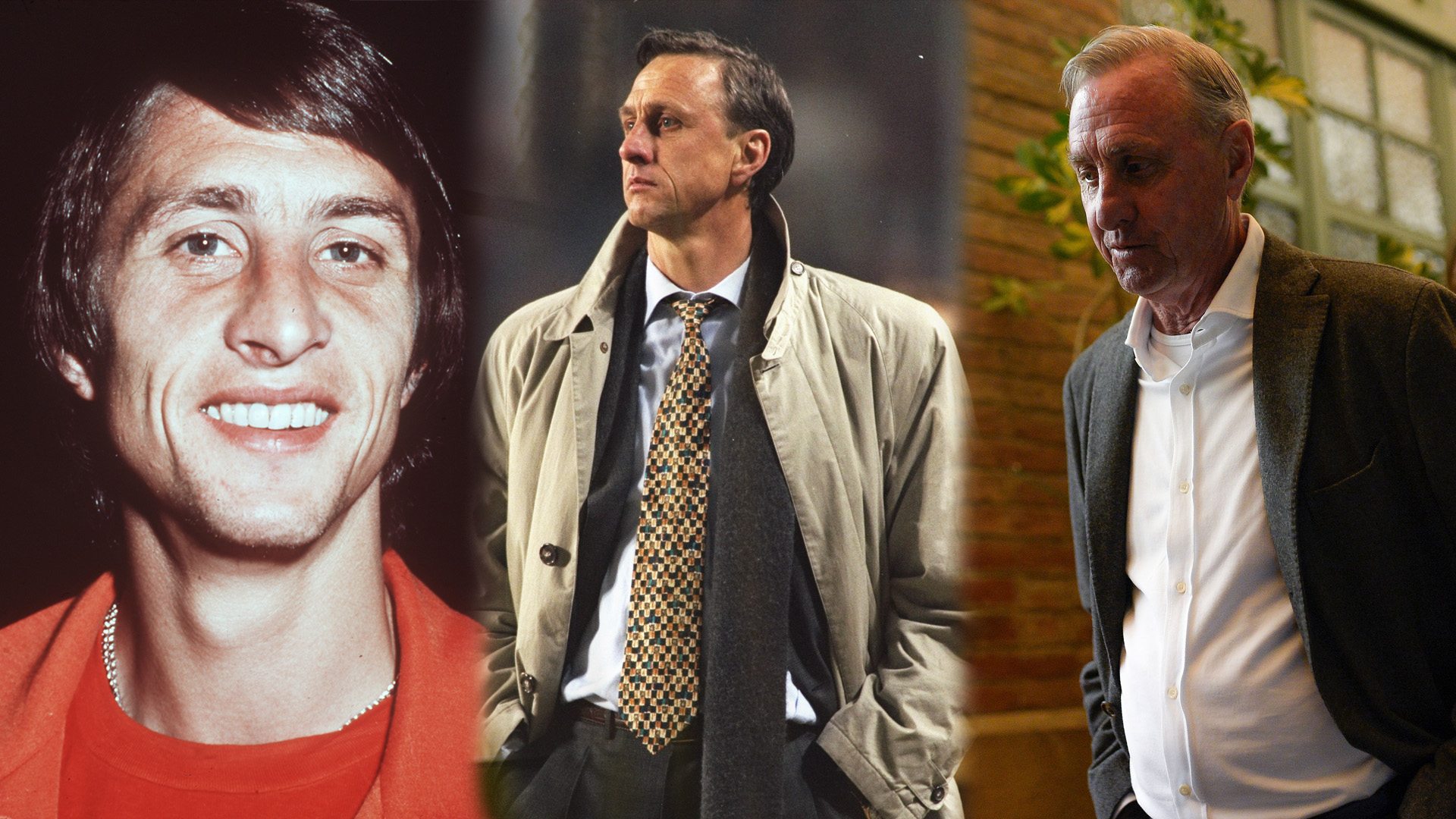 Thus, La Masia was born and when Cruyff returned as coach in 1988, he was able to reap the benefits as players such as Pep Guardiola, Albert Ferrer and Guillermo Amor graduated to the first team and became homegrown heroes in a two-tier system alongside such sumptuous signings as Hristo Stoichkov, Michael Laudrup, Romario and Koeman.
There were disappointments, too. Cruyff's side lost the final of the Cup Winners' Cup to Alex Ferguson's Manchester United in 1991 and were humbled 4-0 at the hands of AC Milan in the 1994 Champions League final, in which they had been favourites. And the Dutchman departed two years later after two trophyless campaigns, amid arguments with Nunez. He had also been forced to take time out in 1991 following double bypass surgery and when his time at Camp Nou came to an end, he vowed never to take another coaching role.
"For us the biggest influence was the Cruyff brand," former Barca defender Miguel Angel Nadal told
Goal
last year. "That change of philosophy that we still see today was brought about by Cruyff, first when he came as a player but mostly during his time as coach. The Cruyff brand is still evident at Barca now."
When Cruyff left, Barcelona had one European Cup to their name. Now they have five and, indirectly, Cruyff also played his part in the other four Champions League crowns. He had recommended Frank Rijkaard to the Catalan club and later endorsed the promotion of Guardiola to first team coach at Camp Nou. He had seen how both men had organised their teams from deep in midfield at Ajax and Barca, respectively, in the sides he had coached. He believed they could achieve something similar from the dugout. And he was right.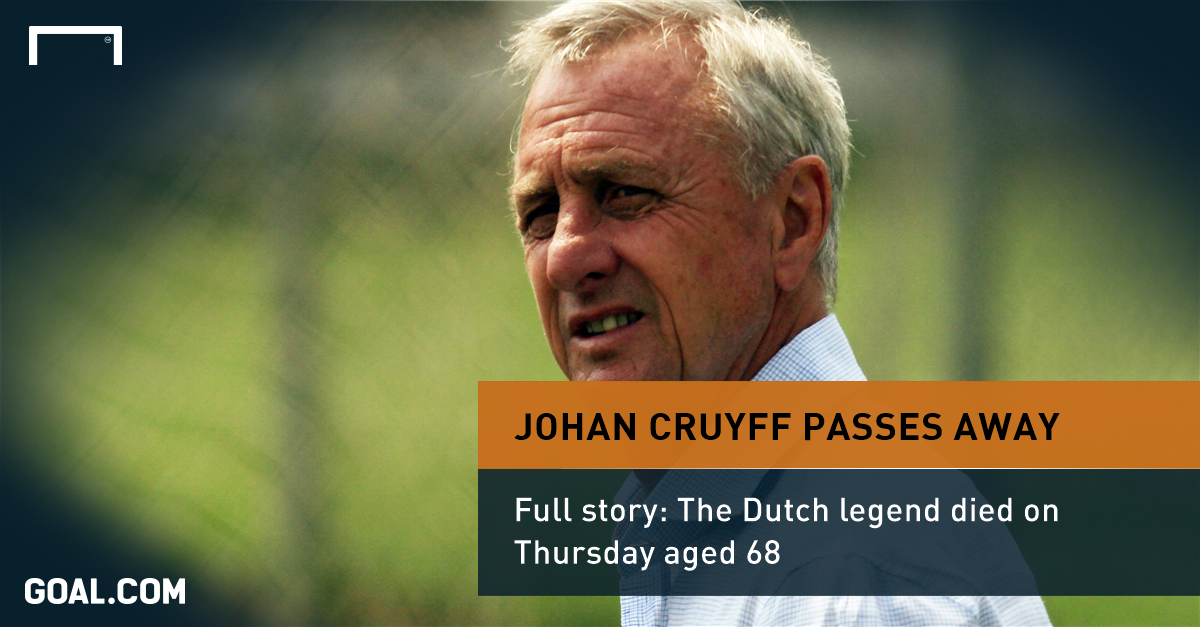 Rijkaard led Barca to Champions League success in 2006, while Guardiola's side claimed continental crowns in 2009 and 2011, among a host of other titles which saw the pupil surpass his master and claim 14 trophies for the Catalan club.
Luis Enrique, the most recent winner, was among four former Cruyff charges leading teams at last year's quarter-final stage in the Champions League. The others were Laurent Blanc, Julen Lopetegui and Pep.
And without Cruyff, there may have been no Pep at Camp Nou in the first place. Asked if he felt envy at the younger man's superior success rate, Cruyff once said: "I haven't worked for 15 years and he is making me even more famous. So, how am I supposed to be jealous of someone who is maintaining my prestige? What more could I ask for?"
Just last month Johan Cruyff said he felt "2-0 up" in his battle against lung cancer which is why news of his death has been met with such a deep sense of shock and sadness. Given his influence both as a player and as a coach, football is likely to have to wait a long time for another Johan Cruyff.