ANALYSIS
By Pilar Suarez | Goal.com Spain
David Villa still cannot see the light at the end of the tunnel. Virtually a year after suffering serious injury with a broken leg at the Club World Cup which kept him out for eight months, the Spain striker's return in pre-season overshadowed even the signings of Alex Song and Jordi Alba. But more than three months into the season, the Asturian still cannot hold down a first-team place.
Villa had hoped to feature at Euro 2012 but missed out as he concentrated on gaining full fitness for the current campaign. He finally returned in August, when he came on for Sergi Roberto in a pre-season friendly against Dynamo Bucharest and played the final 18 minutes. And the signs were positive, although the striker clearly needed to win back his own confidence and settle among the group once more.
The season started well. Villa came off the bench to score in Barcelona's first league match, at home to Real Sociedad, which the Catalans won 5-1. After latching onto an Andres Iniesta pass, the striker sealed a happy return and celebrated by revealing a T-shirt with a message for his wife and daughters: "Impossible without you!"
BETTER THAN IN 2011-12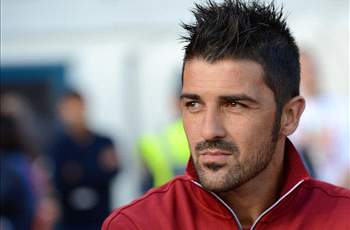 David Villa has already scored eight goals for Barcelona this season - five in La Liga and three in the Copa del Rey.

That has seen the Asturian overtake his 2011-12 total of six strikes for the Blaugrana before his broken leg at the Club World Cup.

Villa, who turned 31 at the beginning of this month, has also scored twice since returning to the international fold with Spain, but has yet to convert in the Champions League this term. His last goal in that competition came in the 2010-11 final against Manchester United at Wembley.
That earned Villa his first yellow card of the season, but after the game he said: "I'm in a good moment. I have been training for five weeks at the highest level. At Barcelona, the demands are so high because my team-mates are such good players. The best thing is to be patient and hopefully I can get better and better, and play a full game as soon as possible."
But by October, that patience was beginning to run out. "The fact that I haven't been used to playing regularly means I am less patient," Villa explained. "But I'm ready to play and I know my leg will respond to 90 minutes [of action]."
Tito Vilanova responded, saying: "Villa is recovering the role he had before ... but it also depends on him."
The Catalan coach is methodical, technical and tactical. For Tito, Villa remains an important player and continues to represent an important variant against any of the teams Barca will face in the coming weeks. But how long will Villa's patience last? He has played 431 minutes so far in La Liga, across 10 matches, but has not completed the full 90 in any of them. However, he has five goals to his name and eight overall in 2012-13.
Little by little, the striker is playing more minutes. Against Alaves in the Copa del Rey he played 70 minutes in the away leg and the full 90 at home, albeit alongside a string of youth-team and fringe footballers. He scored three over those two games and has featured in all six Champions League fixtures for the
Blaugrana
so far this term. Only once, in the meaningless game against Benfica on Wednesday, has he started, however, and completed the full 90 minutes.
Villa's future remains uncertain, but Tito will not give in to pressure from the media. "We are allowed to play with 11, just like everyone else, and not everyone can start," Vilanova added after the 5-1 win over Athletic Bilbao last weekend. "David has been good, he has scored goals after the bad injury he had and it's important to have him here."
But the player turned 31 last week and is unlikely to be prepared to spend so much time on the bench in the coming months. So Villa must decide whether to bide his time for a first-team place (which will not come in his favoured central position because Lionel Messi plays there) or move to a lesser role where he will be able to feature week in, week out.
From Barcelona's point of view, allowing him to leave would be a mistake, with only Andres Iniesta impressing more than the Asturian in the advanced role on the left. But with the renaissance of Cesc Fabregas, plus the protagonism of Messi, Pedro and Cristian Tello, Villa may not be back in the team as soon or as much as he would wish.
Alexis Sanchez is also set to return, although the Chilean's future is even less secure following some subdued showings in 2012-13. The South American is perhaps not direct competition for Villa, then, but winning his place back is proving tougher than the striker had imagined and the winter break may be the time to reflect upon his future - be it at Barca or elsewhere.
Follow Pilar Suarez on