TACTICAL ANALYSIS
By Ben Hayward | Spanish Football Writer
Alexis Sanchez lay on his back after Barcelona training, flicked the ball up with his instep, and balanced it between his feet, knees, chest and head in an impressive exhibition of skill and control which lasted for over a minute. When he had finished, Andres Iniesta appeared. "Remember, Alexis," the midfielder warned him, "at Barcelona, the best players are the ones who pass the ball."
Sanchez was new to the Catalan club but soon found out that life would be different here. In those early days, the Chilean spoke little and kept himself to himself, with Lionel Messi even asking his agent for help in bringing the player out of his shell. A year later, however, the former Udinese forward is still struggling to express himself on the pitch for Barcelona - and it's not all about his shyness.
When he arrived at Barca, Pep Guardiola claimed Alexis could operate in any of the three forward positions, yet the 23-year-old has featured mainly on the right for the Catalans, with varying degrees of success. In Chile, observers point to his solid scoring stats, his tender age, his injuries and his equaliser in the 3-1 win at Real Madrid in December 2011.
HOW ALEXIS FITTED IN AT UDINESE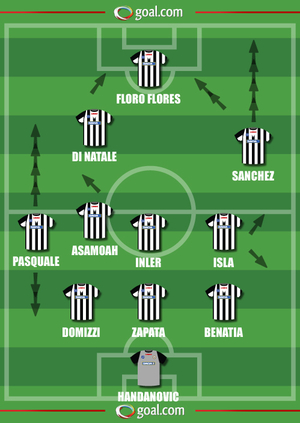 RIGHT TO ROAM: Sanchez enjoyed much more space on the right in Serie A

In Spain, however, the belief is that there is much more to come from Alexis. Part of the problem is that, at Camp Nou, the Chilean is restricted by his side's system. Barca play a possession game and even the defence starts high up the pitch, meaning the midfield and attack operate much further forward than at other clubs and, therefore, Sanchez is unable to stretch sides with his pace and explosive wing play, which was the strongest feature of his game at Udinese.
In Serie A, explains
Goal.com
's Italian Writer Kris Voakes, "Sanchez regularly picked the ball up from deep, but without having much defensive detail. Full-back Mauricio Isla would occasionally get forward to collect the ball off him or make decoy runs, but Alexis was mainly about getting beyond the back line and bringing in Antonio Di Natale off the back of Antonio Floro Flores or German Denis.
"Sanchez had space to run at players and got beyond defences. He never had a magnificent conversion rate, but chipped in with a reasonable number of goals."
At Barcelona, Alexis also managed his fair share of strikes in 2011-12 (15 in total), but too often he would fail to impose himself, let his frustration show, lose confidence and drift out of matches. Indeed, the Chilean often appears to be trying too hard, has earned a reputation as a diver and remains too much of an individualist at times.
This season, Barca have employed a more direct approach, especially away from home, cutting down on the number of passes and using the wide players to stretch their opponents in the final third. In theory, Sanchez should thrive in such conditions.
It worked well in Barca's 2-0 win at Benfica in early October as Alexis attacked the space up front and got into good scoring positions. The Chilean was the
standout performer
and scored the opener. Unfortunately, he hasn't repeated this showing since.
It is a measure of his shyness that the Chilean offered his very first press conference as a Barcelona player at the end of September, telling reporters there was much more to come and giving himself just "five out of 10" so far for his displays with the Catalan club.
Coach Tito Vilanova later tried to boost his player's fragile confidence by claiming the forward had performed a lot better than that, but was forced to admit recently that the South American was suffering from a new low as he revealed: "Alexis needs a goal."
BARCELONA V GRANADA: 22/09/2012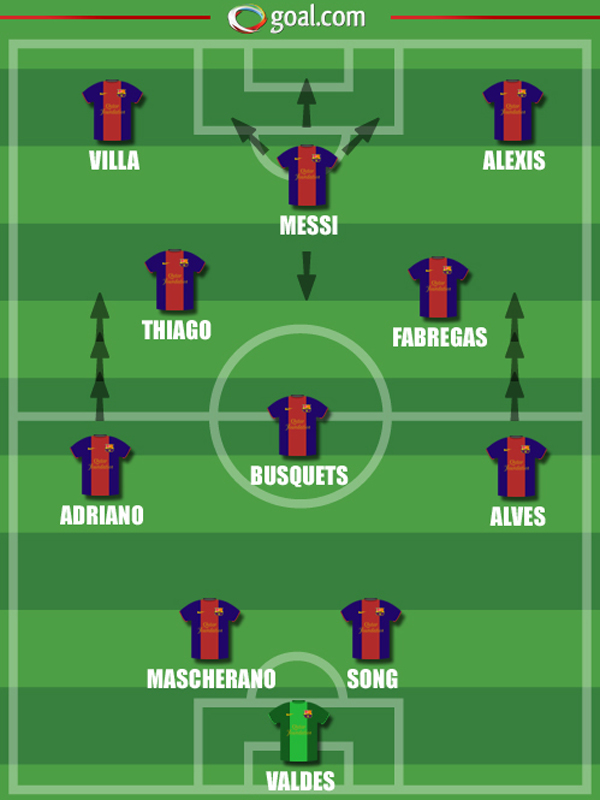 FURTHER FORWARD: Alexis has less space ahead of him and his running is restricted

Sanchez is a good crosser and a decent finisher but his game is maximised when he is given space to attack and he would arguably be more suited to Real Madrid's counter-attacking than to Barca's possession play.
Already he has Dani Alves - or recently Martin Montoya - operating behind him as an added attacker. The Brazilian plays much more like an orthodox winger than a full-back and the Chilean has been unable to establish a successful association with his fellow South American as he did with Isla.
With Chile, Sanchez's best form came in the lead-up to the 2010 World Cup under Marcelo Bielsa, as a right-sided forward in the Argentine's famed 3-1-3-3 formation.
That system owed plenty to possession, too, but Alexis was not playing with his back to goal as has happened at Barcelona. And that's because very few sides enjoy the control of the ball like the Catalan club. With his national side, then, there was more scope for quick breaks than at Barca.
Additionally, Alexis was playing off an orthodox centre-forward, usually Humberto Suazo. At Barca, he has Messi alongside him in the middle, but while Cesc Fabregas forms an almost telepathic understanding with the Argentine, Sanchez struggles to read his team-mate's movements from deep. The Chilean didn't come through the youth system at La Masia, of course, and these things take time, but he has looked more at home with a fixed point of reference in attack, in the shape of a more traditional central striker, which he doesn't have at Barcelona, while much of his game is sacrificial - to drag markers and create space for the Argentine to exploit. It's a selfless role, but one he has carried out without complaint.
Alexis has not been a failure at Camp Nou, but the player's own critical self-assessment highlights his frustration at not being able to do more for the Catalan club. As Barca adopt a more direct approach under Vilanova, his impact should increase, particularly away from home, while the 23-year-old can continue to work on his movement and the timing of his runs. But perhaps the side's system means we will never see the real Alexis Sanchez in a
Blaugrana
shirt. And that would be a real shame.
Follow Ben Hayward on