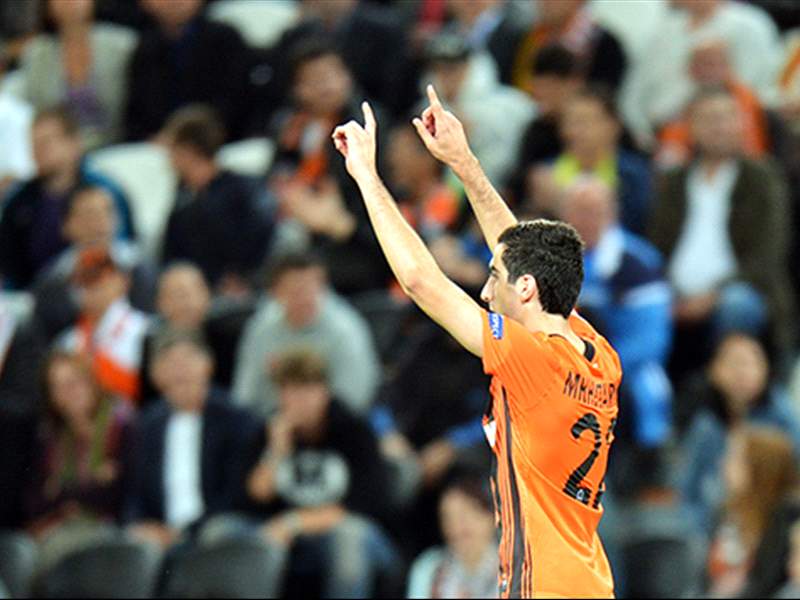 PROFILE
By Michael Yokhin
Donbass Arena in Donetsk is a very musical stadium. Every goal by Shakhtar is greeted with tunes from the country of the scorer. Ukrainians are getting their national hopak, but most of the time the crowd naturally listens to samba.
Almost all of Shakhtar's midfield and attack is based on Brazilians. Luiz Adriano, Willian, Fernandinho, Ilsinho, Alex Teixeira, Douglas Costa – the veteran Romanian coach Mircea Lucescu must speak Portuguese quite fluently by now. This season, however, samba is less frequent, and its place is taken by the Sabre Dance. Aram Khachaturyan is Armenia's finest composer, and Henrikh Mkhitaryan is the man responsible for him being celebrated in eastern Ukraine.
The 23-year-old midfielder has been unplayable in recent months. After scoring just four goals in his first year at Shakhtar in 2010/11, and netting 11 times in all competitions last season, Mkhitaryan has amazingly put 15 balls past opposing keepers in just 11 games since July. His 13 goals in the Ukrainian league include a hat-trick versus Chernomorets Odessa and doubles against Arsenal Kiev, Volyn and Vorskla. Add four assists, and you get a player who is pretty much unstoppable. Tonight, Juventus could experience difficulties trying to deal with the Armenian, who struck twice in the 2-0 win against Denmark champions Nordsjaelland on the Champions League opening day.
Those who have followed Mkhitaryan's career are not surprised by these exploits. His outrageous talent has been there for all to see for a long time now. Hamlet Mkhitaryan, Henrikh's father, was the biggest star of Ararat Yerevan in the Soviet league during the 1980s, scoring 46 goals for the club. At the beginning of the 1990s, Mkhitaryan Sr moved to France, where he helped the now defunct Valence to be promoted to the second division. That's where Henrikh spent his early childhood. Tragically, Hamlet Mkhitaryan died of a brain tumor at just 33, and never witnessed his heir developing into an outstanding footballer.



"I definitely feel more comfortable close to the attack, even though I don't mind playing as a holding midfielder if that's what the team needs

"



- Henrik Mkhitaryan

Unlike his father, Henrikh has mostly played in midfield since starting his career at Pyunik Yerevan aged 17. By 2009, he had won four Armenian league titles and was quite clearly too good to stay. Many teams tried to acquire his services, and Mkhitaryan was tempted to go to France, where he would have no language problems. Lyon and Lille were realistic options, while there was also interest from Lokomotiv Moscow and Boca Juniors. The youngster said at the time: "It is an important dilemma, as I must choose a team where I will be assured of a starting place."
This logic led to Mkhitaryan signing for unfashionable Metallurg Donetsk, where Yaya Toure spent more than a year at the beginning of his career. The Ivorian was sold to Olympiakos for €2 million in 2005, the Armenian's price was €7.5m when he joined city rivals Shakhtar in 2010. One could claim that was still a bargain. In his only full season at Metallurg, Mkhitaryan was the unquestionable leader, scoring 14 goals from midfield, guiding the team to the Ukrainian Cup Final, and eventually being named team captain. Shakhtar beat Tottenham and Werder Bremen to his signature, and those clubs will regret missing out on him.
MKHITARYAN'S CAREER STATS

TEAM

GAMES

GOALS

Shakhtar
53
26
Metalurg
37
12
Pyunik Yerevan
70
30
Armenia
33
8
Armenia U-21s
13
9
CAREER
206
85
At first Lucescu used Mkhitaryan in a slightly withdrawn position, where his vision and precise passing were very useful. Towards the end of last season, though, the coach moved the Armenian higher up the field, handing him the free role behind the striker, and the results were stunning to say the least. Magically two-footed, calm in front of goal and extremely confident, Mkhitaryan flourished, and after being voted Shakhtar's player of the season by fans he stated: "I definitely feel more comfortable close to the attack, even though I don't mind playing as a holding midfielder if that's what the team needs."
Modesty is one of Mkhitaryan's main qualities, as he states that he "doesn't feel like a star", even though he is one of the best players in the most successful outfit in Ukraine, winning two league and cup doubles in his two seasons at Shakhtar. His willingness to play for the team can be highlighted by a beautiful example from the last day of 2011-12. With the title already assured, Shakhtar led 2-0 against Oleksandria when Mkhitaryan, who scored in the first half with a header, got an opportunity to claim a very easy brace. Despite having just the keeper to beat, the Armenian chose to pass to Yevhen Seleznyov, so that his fellow striker could become the league's top scorer. As unselfish as he is talented, Mkhitaryan is very much liked and respected in the dressing room.
As well as starring for Shakhtar, Mkhitaryan also hit the headlines by scoring no less than six goals in Armenia's sensational Euro 2012 qualifying campaign. Armenia were one of the biggest surprises of the tournament, beating Slovakia twice, including a 4-0 stunner in Bratislava. Only an unlucky defeat in Dublin on the last day meant they lost out on a playoff place. Mkhitaryan, who made his national team debut before he was 18, is already one of his country's leaders, partnering in attack the Russian Premier League's top scorer Yura Movsisyan of Krasnadar.
Armenia might not be so prolific in the World Cup 2014 qualifiers, having been handed a tough draw with Italy, Denmark, Czech Republic and Bulgaria. Nevertheless, the Italians should be aware of his impressive potential. The goal against Dnipro last week was Mkhitaryan's 100th in his rising career, and he is quite clearly the most in-form player in the whole of Europe. Juventus' Gianluigi Buffon, Giorgio Chiellini, Andrea Barzagli and Leonardo Bonucci will take him on tonight in the Champions League, before meeting the young prodigy again in Yerevan next Friday, wearing
Squadra Azzurra
shirts. They will have their hands full on both occasions.