TACTICAL ANALYSIS
By Paul Macdonald

It was a transfer centred around passion rather than desire. The triumphant homecoming of Cesc Fabregas to Barcelona in the summer of 2011 concluded a protracted pursuit from the Catalan side, with the prodigal son's return culminating Cesc's three-year flirtation with his former home.

It was a deal that seemed destined; a player cultivated in La Masia, sent forth to pastures new, to return as one of the finest midfielders in the world.

A problem, however. Barcelona's talent production has been unstoppable in recent years, particularly in the area of the pitch Fabregas navigates. Sergio Busquets, Xavi, and Andres Iniesta make for an enviable triumvirate. How would Cesc fit, came the cry? More than 12 months later, it is becoming increasingly difficult to avoid the inevitable, and perhaps unwanted, riposte - he hasn't fitted at all.

In 2012, Cesc and Barca appear to be in two separate matches on the same pitch. The player admitted as much: "Under Guardiola I never really got to grips with the system. I had been playing another style of football and to take on board so much so quickly was difficult, because everyone else had already got it down.

"Some people commented that I lacked something last season, including Guardiola."


| | |
| --- | --- |
| | |



| | | |
| --- | --- | --- |
| | Aug 11 - Jan 12 | Feb 12 - Present |
| Games | 27 | 25 |
| Starts | 21 | 20 |
| Substitute Appearances | 6 | 5 |
| Goals | 14 | 1 |
| Assists | 10 | 8 |
Yes, there was a prolific spell when the switch seemed so fluent and congruous that his introduction barely cost Barca a break in stride. Eleven goals before Christmas - incidentally, a higher goal total than Iniesta has ever contributed in an entire campaign - indicated the possibility of a Cesc evolved from Arsenal. An advanced attacker in every sense, one who could form part of a front three as easily as he could be rotated in midfield.

But the initial courtship has since soured. The goals have dried up, and the assists are skewed when you consider that half of his total came in crushing wins against Bayer Leverkusen and Osasuna, and a further three against minnows L'Hospitalet.
Reunions are often not quite how you expect them. As Fabregas pined for home, the fact remains that his style and that of Barcelona diverged. He is now re-learning the Masia mandate, frenziedly attempting to convene on the same frequency.
ARSENAL v SPURS: 31/10/09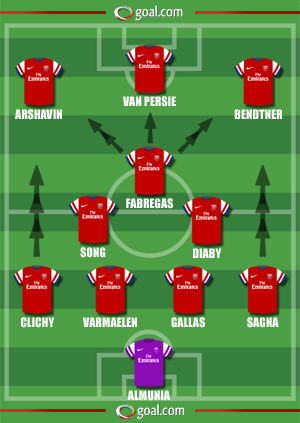 FREE ROLE: Fabregas excelled at Arsenal in the 'hole'

At Arsenal, Cesc graduated from prodigious playmaker to indispensable asset. His sphere of influence was such that he had free reign to collect the ball in behind a main striker (formerly Emmanuel Adebayor, latterly Robin van Persie). He would receive and create, within an area of the pitch very much defined as his. His territory, his decision-making, his composition of play. Within these parameters, he thrived.
His performance in the 3-0 humbling of Tottenham in 2009 had everything that made him so revered; Imposing, clinical. He was the absolute driving force of the team, and being the centre of attention complimented his approach perfectly.
But Barcelona's three central elements are more interchangeable, and Cesc has pained to stress that his on-field expressionism has required adaptation. He remarked: "It was my fault really because I tried to be what I am not; I am not Xavi, Iniesta, or Thiago."
Perhaps his limited authority can be more readily defined by those around him, rather than his own shortcomings. At Camp Nou, his Arsenal sphere is invaded by a certain individual: Lionel Messi. In the past three seasons, the Argentine has migrated from the right-wing to a central role, a 'false nine' that dominates the central strip of the field from halfway line to box. This is his domain, and others who thought they could impact this arrangement have either been jettisoned (Zlatan Ibrahimovic), or been forced into relocation (David Villa).
Guardiola placed Messi on an immovable pedestal - why wouldn't he. The triple Ballon d'Or winner missed 151 minutes of league action - in total - in 2011-12. He is virtually omnipresent. Yet Cesc seems unsure where he should operate, as part of a midfield three, with Messi engulfing the central area. A player such as Iniesta inherently takes up a left-sided starting position and chooses his moments wisely to impact upon the play, and to link up with the Argentine. Cesc often stays out of the Messi zone, and therefore is relegated to a supporting role, circulating possession rather than providing any definitive action.
BARCA v VALENCIA: 2/9/12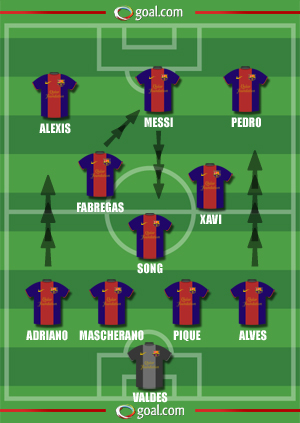 SPACE INVADER: Messi's presence leaves Cesc unsure of his role
This was in evidence against Valencia on Sunday. Cesc was subdued, and after sending an early chance off the post and wide when it appeared easier to score, he abstained from the action. He lasted an hour.
In three league starts this season, he has played significantly more minutes than Iniesta - 185 to 128 - and in that time he has contributed two shots, one on target, with one key pass. Iniesta, in comparison, has had five shots, two on target, with two key passes - this with two appearances from the bench. Iniesta is, by nature, more involved in the final third of the pitch.
Perhaps it is telling that while Tito Vilanova has given Cesc Liga outings, it was because those games rested either side of Supercopa encounters with Real Madrid. Over both legs, he was on the pitch for just 10 minutes.
Cesc cuts a confused figure, his lack of identity apparent in his frustrated poses. He claimed that his poor form had been a "mental block", and spoke of his current demeanour: "If I have to take my unhappy face home then so be it, but I would never let my team-mates or manager see it."
His dissatisfaction is more palpable than he knows. Cesc could not grasp what Guardiola expected, and it seems that Vilanova may face a similar struggle to extract the best from an unquestionably gifted footballer, but one who is being increasingly marginalised at Camp Nou.