ANALYSIS
By Vince Rugari
The landmark signing of Alessandro Del Piero by Sydney FC could be the A-League's 'Beckham moment' - but only if Australian football can correctly channel his buzz into genuine growth and development.
That is the belief held by experts in both the United States and Australia, including founding general manager of the Chicago Fire, Peter Wilt, and former head of corporate and public affairs for Football Federation Australia, Bonita Mersiades.
David Beckham's move to the LA Galaxy in 2007 changed the face of Major League Soccer and the entire sport in the United States forever, bolstering attendance numbers, broadcast deals, sponsorship, jersey sales, on-field quality, facilities, global credibility and general interest in the game.
Like the US, football is far from the most popular sport down under - rugby league, Australian rules football and rugby union all benefit from a much greater public profile - despite high participation figures.
But Juventus legend Del Piero could be a gamechanger in the mould of Beckham, believes Wilt.
"I think the interest from what I've been seeing [between Beckham's MLS arrival and Del Piero's A-League move] is similar," he told Goal.com.
"I think there are a number of parallels. In both cases, there had been big names before - great international players that had come, but no one of the level of Beckham or Del Piero.
"It's going to transcend the football crowd."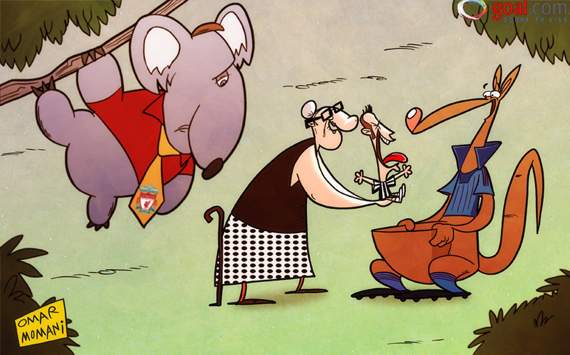 Cartoon of the Day | Can the A-League harness the benefits Del Piero can bring?
After committing to a two-year deal worth a reported AU$4 million, Sydney FC chief executive Tony Pignata - who, with the assistance of agent Lou Sticca and the backing of club owner David Traktovenko, convinced Del Piero to move down under - will be counting on the revered Italian to do the same.
Il Pinturicchio may not find himself the focus of gossip magazines and celebrity culture to the extent that Beckham is, but his worldwide popularity cannot be understated.
"This is a timely and unexpected boost for the A-League competition to help take Australian football to the next level," Mersiades told Goal.com.
However, the A-League has been here before - Del Piero, now 37, is not the only big name to have been drawn to the fledgling competition.
The signing by Sydney FC of former Manchester United star Dwight Yorke for their inaugural season was the league's first major coup, and other famous faces - Juninho, Robbie Fowler and Harry Kewell to name a few - have followed in his footsteps.
But these marquee players have all come and gone without leaving any form of lasting legacy like Beckham has in the US.
Mersiades warned: "While Del Piero will provide a major stimulus to the A-League and Sydney FC, his signing of itself is not the 'magic bullet' for football development in Australia."
"FFA needs to harness the community interest that this signing will generate, delivered to them by Sydney FC and Tony Pignata.
"Football in Australia will not be able to match the public profile and corporate sponsorship of the other three football codes until there is continuing development and growth of the game across all fronts."
For a city of 4.5 million people, Sydney's crowds in particular have dropped to embarrassing levels since the Yorke days.
Under pragmatic former manager Vitezslav Lavicka, the Sky Blues saw attendance figures plummet to an average of just 7656 in season 2010-11 before a rise to 9628 last term.
They also face new competition with the introduction of the FFA-funded Western Sydney Wanderers to feed an insatiable demand for football on the outskirts of the city.
"Sydney's crowds are going to increase significantly, but so will the away attendances," Wilt said.
"All of a sudden, Sydney FC is the match to watch throughout the league.
"Sydney FC could not have made a better signing to compete with the Wanderers in their first season."
However, the advantages of the Del Piero signing need to be shared league-wide following a tumultuous 12 months in Australian football.


"All of a sudden, Sydney FC is the match to watch throughout the league

"





- Peter Wilt

A former colleague of Mersiades', FFA chief executive Ben Buckley announced in August he will leave his post as soon as the A-League's new broadcast deal is negotiated.
To say that Buckley has been an unpopular figure throughout his nearly six-year term is a gross understatement.
Expansion in the A-League has failed abysmally under his watch, with new clubs North Queensland and Gold Coast United both folding, while club owners have staged a near-mutiny over funding allocations and broken promises.
With Del Piero as the new face of the league, the forthcoming TV rights contract should enjoy an increase courtesy of the Italian, which could iron out these problems and lay the foundation for growth under incoming CEO David Gallop, formerly of the National Rugby League.
And if Del Piero's stint in Sydney goes off without a hitch, then at the very least he will open doors for other big-name players to play in Australia.
"The whole soccer world will be keeping an eye on this experience he has," Wilt said.
"To me the most important aspect of this signing isn't the next two years of Del Piero. It's this - is this a one off, or does it lead to other players of this caliber making similar moves?
"There have been 50 designated player signings since David Beckham came. The fact is it opened up the doors and made players consider the MLS that in the past had not."
- With Paddy Higgs