TACTICAL ANALYSIS
By Ben Hayward & Paul Macdonald
It was all about Cristiano Ronaldo. The Portuguese scored twice, refused to celebrate, departed with an injury and sent a message to his employers by telling the mixed zone media of his 'sadness' after the game. As usual, it was he who hogged the headlines.
But it should really have been about Luka Modric and Mesut Ozil. The Croat was handed his full debut by Jose Mourinho and, after much speculation over where he would play, it was in the German's usual playmaking position that he began to seduce the Santiago Bernabeu faithful.
Modric passed, probed, flicked and feinted, dropping deep to slot in alongside Xabi Alonso and Sami Khedira at times, while linking up exquisitely with attackers Ronaldo, Jose Callejon and Gonzalo Higuain. It was only 57 minutes, but the Croat's cameo left the Bernabeu buzzing and even Mourinho, upset by his side's disjointed display, was impressed with the 26-year-old's initial influence.
Early indications suggest Modric needs some time to reach peak fitness, as Mourinho also mentioned in his post-match press conference, but the Croat's first start in the white of Madrid also hinted at a fine footballer here to play a pivotal part in this Madrid side. Great news for the capital club, then. But bad news for Mesut Ozil.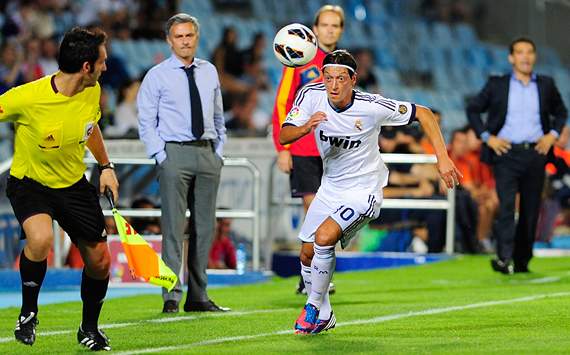 Benched | Mourinho wants more from the 23-year-old playmaker
The German stared blankly into space as he replaced Modric on Sunday - and he has every right to feel despondent. The 23-year-old has 50 assists at Real Madrid since signing from Werder Bremen in the summer of 2010, but struggles to complete games, is not a great goalscorer and has endured a disappointing start to the current campaign. With Modric on board, his place is now under threat.
IN NUMBERS


Ozil

's slow start to the season

0
Never a prolific goalscorer,

Ozil

has yet to net this term and missed an open goal against

Getafe

1
The German is prolific with assists but has just one so far in 2012-13 - and that was from a corner
2

Ozil

has completed 90 minutes just twice this season and started on the bench against Granada
33
His minutes on Sunday, having started the first four games
Ozil is acutely aware that, after subduing the influence of Kaka, he is now faced with the challenge of competing directly with the Croatian. He stated: "Every Madrid player is always under pressure and has serious competition. Real have got a minimum of 18 players, not only 11. You get used to it. But it's not about Ozil, Kaka or Modric...it's all about Real."
For now, however, the former Tottenham man appears to have moved in front of the German in Mourinho's affections. After the game against Granada, the Portuguese remarked: "His response was positive against Barca and today he did well. It was difficult for him in a game in which the team didn't play well."
The concern is whether Ozil can meet the demands of being an offensive creative influence in Mourinho's set-up. In 30 league starts in 2011-12, Ozil was substituted out of the action 21 times. From 10 starts in the Champions League, he finished the match only twice. Modric, on the other hand, completed 90 minutes in 34 out of 36 Premier League matches. It could be argued that Ozil faced greater competition for his position last season in the form of Kaka, but on the occasions he was sacrificed by Mourinho, he had been ineffective, or didn't have the physical capacity to finish the contest.
Modric offers more in terms of regaining possession, too; there is an aggression and resistance to his play - which he developed in the Premier League - that is an advancement on Ozil's more passive approach when the opposition has the ball. In Modric, Madrid have found a player as dynamic when stalking the ball as he is when selecting a sliderule pass. Granada don't represent the benchmark by any manner of means, but the positions taken up by the Croatian seemed natural, a logical fit. He was able to dictate and assert his character in a game when Madrid were generally underwhelming - Ozil has been accused of being on the periphery of games that aren't going to plan.
REAL MADRID: STRONGEST XI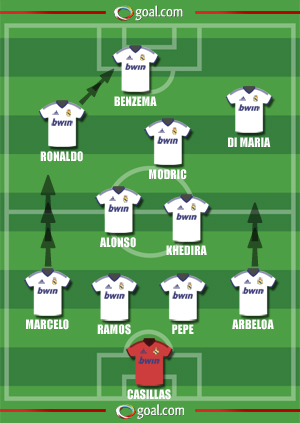 CENTRE OF ATTENTION: Modric should operate as a playmaker for Jose Mourinho's team
Ozil has one assist so far this term, and it was a vital one as he crossed for Cristiano to head home the opener at Camp Nou in the first leg of the Spanish Supercopa. But even that - which saw him become the player to have provided most assists ever for the Portuguese - came from a corner. In open play, he has looked slow and sluggish in 2012-13. And Mourinho is losing patience.
Should Modric drop deeper, both he and Ozil could yet feature in the same side, but Mourinho is not keen on tinkering too much with his side's devastating 4-2-3-1 formation and the consensus in Spain is that the Croat and the German will compete for one place in the side.
As former Real Madrid and Spain striker Alfonso told
Goal.com
: "I see Modric and Ozil alternating. I believe that's the idea Mourinho has because that's the way Real Madrid play and he wants to give the German some competition."
That could be wise. Ozil's slipshod start to the current campaign leaves him in danger of dropping to the bench on a permanent basis, although Mourinho recognises his value to the side and hopes he can recreate the form he has shown in the previous two seasons.
Mourinho also believes the German is capable of more and hopes the arrival of Modric can provide healthy competition - much like the dynamic displayed last term between Karim Benzema and Gonzalo Higauin.
For now, however, the former Tottenham man appears to have moved in front of the German in Mourinho's affections.
Madrid chased Modric for the entire summer and so far, so good. Mourinho appears content with the player's adaptation and with his fitness improving in the next few weeks, the Croat is likely to receive more opportunities to show his worth.
Madrid fans are purring, too, and Ozil now faces a fight to win back his place in the starting XI. The German is adored by the Madrid faithful, but football is fickle and the man of the moment is Luka, not Mesut. The future formation, then, could be more like the one above. Either way, it's a nice problem to have for Mourinho.
Follow Ben Hayward on