ANALYSIS
By Luke Matthews
For the second time in five years, Cristiano Ronaldo has been crowned the winner of the Goal.com 50. He first scooped the prize in its inaugural year back in 2008, but if we are looking at the finest player in the history of the award, there is only one winner.
Step forward Lionel Messi.
Despite netting an incredible 73 times for Barcelona last season - breaking Gerd Muller's 39-year-old record of most goals scored in a single European campaign in the process - the Argentine finished in third spot in the final list; the first time the attacker has ever been outside the top two.
Barca's failure to retain their Liga and Champions League trophies was the key factor in Messi finishing behind Ronaldo and Iker Casillas as the Real Madrid duo ended the season with winners medals in the Spanish top flight, with the shot-stopper also adding the European Championship to his haul.

However, using our own ranking system, we looked at who would make up an all-time Goal.com top 10. The top-rated player each year was awarded the perfect score of 50, with second place securing 49, third place picking up 48 and so on, with the lowest tally of one mark given to the player in 50th spot.
Messi emerged on top overall with an incredible score of 246 out of a possible 250; his consistency in making the top three over the past five years puts him head and shoulders above his competitors.
GOAL.COM 50 ALL-TIME TOP 10


PLAYER
2008

2009

2010

2011

2012

TOTAL
1.
Lionel

Messi

49
50
49
50
48
246
2.
Cristiano

Ronaldo

50
47
42
49
50
238
3.

Xavi

46
48
48
48
44
234
4.
Andres

Iniesta

37
49
44
47
47
224
5.
Wayne Rooney
35
41
38
34
11
159
6.

Zlatan

Ibrahimovic

45
46
N/A
30
32
153
7.
David Villa
44
33
43
29
N/A
149
8.

Iker

Casillas

47
N/A
30
11
49
137
9.

Mesut

Ozil

N/A
8
29
43
39
119
10.
Dani

Alves

9
45
20
31
8
113
In second place was this year's victor, Cristiano Ronaldo. The Portuguese may have now equalled Messi's total of two Goal.com 50 titles, yet his ninth-place finish in 2010 - his first season at Real Madrid - ultimately let the 27-year-old down, as he picked up a total of 238 points.
Xavi takes third spot in the all-time top 10 and, although the experienced midfielder has never won the Goal.com 50, or even finished second, he is rewarded for his consistency and finished just four points behind Ronaldo. The 32-year-old claimed third place in three consecutive years between 2009 and 2011, showing he has what it takes to rank among the world's elite over the past five seasons. But Xavi suffered his lowest positioning this year, finishing in seventh spot. Is the Catalonia native now on the decline?
Andres Iniesta places just below his Barca team-mate in fourth spot. With the diminutive star a constant presence in the list's top 10 since 2009, he racked up a grand total of 224 points.
The surprise inclusion in the all-time top five is Manchester United's Wayne Rooney. Despite placing 40th for his performances during the 2011-12 campaign, the England international has enjoyed four top-20 placings, even if he is over 60 points adrift of Iniesta.
Zlatan Ibrahimovic, David Villa, Iker Casillas, Mesut Ozil and Dani Alves make up the rest of the top 10, and the latter joins Messi, Ronaldo, Xavi, Iniesta and Rooney as the only players to feature in every Goal.com 50 to date.

It is fair to say Villa's absence for the majority of the 2011-12 season with a broken leg severely hindered his hopes of making the latest list. If he had been fit and firing on all cylinders, it is likely the forward would be ranking in the Goal.com 50 all-time top five alongside three of his Barca team-mates.
Ozil is an interesting case in ninth place, given that the Germany international is still only 23 years old - the youngest player in the list. If the playmaker continues his current form, he is sure to continue moving up the all-time rankings.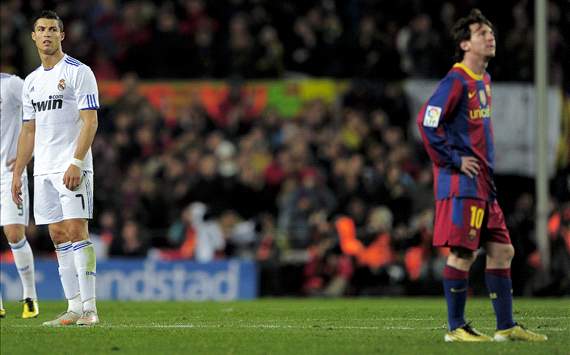 Worlds apart | The personal battle between Messi and Ronaldo will run and run
Looking outside the top 10, some startling statistics have been thrown up when analysing the last five years of Goal.com 50 rankings.
For one, it is worth highlighting that nine players have been included from Jose Mourinho's Real Madrid squad this year, and Los Blancos can now boast the joint most representatives in a single Goal.com 50 roster, alongside Barcelona (2011) and Inter (2010).
The Goal.com 50 has also showcased the strength of La Liga, with the Spanish top flight the most represented league in the world for four of the last five years. Only the Premier League back in 2009 had more entries: 14 to the Primera Division's 13.
When you consider that Spain have dominated international football throughout the Goal.com 50 era, it will come as little surprise that there have been more Spanish players than any other nation on four of the five lists - apart from 2009, where Brazil registered 11 to Spain's six.
In 2008, 2010 and 2012 - with two European Championship triumphs bookending a World Cup win - the Iberian nation had a mighty 10 representatives each year, making up 20 per cent of the list.
Spanish football, whether club or international, has been the overriding presence in the Goal.com 50 for five years now, and on the evidence of last season's showings from the likes of Messi, Ronaldo, Real Madrid, Barcelona and, of course, Vicente del Bosque's recently-crowned European champions, it shows no sign of stopping.
Follow Luke Matthews on