PROFILE
By Kris Voakes | Italian Football Writer
He met Clarence Seedorf's chipped pass with a perfect piece of chest control, let the ball bounce once, then fired past Alberto Fontana inside the near post in front of the Curva Sud. Before the ball had even hit the net, he was wheeling away to share the moment with the Milanisti behind the goal, mouth agape as ever. After taking the lengthy congratulations of his team-mates, he sunk to his knees facing the supporters once more and kissed his Rossoneri shirt.
In so many ways it was just a typical Pippo Inzaghi response to scoring a goal, but there was something so much more poignant about this one. As he returned to the halfway line, he repeatedly put his hands to his face as he did his best to hold back the tears. It was to be his last goal in Milan colours and, as it turned out, his last in football.
Tuesday's announcement by Milan that Inzaghi has been handed the post of Allievi Nazionali coach signals the end of one of the most remarkable yet underestimated careers in football history. In an age in which Lionel Messi, Cristiano Ronaldo et al are scorers of great goals, 'Super Pippo' was a great scorer of goals.
INZAGHI'S CAREER STATS

TEAM
Piacenza

Leffe (loan)

Verona (loan)

Parma

Atalanta

Juventus

Milan

ITALY

CAREER
GAMES
44

21

37

22

34

165

300

57

680
GOALS
17

13

14

4

25

89

126

25

313
In football's strange world where natural ability and sheer application collide, it was intelligence which became Inzaghi's modus operandi; his movement, hunger and anticipation making him one of the most feared strikers in the world. He gave defenders no let-up, always living on the last shoulder, forever disappearing out of a marker's sight at just the right moment. Simply put, nobody had the instinct for finding the right position that Inzaghi did.
Actually, make that 'does'. He may no longer grace football fields as of this week, but that intuition is something he will never lose. How do we know? Because it's something he has proven to have always had in his locker throughout his long, storied career. He will never lose that, no matter whether his legs can keep up with his beautiful mind.
He loved to live on the edge, and that saw him regularly stray beyond the last defender when the pass wasn't made at exactly the moment he wanted it. Many was the time he'd make a run, hear the referee's whistle, then turn and make another run, this one heading straight for the linesman to his right. The full array of Pippo remonstrations are regularly acted out by Milan fans whenever conversations in Italy reach the subject of Inzaghi.
His reputation in other countries became almost entirely focused on his gesticulating nuances, with Sir Alex Ferguson once famously quipping that "Inzaghi was born offside". But to focus on the slight downside of his nature was to not understand football.
To youngsters these days, the word 'skill' means to step over the ball, to flick it behind your opponent, maybe to pass the ball with your back. But the ability to move in a way that makes defenders hate your guts is a skill perhaps as important as any other. Football is such that you can be one of the most gifted talents in the world, but if you can't find the net, you're considered worthless.
Inzaghi was the opposite. Nobody ever suggested he was the complete footballer, but the absolute definition of a finisher he most certainly was. Every time the ball was sent into the box anywhere near him, you just knew he'd get there first; not due to him being fleet of foot, because he wasn't – not even when he was at his most sprightly. Rather it was in that instinct.
That was what made him one of the best ever in his position. His physical imperfections were never going to stop him being the best that he could be. Everything he achieved, he worked doubly hard for, and it was so often in the big games that he made his greatest mark.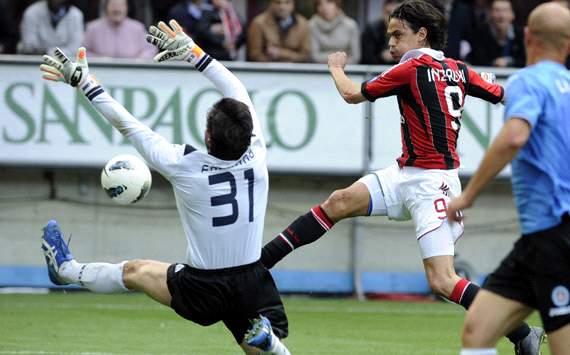 Finishing in style | Inzaghi's farewell the perfect metaphor for his entire career
After his early days with hometown club Piacenza, during which time he was loaned out to Leffe and Verona, he was snapped up by high-flying Parma. Having not hit the heights at the Tardini, he switched to Atalanta and never looked back. A capocannoniere-winning season earned him a move to Juventus, where he began to really make his name over a four-year period before joining Milan, where he was reunited with Carlo Ancelotti.
He would become synonymous with European football over the years. After 27 goals in 34 continental appearances for the Old Lady, he spent a long time at the top of the list of all-time European scorers, eventually finishing with 69 strikes. That record was helped in part by a phenomenal 12 goals in 16 games in Milan's 2002-03 Champions League winning campaign.
His defining moment came four years on, though. The Rossoneri's 2005 final defeat to Liverpool in Istanbul is still a subject of great reminiscence on Merseyside, with those infamous six minutes repeatedly re-watched on many a DVD player.
But for Milan to achieve vengeance just 24 months later showed magnificent fortitude, and it was Inzaghi they had to thank for helping to bury one of the most humiliating moments in the club's history. His two goals in the 2007 success in Athens allowed the Rossoneri to hold their heads high again. They were a proud club once more, and it was the finishing of Inzaghi which had done the job for them.
In later years there was no let-up. He was regularly on the scoresheet as recently as 2009, racking up his 300th career goal during a superb scoring run through March and April of that year. The 2010-11 season was just a couple of months old when his involvement was ended by a knee ligament injury, but that was never going to be his farewell. Handed another one-year deal, he was given the chance to finish on a high. In a season which saw him left out of the Champions League squad and rarely used in domestic football, he looked destined not to have the last laugh, but then there was that perfect finish against Novara in May.
He leaves the playing field as a winner, having captured almost every major trophy in the game - including two Champions Leagues, three Scudetti, a Club World Cup, and the World Cup. And he earned every single thing he won, every last goal he scored, through what he had in his head and in his heart. In the long list of intelligent players in football history, Inzaghi is right up near the top. And a time when many question the motives of footballers who earn record amounts to ply everyone's favourite trade, Pippo's passion can never be questioned.
Inzaghi also represents one of the last of a dying breed of 'goal poachers'. Gerd Muller, Gary Lineker, Ruud van Nistelrooy and David Trezeguet all made their names as world class strikers who offered little outside the penalty area, but were absolutely prolific inside the 18-yard box.
Slowly but surely this role is becoming redundant in football. Today, a centre forward is required to do as much of his work outside the area. Teams often field one man in attack, or as is the case with Barcelona and Spain, no attacker at all.
All the more reason why we should celebrate the legend that is Inzaghi. Football is the poorer for the departure of one of the last true strikers.