COMMENT
By Mark Doyle
While his former Swansea team-mates were still celebrating their Championship play-off final success over Reading in 2011,
Fabio Borini
was carefully considering his future.
The on-loan Chelsea forward had played a key role in the Welsh side's promotion to the Premier League, but he had a difficult decision to make: remain at the Liberty Stadium or seek out a return to his native Italy.
Borini had thoroughly enjoyed his time in Swansea up until that point. He was touched by the way in which supporters had stopped him in Sainsbury's and urged him to stay. He had again flourished under the tutelage of former Chelsea youth team coach Brendan Rodgers.
However, after a couple of hours of deliberation, Borini ultimately decided the best thing for his career would be to go home. He had let his head rule his heart. Just as he has always done. This is a player who has never let emotion cloud his judgement; never allowed sentiment to get in the way of his ambition; never permitted the opinions of others to affect his self-belief.
BORINI'S CAREER STATS

Club
Chelsea
(Jun 07-Jul 11)

Swansea (loan)
(Mar 11-May 11)

Parma
(Jul 11-Aug 11)

Roma
(Aug 11-Present)
League Apps
4


9


0


24


Goals
0


6


0


9


"I just think about playing and giving everything I have," he explained earlier this year. "I do not read the newspapers or listen to the radio. I have created a bubble in which I isolate myself, thinking only of my profession."
Indeed, it is no coincidence that when it comes to assessing Borini's attributes as a player, nearly every single coach who has worked with him feels compelled to mention his attitude.
"He has ambition and the right mentality," former Italy Under-21 boss Ciro Ferrara enthused while championing the player's cause for inclusion in Cesare Prandelli's squad for Euro 2012.
It was ambition that convinced the 16-year-old Borini to leave Bologna for Chelsea in 2007, and it was mental strength that got him through what followed.
After being added to the Blues' first-team squad in 2009, the Bentivoglio native was afforded just four Premier League outings before being sent back to the reserve team. Such a setback would have rocked the confidence of most youngsters, but not Borini, who responded with 14 goals in eight games for Chelsea's second string.
However, his remarkable resilience and obvious goalscoring prowess were not enough to persuade Chelsea to hold on to the teenager and he was allowed to join Championship outfit Swansea on March 17 of last year, just 12 days shy of his 20th birthday.
Having worked with the forward during his time at Stamford Bridge, Rodgers was in no doubt that he had acquired a player capable of aiding the club's promotion push and his faith in his former protege was fully vindicated as Borini netted six times in nine games before the end of the regular season.
Borini's form piqued the interest of several Serie A sides and he ultimately decided that he would be better served by a return to Italy. "Maybe it's a missed opportunity not playing in the Premier League, but maybe this is a good thing for my career and will make me stronger," he mused at the time.
Borini was right on both counts. Although he signed for Parma, he was immediately loaned to Roma and the forward flourished at the Stadio Olimpico, which was hardly surprising. In leaving Rodgers' Swansea for Luis Enrique's
Giallorossi
, he had swapped one passing side led by an innovative young coach for another.
Borini proved the revelation of Roma's season, the one consistent performer in a team in a constant state of flux. A scintillating mix of pace, power and predatory instincts, his dynamic displays saw him effectively take Mario Balotelli's place in the Italy squad for February's friendly against United States in Genoa.
The
Azzurri
were beaten on the night but Borini's stirring second-half cameo was the one bright spot on an otherwise dismal performance from the home side. Indeed, it effectively earned the youngster a place in Italy's Euro 2012 squad.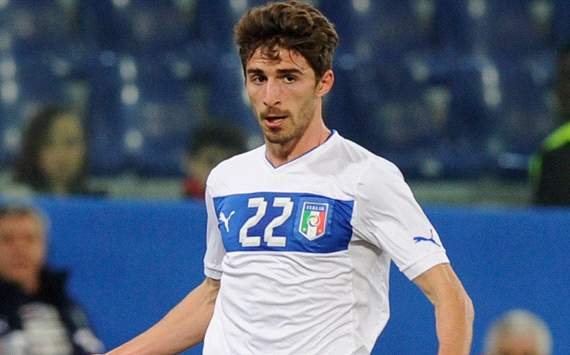 Instant impact | Borini drew praise for his display against the US in February
Borini, of course, did not see any action in Poland and Ukraine but after nine goals in an injury-interrupted debut season in Serie A, he had already underlined his status as one of Italy's most exciting young prospects. Luis Enrique was enamoured by not only the attacker's ability but also his application: "Fabio Borini always gives 100 per cent, even when he's asleep!"
While the Spanish coach subsequently quit the Italian capital, Roma were understandably desperate to hold on to him, having agreed a co-ownership deal with Parma during the January transfer window. As
Giallorossi
director Walter Sabatini stated in March: "Borini is pure power."
However, he also harbours a burning ambition. Hence, the willingness to join Liverpool just a couple of months after professing his desire to remain in Rome. Rodgers' influence has obviously been key, but just as significant is Borini's feeling that he has unfinished business in England.
Borini is pure power

- Gaillorossi director Walter Sabatini
"Maybe I can come back to the Premier League later in my career," he explained upon leaving Swansea last summer.
Borini is now poised to get what he wanted even sooner than he might have expected. But that will not faze him. Nothing ever does.