COMMENT
By Sasa Ibrulj | Croatia Expert
Croatia are still praising Slaven Bilic and his boys for their performance at Euro 2012. Although they were unable to advance to the knockout phase, the Vatreni won over a lot of fans as they effortlessly waltzed past Republic of Ireland on matchday one, snatched a deserved point against Italy, and made world and European champions Spain struggle and sweat until the last minute.
There is hardly any shame in failing to progress from a group that contained the two eventual finalists, but when Wolfgang Stark blew the final whistle in the last Group C game against the Spaniards, the Bilic era came to a close. In turn, it raised the eternal question: what does the future hold? In losing Bilic, have Croatia lost their main protagonist?
Following the coach out the door is Vlatko Markovic, who led the Croatian Football Federation (HNS) as its president for the last 12 years. He will be remembered for the chaos he brought to the domestic scene and controversial homophobic remarks, such as "Gay players will never be welcome in the national team". He will be replaced by legendary striker and former Real Madrid and Arsenal star Davor Suker. His inauguration was completed on Thursday, and it is expected that his first presidential act will be to install 44-year-old Igor Stimac as the new coach of the national team.
The former Derby County and West Ham player does not possess much coaching experience, however. He briefly managed Hajduk Split in 2005 - taking over a team that had already been crowned league champions - and two low-profile Croatian clubs in Cibalia Vinkovci and NK Zagreb. Indeed, his life after hanging up his boots is not your typical ex-pro story; he moved into the betting industry, released a hit pop single, did countless punditry work and even threw in his candidacy to become the president of the HNS, but lost the elections to Markovic.
STIMAC CAREER STATS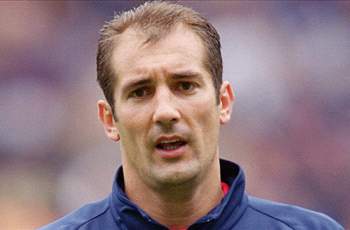 PLAYER STATS

Club Appearances
291
Goals
15

Croatia Caps (Goals)
53 (2)

TEAMS MANAGED

Hajduk Split
2005
Cibalia
2006

NK Zagreb
2009-10

Putting an icon such as Suker in charge at the very top sounds like a promising step forward, but there is a subplot. Suker was a supporter of Markovic's campaign when he went head-to-head with Simac and, by association, was a supporter of Dinamo Zagreb president Zdravko Mamic.
Mamic, who is regarded as the most influential man in Croatian football, is believed to pull the strings behind the scenes, and his influence reaches well into the president's office.
Rumours abound that Markovic's decision to step aside was forced by Mamic, so that the old regime could continue through Suker, a known supporter and ally.
It will be interesting to see how Mamic, friend of the local associations and father of one of the country's biggest agents, will work alongside Simac; the pair were embroiled in a series of bitter accusations during the previous presidential election.
Claims of alleged gun threats and illegal election procedures flew back and forth, and the HNS suspended Stimac for his conduct, a ban that was only lifted recently.
With Stimac taking the managerial hot seat, two great rivals will now attempt to run the country's football team side by side.
But the new coach has vowed to focus only on the task at hand, and not let the past hinder his work.
"The goal is to qualify for the World Cup and then to try to fight for the title in Brazil," he said. "I'll play five attackers if that is what we need," he added, as he pledged to play with an attacking, aggressive approach.
He will be hoping to navigate one of the tougher qualification groups, one that contains Belgium, Macedonia and arch-rivals Serbia. Tough enough even for Bilic, but the truth remains that Stimac's coaching abilities remain a big mystery ahead of their opening fixture against the Macedonians.
Croatia looked a decent outfit at the Euros, but most of the experts point out that Bilic's contribution and his tactical interventions just weren't good enough. Can those issues be resolved by Stimac, who has significantly less experience than his predecessor?
Unlike the aftermath of previous major tournaments, the core of this Croatia side will stay together and head into battle in the World Cup qualifiers. Bilic has set high standards, and it is up to Stimac to take this generation of players to another level. But it remains to be seen whether or not it can be done, or if the new coach is the right man for the job. Finding out the answer to those questions is what Croatian fans dread most.