COMMENT
By Robin Bairner | French Football Editor
Paris Saint-Germain have suffered their share of disappointment already in the transfer market this summer. Moves for Gonzalo Higuain and Thiago Silva have been scotched, with the latter in particular having seemed virtually a done deal, but real progress was finally made as the high-profile capture of Ezequiel Lavezzi was completed on Monday.
Scepticism about whether the deal would actually take place had started to surface, despite press reports that it had been all but completed weeks previously. It echoed the Thiago Silva collapse ominously.
Yet Lavezzi was able to take his place in front of the Parisian press alongside Leonardo and a translator on Monday to declare his pleasure at signing for "a club of the future".
For his part, Leonardo was delighted. PSG have not been an outfit known for understatement in the last year, yet the Brazilian seemed convinced when he stated that the arrival of the Argentine attacker from Napoli for a fee of around €26m was "historic" for the club.
It was the completion of a coup long in the making. With a desire to make the club's offence more versatile and unpredictable, the South American was, from the outset, one of PSG's top targets.
Chasing Kaka and Alexandre Pato may have been a move to impress the media, but the completion of this particular deal is better all round for Carlo Ancelotti's side. They have captured themselves a player not only for the future, but for the present, and one who represents better value for money and who offers a smarter fit into the team than the Brazilians.
| | |
| --- | --- |
| | EZEQUIEL LAVEZZI | CAREER STATS WITH NAPOLI |

MORE ON
LAVEZZI


| | | | | | |
| --- | --- | --- | --- | --- | --- |
| Season | Games | Goals | Assists | <Booked | Sent off |
| 2007-08 | 40 | 11 | 9 | 6 | 0 |
| 2008-09 | 34 | 8 | 8 | 7 | 0 |
| 2009-10 | 31 | 9 | 6 | 4 | 1 |
| 2010-11 | 41 | 9 | 15 | 8 | 0 |
| 2011-12 | 42 | 11 | 11 | 8 | 0 |
| Total | 188 | 48 | 49 | 33 | 1 |
Lavezzi will, no doubt, enhance the quality of an attack that appeared laboured and lacking charisma and dynamism at points last season, but his arrival does not herald the end of the Parc des Prince outfit's problems. Indeed, he is only the beginning of this particular summer's revolution.
PSG's ambitions are galactic, and that is reflected by some of the names linked with them, however unlikely to arrive in this summer transfer window.
Spain showed by winning Euro 2012 that it is not necessary to have a genuine No.9 to reap success, yet it is still the widespread belief that a centre forward is of great use, and PSG will scour the market this summer for a penalty-box predator, the kind they appeared to be drastically lacking last term.
Robin van Persie and David Villa are the most illustrious names linked with les Rouge et Bleu, yet luring the Dutchman or the Spaniard to Ligue 1 appears a near impossible task. Even Theo Walcott, a slightly less audacious target, should be considered a coup, yet out of PSG's reach, if not their budget.
An arrival in midfield also seems part of Carlo Ancelotti's thinking. Even before his stellar Euro 2012 performance against Spain, Joao Moutinho had been linked with the Parisian side. Such talk may have died, but there is an appetite to add someone to this sector.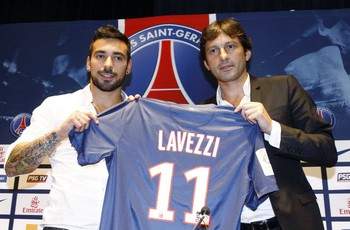 "Leonardo seemed convinced when he stated that the arrival of Lavezzi from Napoli for a fee of around €26m was 'historic' for the club"
A possible addition to this department, and a man PSG genuinely feel fits their profile, is Marco Verratti. Dubbed the next Andrea Pirlo, the Italian is very much in the forward-thinking ethos the club love to portray, but the Pescara starlet is more likely to move to Juventus or Napoli, unless the Parisians can be cajoled into making a mega offer for a 19-year-old.
Whoever arrives, Clement Chantome, an underrated performer, will be the man sacrificed to make way, with Blaise Matuidi, who was brought in during the more austere reign of Antoine Kombouare, set to be pushed down the pecking order, despite a strong debut season.
Of more importance, though, is the defence. That Ancelotti was prepared to pay such a colossal fee for Thiago Silva shows not only the outstanding qualities of the Brazilian, but also the desperation felt by the Ligue 1 runners-up to strengthen their rearguard.
Ironically, this was the area tampered with most by Ancelotti during January, and his moves have been anything but successful. Stability is needed in the back four, yet wholesale changes are set to be wrought.
Both full-back zones look certain to be refreshed, with Dani Alves probably too lofty a target on the right, while even the future of Mamadou Sakho in the centre of the defence is very unclear after a miserable conclusion to last season under the Italian coach.
Again the targets are stellar. Rumours of a renewed effort for Thiago Silva haven't quite passed the tabloid press in France - and the Brazilian has now signed a new contract at Milan - while John Terry has been dubbed another possible arrival, however unlikely.
Lavezzi, therefore, is only one piece of the jigsaw as PSG take their first steps back in the Champions League. They do not want to do so quietly; this is a side being built for not only domestic but also European domination. They will likely have to accept, though, that it will take time to find the correct blend to even challenge the continent's best on a regular basis.
It may take several seasons to reach the status of the absolute elite, but Monday, as Leonardo eluded, was another step on the path to their ultimate goal.