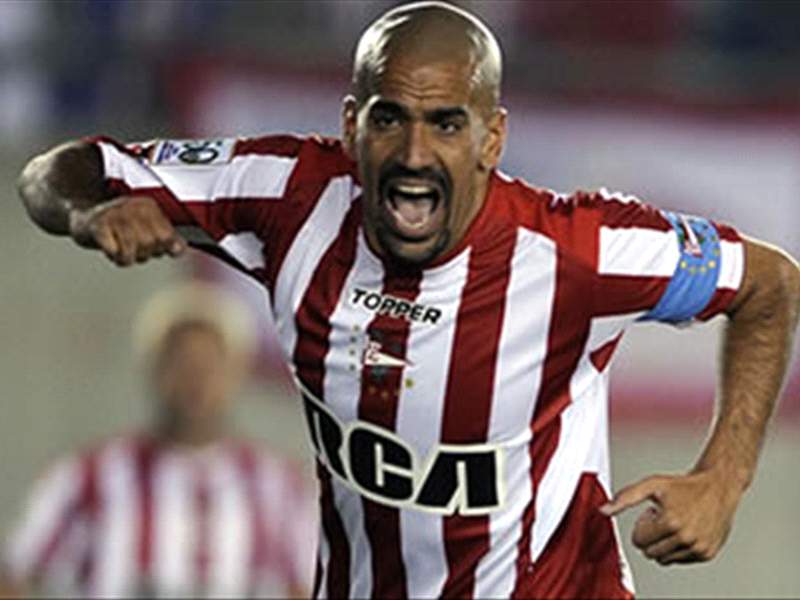 COMMENT

By Daniel Edwards | South American Football Editor
If there is one thing in Argentine football that people like to do properly, it is saying goodbye to a retiring legend. Nobody present in the Bombonera will ever forget Diego Maradona's emotional last match for Boca Juniors before embarking on a manic journey of addiction and ill-health followed by his renaissance and transformation as the most outspoken coach in football.
An openly weeping 'Pibe de Oro' was replaced in that 1997 game by Juan Roman Riquelme, and his assertion that 'La pelota no se mancha' (the ball will never be tainted) has gone down in folklore as one of the most memorable phrases in the sport's history. Fast forward to 2011 and another Xeneize legend was given a tearful send-off, as Martin Palermo was gifted the whole goal in front of the Bombonera's home stand in tribute to his incredible scoring achievements.
This weekend, then, expect heart-warming scenes as two of Argentine football's most loyal servants over the past decade play their final match in front of their home fans. While Juan Sebastian Veron bids farewell to the Estudiantes faithful after years of wonderful service, Gabriel Milito also runs out onto the
Independiente
pitch for the final time having decided to cut his career short.
Gabi's story will unfortunately end with the looming question of what might have been. The strong, cultured defender shone in his formative years for the Rojo, the highlight of his first spell an Apertura title in 2002. During that epoch he faced a unique rival in the shape of brother Diego. The elder sibling grew up in the youth system of arch-enemies Racing Club, and the Milito parents must have despaired in those early years as the pair often came to blows on the field during particularly tense
clasicos
, putting loyalty to the shirt above any tenuous grasp of brotherly love.
Moves to Zaragoza and then Barcelona followed for Gabi, and it was not unusual to hear him compared to the great Roberto Ayala as the next rock around which the Argentina defence would be built. But fate was to intervene: a devastating cruciate ligament injury in 2008 put him out of the game for almost two years, and he was never the same even after making a comeback.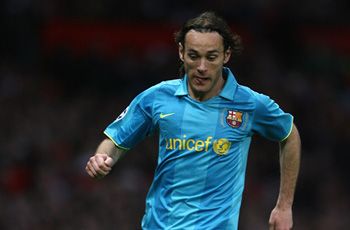 Milito on the March |
Gabi strides forward in Barca colours during his time with the Catalan giants
Just 31 as he prepares to play the penultimate match of his career in a
clasico
against San Lorenzo, Gabi could not have been more honest. Physical and mental exhaustion has accounted for his career, and he has no more to give. His second spell with Independiente has been mediocre at best, but the fans will forgive recent sins and make sure he leaves the Doble Visera with their cheers ringing in his ears.
But if Milito is an idol in Avellaneda, a new superlative will have to be invented to try to describe exactly what 'La Brujita' Veron means to fans in La Plata. The son of Estudiantes legend Juan Ramon, Seba grew up at the club and, as he revealed in a moving open letter to supporters released in the week leading up to his finale, he could not be more grateful for everything the Pincha has done for him.
"I wanted to say thank you to everyone as a way of returning all the love I have been given from the start. A special thank you to our club, that unites us in a single feeling. THANK YOU ESTUDIANTES DE LA PLATA," the lengthy missive finishes, but Estudiantes also have plenty of reason to be grateful for the bald-headed midfield dynamo.
Veron returned to his first club in 2006 after spells with Lazio, Parma, Inter, Manchester United and Chelsea and he immediately set about making the La Plata institution great once more. Some seasons he refused to take a salary; others, he would put his own funds at the directors' disposal to improve youth facilities that were falling to pieces when he was learning his trade.
Two Primera Division titles followed his return, but the crowning moment was to come in 2009 when, wearing the captain's armband and emulating his father - who made the trophy his own with three consecutive wins in the 1960s and 70s - he conquered South America by defeating Cruzeiro in the Copa Libertadores final. 'La Brujita' won no less than 11 major club honours in Europe, but made it clear before the final that this meant more than any: "I would trade everything I have won for this title."
"The greats never retire... It was a pleasure, Gabi."






-Sergio Aguero praises his former Rojo team-mate

Fans of Argentine football are depressingly accustomed to watching their stars shine bright for too fleeting a moment, before the dizzying lights of Europe drag them away from home and across the Atlantic. For this reason it is all the more special when, in the twilight of their careers and having gained fame across the world, players such as Milito, Veron, Riquelme and Palermo return to give back to the supporters who scoured the back pages every week to see how their careers continued on the other side of the planet.
There will be cheers and tears this weekend as Milito and Veron sign off on glorious, trophy-laden careers, both in Argentina and in Europe. While the fine line between fitting nostalgia and excruciating sentimentality will no doubt be trampled repeatedly across the course of the farewells, few will begrudge that moment from two players who have grown to become emblems of two of Argentina's finest, most historic football institutions.
Follow Daniel Edwards on