COMMENT

By Daniel Edwards in Buenos Aires
"This time, they will not defeat us".
A simple phrase, from a man whose quest is anything but straightforward. Independiente president Javier Cantero does not give the impression of a hero on first glance, or when hearing him speak; much more Clark Kent than Superman, is the appraisal one receives when questioning the self-effacing official about how sees himself. What he is trying to do for his club, however, is every bit as heroic as any escapade seen in the Man of Steel comics.
Cantero was elected to the Rojo boardroom on one key promise: that after years of connivance and corruption, he would be the man to remove the cancerous presence of the 'Diablos Rojos' barra brava from the club. To gain a little more perspective on this promise, which so far he has tackled with gusto and incredible bravery, one must consider the situation when he first assumed charge, which could not have been any worse.
Every single professional club in Argentina comes with its very own barra brava, which translates to something along the lines of 'wild gang' in English. It is a phrase that underestimates these groupings and their political savvy, as over time they have gradually taken more and more of a stranglehold on the country's football. Economic support from directors is all too common, whether in the shape of brown envelopes stuffed with pesos, or concessions given for example in the sale of merchandising, resale of tickets down to parking fans' cars outside the stadium. Under previous president Julio Comparada, however, the Independiente 'Diablos Rojos' were one of the most established and connected in the country.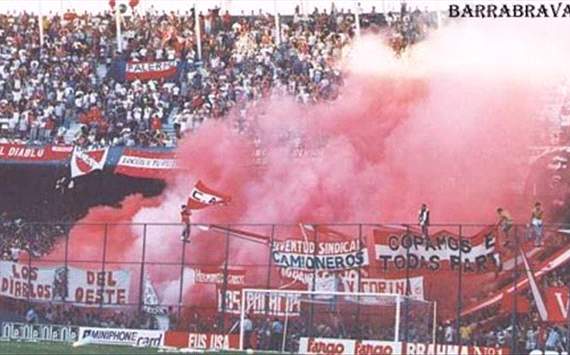 The Red Menace | The Independiente Barra welcomes the team onto the pitch
Free tickets to games were apparently a given, as were substantial cash handouts. Bear in mind the reported $190 million (€34.7m) debts that plague the club, and it comes as little surprise that regular fans were so happy to support a figure finally ready to make a stand. The relationship reached a nadir in 2011, when the club were revealed to have hired barra members as stadium security in a shocking example of poacher turning gamekeeper; and this violent sect have shown no love for Cantero and his plans to uproot the money tree that has kept them happy for years.
The scenes are eerily reminiscent, although thankfully containing none of the bloodshed, of Sicily in the early 1990s, when judicial efforts to finally dismantle the mafia and its connections throughout society met with a murderous reaction from a group which likes to declare itself a legitimate business interest. Starved of their lucrative peace, the Diablos Rojos' first instinct has been to turn to violence. Cantero showed incredible bravery when he stood down several thugs who had broken into his office, and events in Avellaneda turned even more sinister when, hours before fans were due to march in support of their new hero, a school received a bomb threat and several club staff were warned to stay away from the demonstration if they knew what was best for them.
But march they did. Over 300 fans, including one member of arch-enemies Racing who was nevertheless treated as a brother, took to the streets to demand the end of the barra. "You have no shame, you cannot support for money" was the hit of the evening, while Cantero emerged to a rapturous reception and spoke about the importance of solidarity and a vow of non-violence in the face of increased pressure from those he is cracking down on. The message was clear from those present, and in the hundreds of messages which flooded internet forums expressing their support.
"Cantero has balls ... No more Barra ... The club belongs to its Socios"




- Some of the messages from Friday's march

The average fan is sick of taking second priority to a group of violent hooligans. They are sick of not feeling safe enough to take their wife, girlfriend of children to the stadium terraces due to the ever-present danger of being caught up in violence. They are sick, in short, of 'fans' who only turn up every Sunday to throw their weight around and pick up their brown envelopes, and whose presence stains the name of football in Argentina and South America in general.
At this point, it is hard to see where Cantero's crusade will leave both Independiente and Argentina. Other clubs have given the president varying levels of support ranging from the nervously muted to the enthusiastic, and Javier was invited to meet with AFA chief Julio Grondona to explain his ideas. 'Don Julio', of course, is the man who has had to strenuously deny links to barra groups in the past, notably in 2010 when dozens travelled with the national team to the World Cup.
The problem of course goes much deeper than just Independiente. It is a social disease, a phenomenon that dates back to the 1950s when the first barras started to form as a way to protect fans in dangerous, under-policed trips away from home. Over the intervening years countless webs of connections have been created, with police, politicians, club officials and other teams to name a few. But the most important obstacle, winning over those fans who for years have stood beside the hooligans in the stands, has already been cleared with ease.
Cantero's fearless campaign, and the support from fans of all clubs who want to put control back into the hands of the common spectator, means that it is now the responsibility of the rest of the league to follow suit and put a Do Not Resucitate sign on their relationship with the pernicious Barras.
Follow Daniel Edwards on