COMMENT
By Clark Whitney | German Football Editor
The 2012 Champions League final is set to be a historic one, regardless of the result. On Wednesday, Bayern Munich earned their spot in the May 19 showpiece, and in doing so, confirmed that they will be the first team in the modern Champions League era to participate in a final on home soil.
Before the season began, the Bayern management set their sights on reaching the decider at the Allianz Arena, but soon faced several setbacks. In the summer transfer window, the Bavarian giants only managed to sign one of their first-choice reinforcements, Manuel Neuer. Left-back Fabio Coentrao turned down a move to Germany, Arturo Vidal had his transfer blocked by the Leverkusen management, and centre-backs Mats Hummels and Benedikt Howedes were labelled "off-limits" by Dortmund and Schalke respectively.
Bayern moved forward but not quite with the ideal squad they were hoping for, and after winning a Champions League qualifier against Zurich, were put in the Group of Death with Manchester City, Napoli, and Villarreal. It was another tricky turn of fate, but Jupp Heynckes' men took it in stride and finished atop Group A before the final matchday.
REAL MADRID V BAYERN
MATCH STATS


Madrid
2
15
9
5
4
12
45%




Goals


Shots


Shots on goal


Corners


Offsides


Fouls


Possession


Bayern
1
16
9
5
1
27
55%
After negotiating knockout ties against Basel and Marseille, Bayern were forced to play in a "pre-final" of sorts, against Real Madrid. It was billed as a clash of the titans, but one that the Spaniards were heavily favoured to win. Cristiano Ronaldo, Jose Mourinho, Iker Casillas ... it just all added up. But Bayern had other ideas.
In the first leg, the Bavarians outplayed Real in Munich. Tactically, Heynckes got everything right: his central midfield trident of Luiz Gustavo, Bastian Schweinsteiger and Toni Kroos shut down Xabi Alonso and Sami Khedira, while Philipp Lahm had Ronaldo under wraps for the vast majority of the match.
Only once or twice did the visitors create good chances on the counterattack, and in one isolated instance, Ronaldo found Mesut Ozil for a goal that levelled the score at 1-1. In terms of chances, Bayern were far and away the better side, with Mario Gomez missing a host of opportunities before netting a late winner.
The second leg was always going to be tougher for Bayern, who have had trouble away from home this season, and faced a red-hot, almost unstoppable force in Real playing at the Santiago Bernabeu. Within the opening quarter hour, everything went wrong for the Germans. After five minutes, Angel Di Maria's volley struck David Alaba's trailing arm as the defender attempted to block his attempt. Much to the dismay of the Bayern players and the bewilderment of many spectators, referee Viktor Kassai pointed to the spot and awarded a penalty to the hosts. Ronaldo tucked it away. A few minutes later, the Portuguese found himself through on goal, and buried his second as Madrid looked to be on their way to a rout.
But it wasn't to be. Even with all the momentum in the opposite direction, and despite being hard done by a harsh hand-ball and a marginally offside second goal, Bayern fought back valiantly and turned the match around. After missing a sitter in the opening minutes, Arjen Robben scored from the spot to make it 2-1, and based on the precedent of Alaba's penalty, the visitors were very unlucky not to be awarded another penalty on the stroke of half-time as Pepe's arm left his side and deflected a free kick.
From the 15th minute to full time, Bayern dominated the possession, and had the vast majority of chances on goal. After his double, Ronaldo went silent, and only Karim Benzema looked an occasional threat. Though behind, Bayern were the better side at the Bernabeu. It was another win for Heynckes, who it must be said got far more from his players over the two legs than did Mourinho.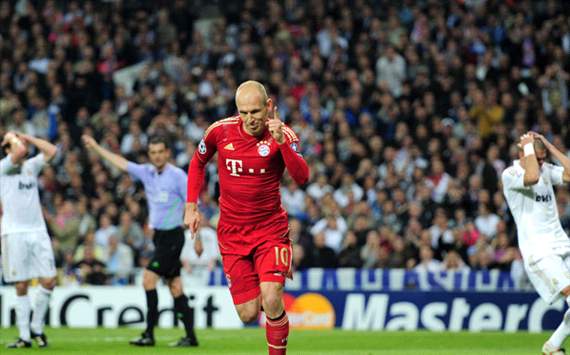 Robben on song | Heynckes wasn't the only one who enjoyed a Bernabeu return
In the end, a penalty shoot-out separated the two sides, as Bayern were victorious at Real's expense. History will recall a close and fascinating two-legged affair in which the momentum never stayed long in either team's favour. The tie was always on a knife-edge; regardless of the flow of play, the spectator always knew that either side was just a moment away from scoring a goal that could have change anything. It made for highly entertaining viewing, and was the perfect end to an eight-day stint that saw drama from all four semi-final encounters.
In the end, Heynckes reminded his former employers of just how good a coach he is as Bayern deservedly advanced. Fourteen years ago, he won the Champions League with Madrid, but was sacked nonetheless after a poor league finish. Now, he got the better of Mourinho - and for half the Portuguese trainer's wages.
Similarly, the Bayern players affirmed their class with quality play at all positions. It was partly due to effort: Luiz Gustavo put in two tremendously industrious shifts in midfield, while Gomez time and time again tracked back even into his own penalty area to defend.
But the back five did extremely well to concede just three goals to such a dangerous attack over the course of 210 minutes, and the Germans' midfield bossed play with technical and tactical skill. No longer can it be assumed that the likes of Xabi Alonso and Pepe are a class above Toni Kroos and Holger Badstuber. During this tie, the Bayern players earned better repute - they should receive it.
With the Bundesliga title out of reach, Bayern can now rest and wait for two finals in May that will determine the success or lack thereof over the season. The DFB-Pokal final comes in the middle of the month, just a few days before the Champions League finale against Chelsea in Munich. It is a historic event already, and if it's half as entertaining as either of the semi-final ties, it will be a spectacle to remember.
Follow Clark Whitney on