COMMENT
By Joel Sked
When Eduardo Vargas boarded a plane for Naples in January, he left a void in the Universidad de Chile squad. And not just any void either, but a gaping hole as the Copa Sudamericana player of the tournament and top scorer left in a lucrative move to Napoli.
The Chilean international's departure, along with that of regular first-team members such as Gustavo Canales, Marcos Gonzalez and Diego Rivarola, meant greater responsibility fell on the shoulders of those still at the club. One player more than most has thrived under the pressure, despite his partner in crime leaving to prove himself in Serie A with Napoli. Meet the Azul's answer to Dani Alves in the team dubbed the 'Barcelona of the Americas': Matias Rodriguez.
For much of January it was speculated that the right-sided Argentine wing-back would also cross the Atlantic and join Benfica's South American legion, but he stayed in Santiago. Not only has he stayed, he has arguably been transformed into the club's most important player; impressing so much that the calls for a first cap to the Argentina team intensify with each passing week.
Rodriguez, as he has told both Argentine and Chilean media, has not hidden his desire to join up with the Seleccion and provide Argentina with their own Dani Alves-style destroyer down the right. But he has kept his options open by not ruling out a potential switch from the Albiceleste to Chile, for whom he will be eligible to play for in three years.
Having come through the youth system at Argentine giants Boca Juniors his playing time was restricted and it wouldn't be until a move to Nacional of Uruguay that his career would begin to settle, after stops in Ecuador with Aucas and Austrian's LASK Linz. A two-season spell at El Parque Central would yield a Primera Division title before 2010's transfer to Universidad de Chile.
It would be Jorge Sampaoli's appointment in 2011 that saw Rodriguez mature into the player he is now.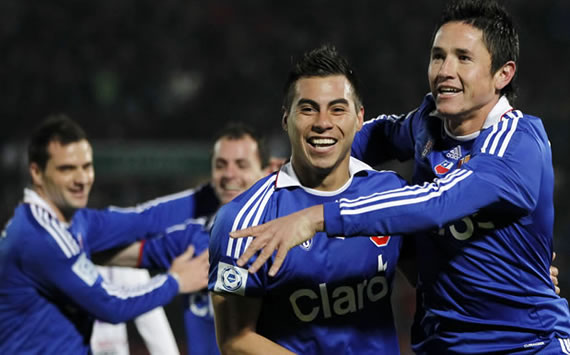 A team rejuvenated | Matias & Co. have reacted brilliantly to the exits of Vargas and Canales
Matias was key to La U as they completed an Apertura and Clausura double and the club's name started to reverberate around world football, owing in a big way to the swashbuckling football of Sampaoli's side as they suffocated and devastated some of South America's biggest names. One highlight amongst countless was a 4-1 thumping of Ronaldinho's Flamengo on the way to Copa Sudamericana glory, which earned the side the well-merited comparison to Pep Guardiola's all-stars.
While Vargas collected the acclaim and plaudits thanks to his prodigious goal-scoring record, Rodriguez was Robin to Eduardo's Batman; ably helping out his ally under the radar down the right flank. Forceful and aggressive, he would stay wide and high up the pitch on the right flank stretching opposing defences and allowing Vargas to naturally drift inside and exploit gaps in between and behind defences.
Width is imperative in the way Sampaoli sets his side out on the front foot and attack teams with pace and intensity, making the pitch as big as possible; and with Eugenio Mena on the left and Rodriguez on the right he has two of the finest exponents of this style in South America.
It is not only in the attacking phase of play that Mati thrives. He has the physical presence and stamina to go along with his technical ability to dominate the whole right channel, forcing opposition wingers back into areas they are uncomfortable in. If they do manage to progress deep into Universidad de Chile territory they will be hunted by Rodriguez.
A true thoroughbred of a player, he could be a fine addition to an Argentine side that have struggled for consistency in defensive positions. As he told Clarin, "I'm used to playing on the right of a back four. I can adapt to the needs of the team. Playing in the Seleccion is huge."
"The player I like most right now is Dani Alves ... It would be great to do his job for Argentina"






- Matias is a big admirer of the Barca man

Coach Alejandro Sabella has tinkered with both three and four-man defences and with few options as capable or as adaptable as Rodriguez it would be a grave waste to not allow the player an opportunity. His newly-discovered threat in front of goal, demonstrated in exemplary fashion with a hat-trick at the start of 2012 against Audax Italiano, is a further bonus for an Argentina team who have sometimes appeared dependent on Lionel Messi in front of the net.
In recent weeks the link to Benfica has reappeared as a result of his accomplished performances in both the Apertura and Copa Libertadores, as Universidad romped to qualification from arguably the toughest group of the competition with a game to spare. Thursday night sees the Chileans close out their Group 8 campaign against fellow form-side Atletico Nacional; one of Matias' fiercest tests yet as he grapples with the Colombians' formidable forward trio of Dorlan Pabon, Macnelly Torres and Luis Mosquera.
If he impresses once more against the Verdolago and continues to improve, Sabella may have little choice but to hand him an international debut at the age of 26 in the upcoming World Cup qualifier with Ecuador. And who knows, he may well turn out to be to Lionel Messi for Argentina what Dani Alves is to the little maestro at Barcelona.
Follow Joel Sked on