OBITUARY
By Vittorio Campanile
Giorgio Chinaglia was known as 'Long John' for two reasons; partially because of his resemblance to John Charles, Juventus' former Welsh striker of the 1950s and 1960s, and partially because he resembled Long John Silver, the pirate of Treasure Island fame. His was a life lived intensely.
Chinaglia was many things: an Italian, an immigrant, an American, a capocannoniere, a champion of Italy, a president, a suspect, but above all he was the symbol of Lazio's first Scudetto in 1974.
Born in Carrara in 1947, he emigrated to Wales at eight years old. He began to play football and rugby, but his father Mario told him: "Rugby is a sport for the English; you're Italian and you play football."
Cardiff City turned him down because he refused a trial and thus he ended up at Swansea Town, where he failed to convince. "Chinaglia is not to be brought here to become a player," said the club's president. "He will never become a professional."
There he was asked to behave like any other apprentice, and was told by the club's elderly handyman to paint the walls of the stand at the Vetch Field. Chinaglia responded by picking up a tin of paint and throwing its contents against the stand. It was just one of many flashpoints in his life.
Giorgio did not give up, and landed in Italy first at Massese and then at Internapoli. There he was seen by scouts from Lazio, who took him to Rome. At this time, the coach was the Brazilian Lorenzo; his friend Omar Sivori rejected Chinaglia, saying: "He's not fit for Serie A; he's like an elephant in a china shop."
He wasn't beautiful to watch in training but he was terribly effective in front of goal. His physical potency made him unstoppable in the area. Chinaglia wasn't one to be tarnished by controversy, and on September 29, 1969 he troubled AC Milan who, a few months earlier, had won the European Cup at Wembley.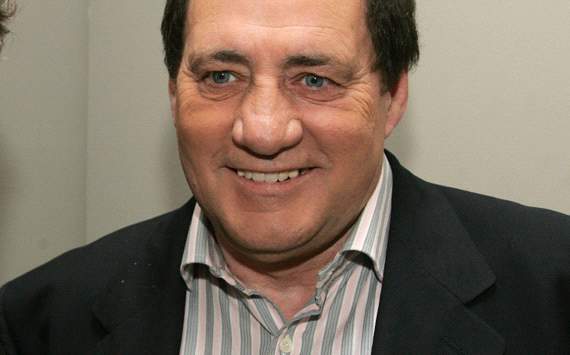 Gentle Giant | Long John would regularly sleep over at coach Maestrelli's house
The turning point of his career came in 1971 when Lazio, relegated to Serie B, changed coaches and appointed Tommaso Maestrelli.
More than just a coach to Chinaglia, Maestrelli became a father figure too. Long John spent many nights at the coach's house, where he would often sleep. His 21 goals helped drag Lazio into Serie A, and Juventus became interested. But Maestrelli intervened: "And who does that make us? Here we are in Rome, we're the strongest, the other teams are behind us. Why do you want to go up north?"
Chinaglia became the symbol of Lazio: loved by the fans, hated by crosstown Romanisti. In an early Coppa Italia derby he scored against a Giallorossi boasting winger Bruno Conti. He ran to celebrate in front of the Curva Sud, the section of the Stadio Olimpico reserved for Roma fans, with his index finger pointing right at his angered rivals, exclaiming: "Look at me. I am Giorgio Chinaglia. I beat you!"
He became ever more idolised by the fans as a whole, and was a personality both on and off the field. Rino Gaetano dedicated a version of his well known song to the player: "My brother is a one-off because he believes that Chinaglia cannot move to Frosinone," he sang.
"He's not fit for Serie A; he's like an elephant in a china shop"



- Omar Sivori describes Chinaglia's playing style
For the Italian national team, however, his character failed to gel with those of his team-mates, and thus his adventure was best remembered for his reaction after coach Ferruccio Valcareggi substituted him against Haiti during the 1974 World Cup group stages. Chinaglia's response was to storm straight down the tunnel, break down the dressing room door and smash eight mineral water bottles against the wall.
His biggest achievement for the Azzurri arguably came back on British soil, teeing up Fabio Capello's winner against England at Wembley in a friendly the year before.
Chinaglia never ever wanted to leave the field. At Lazio, Maestrelli refused to substitute him because he knew that such a move could unleash hell similar to the Haiti episode. The character of Chinaglia limited him but also proved to be his strength.
For someone like Giorgio, living in Rome wasn't easy. During this time, Lazio's team went to the same cinema every Saturday, more due to superstition than passion for film. On one such night, before a derby, a Roma fan recognised him and insulted him. Chinaglia stayed incredibly calm, but as soon as the lights were dimmed, the fan received two punches in the face and was forced to leave to avoid even worse consequences. Giorgio had turned to stone.
He wasn't the only one like this in that incredible Lazio side, however. From Monday to Saturday the squad was split into two groups, but was united for a sole objective on Sunday: to win. Indeed, at Tor di Quinto where they trained, there were two dressing rooms: one for Chinaglia's group and one for Gigi Martini's, his rival in the squad. The training matches on Thursdays were proper battles. Chinaglia never accepted defeat, but Martini was not the type to accept abuse. Maestrelli, like a true teacher, always managed to make the matches end in a draw. Neither entered the other's locker room in a bid to avoid any confrontation.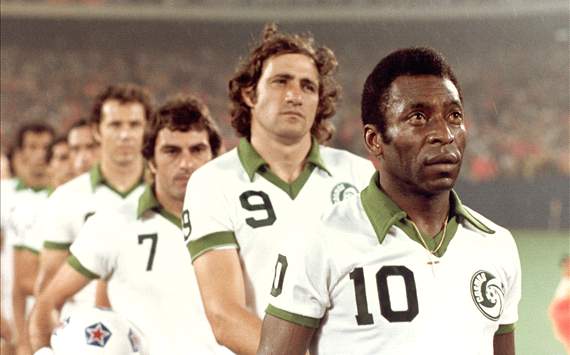 Cosmic goal record | Chinaglia left team-mate Pele in his wake in New York
Chinaglia and Martini often fought during matches and in training. One time, in the Coppa delle Alpi, they waited for each other at the end of the match and two team-mates stepped between them before they could come to blows.
Chinaglia always wanted the ball for himself, he lived for goals, and if he didn't score he would immediately turn his focus to the next match. During one game against Inter at San Siro, team-mate Vincenzo D'Amico was being beaten too easily by Sandro Mazzola, an enemy of Long John. Chinaglia followed D'Amico and kicked him in the backside.
In the 1973-74 season Chinaglia led Lazio to their first ever Scudetto. He scored 24 goals, including the championship-winning penalty against Foggia. Giorgio was a fighter on the pitch but a companion off it.
But his adventure with the Roman side ended in a hurry; his wife and children moved to America and Chinaglia wanted to follow them. When members of New York Cosmos management visited him in Italy in their attempt to sign him, they found Giorgio had taken to driving around the capital with a gun in his glove compartment.
In the US, Long John continued to arouse enthusiasm. At the Cosmos he managed to keep even team-mate Pele in his shadow, scoring over 250 goals in all. Giorgio did not change one bit on or off the field after the move though.
"I am Chinaglia. If I shoot from a place, it's because Chinaglia can score from there"



- Giorgio reduces Pele to tears
He strutted around the locker room in a striped silk dressing gown, every inch the most powerful man at the club. He had such a good relationship with Steve Ross, one of the executives at the Cosmos' owners Warner Communications, that he could get away with anything. To Giorgio, Ross was in New York what Maestrelli had been in Rome.
Pele was not used to playing second fiddle, but in Chinaglia's team he would have to. The two stamped their feet on the pitch and Chinaglia made himself heard, above all in the locker room. There took place a famous duel between the team-mates.
Chinaglia had complained he wasn't getting the service he deserved, to which Pele replied that the striker was shooting from impossible angles. Giorgio jumped from his seat, bellowing: "I am Chinaglia. If I shoot from a place, it's because Chinaglia can score from there."
The Brazilian left the changing room in tears.
He polarised opinion in the States just as he had in Italy. His brash character appealed to some, but sickened others. "I don't give a s**t. Why don't they judge me on what I did on the pitch," would be his stock response to the criticism.
Despite appearing devastating on the field, he endured bankruptcy off it: this in short was the life of Long John.
With his playing career finished, 'Giorgione' couldn't resist the call to became president of Lazio in 1983 with the club up to their necks in debt. His fandom blinded him and Chinaglia did not understand the mistake he had made. The bond with Lazio was too strong.
However, if an instinctive player can be a winning one, the same may not be true of a president, who must be able to think before acting. Chinaglia did not realise this. An example was when Udinese drew undeservedly at the Olimpico and Long John rallied against referee Gino Menicucci, trying to attack him with an umbrella. Chinaglia was banned for eight months.
Giorgio tried again, buying Foggia in 2000, but this ended even worse than with Lazio. He was accused of money laundering and fled to the United States. In 2004 he was acquitted, but in 2006 he was investigated again for the same offence during his takeover attempt at Lazio.
Despite all of the troubles off the pitch, the Lazio fans saw Chinaglia as their idol. A champion who always gave his all, but was unfortunate off the football field. A banner stating 'Nostalgia Chinaglia' was once exhibited in the Curva Nord of the Olimpico. Now, more than ever, it seems so appropriate.