ANALYSIS
By Alexander Brinkmann, Dan Orlowitz and Cesare Polenghi
With his 10th and 11th Bundesliga goals of the season on Sunday, Borussia Dortmund star Shinji Kagawa not only became just the third Japanese player to reach double digits in a major European league, but positioned himself to overtake Naohiro Takahara's Japanese scoring record of 11 goals in a season.
Kagawa's athleticism, keen passing sense and eye for the goal have made him one of Japan's hottest properties, with top clubs across Europe rumoured to be vying for the 23-year-old's services for next season.
As the Samurai Blue regular stands on the verge of setting a new standard for Japanese attackers in Europe,
Goal.com
looks back at five of Kagawa's finest performances for club and country.
April 3 2010: Cerezo Osaka 3-1 Kyoto Sanga
(two goals)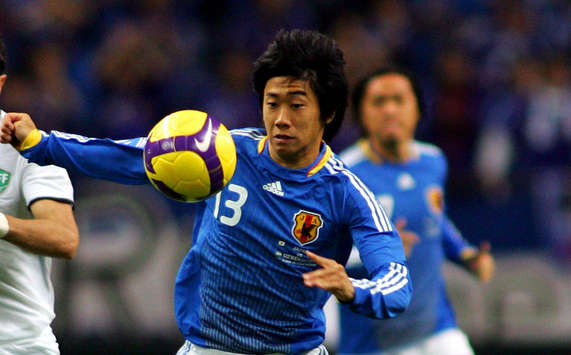 Before Kagawa became an internationally renowned star, he was a teen making waves with J-League Division 2 side Cerezo Osaka. His 27 goals in the 2009 season were a driving force in the club's second-place finish and subsequent promotion to the top flight for the first time since 2006.
But Cerezo struggled early in their return to J1, losing the season opener 3-0 at Omiya Ardija before drawing their next two matches. The subsequent 3-2 loss to Urawa Reds made the situation even more dire as the club entered their Week 5 match against Kyoto Sanga without a win.
And it was in this match that Kagawa made his mark, opening his account in the 31st minute when he turned Takashi Inui's perfectly aimed through pass into an exquisite looping shot that sailed above the keeper and back down into the goal.
Kagawa's second strike was not nearly as clever, forcing in a rebound after a failed clearance by the goalkeeper. But it was enough to give the Sakura a 3-1 win over their Kansai rivals, and the future Samurai Blue star would go on to record seven goals in 11 appearances before leaving for Germany.
September 9 2010: Schalke 1-3 Dortmund
(two goals)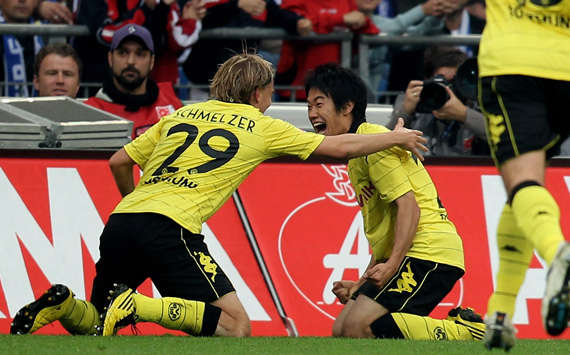 In just his fourth match for Dortmund, the then 21-year-old Kagawa experienced his first Revierderby when his team travelled to Gelsenkirchen to face Schalke. The newcomer had proclaimed before the match that he would score two goals; an audacious claim that could only be backed up by an audacious player.
Dortmund dominated the match from the very beginning, producing scoring opportunities every minute. Fifteen minutes into the contest, Kagawa had two such opportunities, but both were deftly saved by Schalke goalkeeper Manuel Neuer.
But his time came just five minutes later. After Mario Gotze had won possession, he picked out Kagawa, who proceeded to score his first derby goal and give the visitors a 1-0 lead.
In the 58th minute, Kagawa made himself an overnight legend to the Dortmund fans by scoring the winner. After volleying "Kuba" Blaszczykowski's goal into the net, Kagawa – an unknown in Germany before his arrival – instantly became a BVB hero.
Upon their return home, about 800 waiting fans chanted Kagawa's name and carried him on their shoulders, marking an unforgettable experience for the Bundesliga rookie, who would become one of Japan's greatest weapons.
August 10 2011: Japan 3-0 South Korea
(two goals)

In a match that has come to define Alberto Zaccheroni's reign as manager, Japan hosted rivals South Korea at a packed Sapporo Dome. The two countries' first meeting since the 2011 Asian Cup semi-finals took place just five months after the March 11 earthquake and tsunami disaster. But the day was also significant for South Korea, as it was their first match against a major Asian opponent since the international retirement of former captain Park Ji-Sung.
There were many inspiring performances for the Samurai Blue, including Keisuke Honda, Tadanari Lee, Yasuhito Endo and Hiroshi Kiyotake. But none shone brighter than Kagawa, who took Lee's clever back-heel pass in the 34th minute and out-muscled two defenders in the South Korea penalty area before a right-footed strike that swerved into the low far corner.
After Keisuke Honda made it 2-0 for the hosts, Kagawa increased their lead to 3-0 with a low flick from close range that South Korea's Jung Sung-Ryong had no chance of stopping.
Against an opponent that Japan had not beaten in regulation time in six years, the result further raised the profile of the country's high-flying national team, making 'Zac Japan' a buzzword and causing many to speculate as to what could have been if Kagawa had travelled to South Africa for the 2010 World Cup.
November 5 2011: Dortmund 5-1 Wolfsburg
(one goal, two assists)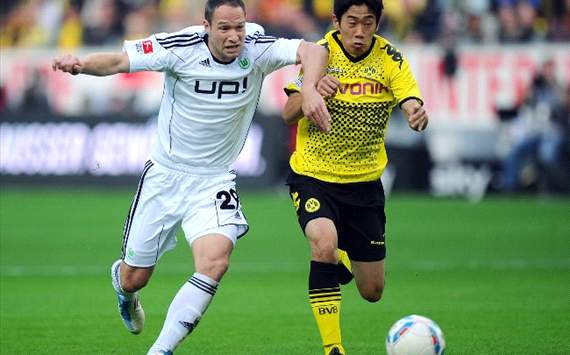 In this season's 12th round of the Bundesliga, Kagawa gave another sublime performance in the yellow of Dortmund. As early as the 12th minute he assisted Mario Gotze's goal with a one-two pass.
Just ahead of half-time Kagawa himself found the back of the net after receiving a pass from Robert Lewandowski and easily beating Wolfsburg goalkeeper Diego Benaglio to double his team's advantage.
As the match continued it became apparent that Kagawa was incapable of delivering a poor ball; in the 66th minute a glorious pass found Robert Lewandowski, who made it 4-1 in favour of Dortmund.
Even though the game was already put to bed, Kagawa was still chasing down every ball, and an 88th-minute lob dropped just wide of the goal as Dortmund cruised to a 5-1 triumph. This match was the beginning of Kagawa's upturn in form after a difficult year recovering from injury.
March 25 2012: Koln 1-6 Dortmund
(two goals, one assist)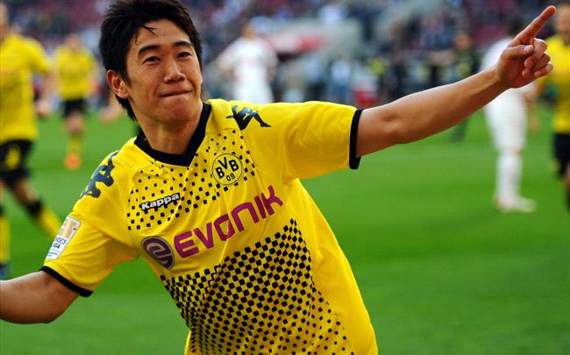 Kagawa was without a doubt the Man of the Match last Sunday, scoring twice and supplying one assist in Borussia Dortmund's 6-1 thrashing of Koln.
Dortmund surprisingly fell behind after 13 minutes, but the team eventually found their rhythm and pulled levelled. BVB even had a couple of opportunities involving Kagawa to take the lead before half-time, but he missed the mark.
In the second period, Jurgen Klopp's men overwhelmed their hosts. Two minutes after play resumed a header from Lukasz Piszczek fell to Kagawa, who smashed the ball under the bar with a volley.
Kagawa was also involved in Dortmund's third goal when he found Blaszczykowski with a marvellous back-heel, before Lewandowski added another. In the 79th minute, Ilkay Gundogan picked out the Samurai Blue star, who was alone in front of Koln keeper Michael Rensing. Instead of trying to score himself, Kagawa played a return pass to Gundogan to record an assist. One minute later, Kagawa's unselfishness was rewarded with another goal. After a cross from Piszczek into the six-yard box, Shinji barely had to touch the ball to put it into the net.
Directly after that, Kagawa was substituted and hailed as the Man of the Match by the travelling supporters, and with good reason: the two goals set him up to clinch a new record for Japanese goalscorers in Europe, and the match was clearly his best so far for title-chasing Dortmund, with more such performances seemingly inevitable.