Starting today and continuing for 10 weeks, Goal.com will be publishing exclusive extracts from Luca Caioli's new book, Ronaldo: The Obsession for Perfection, which charts the Portuguese forward's spectacular rise from a poor childhood in Madeira to superstardom with Sporting Lisbon, Manchester United and Real Madrid.

At the end of a narrow little road where the footballer's house used to stand, there is now an empty patch of over-grown scrubland, a five-a-side football pitch, and a bar. But it's not unusual for fans to find their way down here, and for a few Euros the cabbies take them on a tour – his birth-place, where he grew up, his school, where he first played football … in Portugal's collective imagination he has succeeded in eclipsing such illustrious visitors to Madeira as Winston Churchill, Empress Elizabeth 'Sissi' of Austria, Charles I of Austria, George Bernard Shaw, the poet Rilke, Christopher Columbus and Napoleon.
Madeira is an Atlantic archipelago some 860 kilometres from Lisbon, comprising two inhabited islands – Madeira and Porto Santo – and three minor, uninhabited islands. Hailed by the tourist guides as the 'garden of the Atlantic', Madeira island sits on a volcanic rock 57 kilometres long by 22 wide, a mountain range which rises up from beneath the sea to a summit of 1,862 metres at Pico Ruivo, its highest peak. The capital, Funchal, has a population of 110,000.
It was here that Cristiano was born, at 10.20am on Tuesday 5 February in the Cruz de Carvalho Hospital. He was 52 centimetres long at birth and weighed nearly nine pounds. A fourth child for Maria Dolores dos Santos and Jose Dinis Aveiro, younger brother to Hugo, Elma and Katia. It was an unplanned pregnancy, with just 18 months between him and Katia, and now there was the issue of what to name him.
"My sister, who was working in an orphanage at the time, said that if it was a boy we could name him Cristiano," recalls Dolores. "I thought it was a good choice. And my husband and I both liked the name Ronaldo, after Ronald Reagan. My sister chose Cristiano and we chose Ronaldo."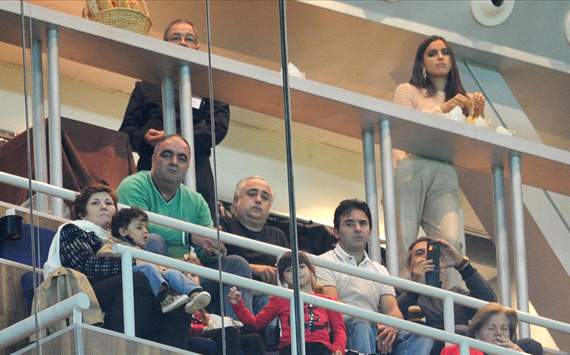 Proud parent | Cristiano's mother (left) watching her son in action at the Bernabeu


Cristiano Ronaldo dos Santos Aveiro is duly baptised in the Santo Antonio church – a day which coincidentally is marked by football. In his spare time, Jose Dinis helps out as a kit man for amateur football club CF Andorinha in Santo Antonio. He asks team captain Fernao Barros Sousa to take on the role of godfather to his new baby. The ceremony is booked for 6.00pm, but first there's a match at 4.00pm – Andorinha are playing Ribeiras Bravas.
Reverend Antonio Rodriguez Rebola is getting nervous. He has already baptised the other children and there is still no sign of either father or godfather. Dolores and the godmother-to-be are following him around the church, baby in tow, trying to keep the priest calm. Eventually Fernao and Dinis arrive, half an hour late, and the ceremony can finally get underway.
The first photos in the family album show baby Cristiano, big eyes staring straight at the camera, dressed in a little blue and white outfit and white booties, with gold bracelets on both wrists, a gold ring, and a long chain with a crucifix around his neck. As he gets older, the photos show his hair forming into a little tuft of curls and his smile becomes gappy after losing his front teeth.
Dinis is the town hall gardener, while Dolores works hard as a cook so that she can put food on the table for her own children as well. Like thousands of Portuguese citizens, Dolores had emigrated to France at the age of 20, where she spent three months cleaning houses. Her husband was going to join her, but when he wasn't able to she returned to Madeira. They already had two children.
| | |
| --- | --- |
| Life wasn't easy for the Aveiro family ... But today, Cristiano remembers that time as a happy childhood. At two or three years old, playing in the yard or on Lombinho Street, he began to discover his best friend - the football | |
Life isn't easy for the Aveiro family – it's difficult for anyone who lives far away from the luxury hotel industry which has colonised the coast. It's a small home for a family of six – and whenever there's a storm the house leaks in dozens of places. Dolores fetches bricks and mortar from the town hall to try to keep the problem under control.
But today, Cristiano remembers that time as a happy childhood. At two or three years old, playing in the yard or on Lombinho Street, he began to discover his best friend – the football.
"One Christmas I gave him a remote-controlled car, thinking that would keep him busy," recalls his godfather Fernao Sousa, "but he preferred to play with a football. He slept with his ball, it never left his side. It was always under his arm – wherever he went, it went with him."
www.corinthianbooks.net
Follow Luca Caioli on

With every extract published, Goal.com will be giving away one copy of Luca Caoili's new book. To have a chance of winning an ebook or hard copy of Ronaldo: The Obsession for Perfection, answer the following question: Which goal milestone did Cristiano reach this week when he scored against Villarreal? Send answers to competitions@goal.com - the winner will be announced in next Friday's extract.