ANALYSIS
By Ben Hayward | Spanish Football Editor
The records keep tumbling. Lionel Messi's hat-trick in the 5-3 win over Granada on Tuesday night saw the astonishing Argentine become Barcelona's greatest-ever goalscorer, surpassing a legendary mark set by Cesar Rodriguez in the 1950s.
Cesar hit that number (thought to be 235 but recalculated this week at 232) at the age of 34, but Messi is 10 years younger than the Spanish striker - and he is set to go on and on.
Following another magical night for the brilliant forward,
Goal.com
takes a look at a selection of Leo's amazing numbers and records.
3 -
Messi has scored three hat-tricks in the Champions League, equalling a record held by Filippo Inzaghi. Only three Barcelona players (Rivaldo, Ronaldinho and Samuel Eto'o) had previously hit hat-tricks in the continental competition. He is also the only player to score two trebles in one season in the Champions League.
3 -
The Argentine won his third Ballon d'Or trophy earlier this year to draw level with previous three-time winners Michel Platini, Johan Cruyff and Marco van Basten.
4 -
Messi has finished as top scorer in the Champions League on three occasions (the last three years) and is on course to lead the competition's scoring charts for a fourth consecutive year to level with Bayern Munich legend Gerd Muller as the only man to achieve that feat in European Cup/Champions League history. The German tied at the top twice, however, while Messi has finished as top scorer outright for the last three years and looks set to do so again this year.
5 -
The Argentine is the first player in Champions League history to score five goals in a single match (achieved against Bayer Leverkusen a fortnight ago), the first in European Cup football since Ajax's Soren Lerby in 1979 and the first Barcelona player to net five since Zaldua in 1965.
6 -
The Rosario-born forward has netted in six different competitions for Barca this season; La Liga, the Copa del Rey, the Spanish Supercopa, the Uefa Super Cup, the Club World Cup and the Champions League, equalling the feat set by team-mate Pedro in 2009.
10 -
Goal.com's Player Rating for the Argentine after his stunning show against Leverkusen recently: A perfect 10.
12 -
Messi has scored 12 goals in Europe this term, equalling his own total from 2010-11 and drawing level with Ruud van Nistelrooy's 2002-03 record for the most number of goals in a single edition of the Champions League. And he now has up to five more games to set a new record.
18 -
Since making his debut at the Catalan club in 2005, Messi has won 18 trophies with the Camp Nou outfit. The Argentine has also bagged 18 hat-tricks for the club, scoring four on two occasions and five against Leverkusen recently. Eight of those hat-tricks have come in 2011-12.
22 -
Following his treble against Switzerland recently, Messi now has 22 goals for Argentina in 67 games. Diego Maradona, incidentally, netted 34 in 91 internationals for the Albiceleste.
24 -
In the 3-1 last-16 Champions League win at Leverkusen, Messi's goal saw him become the record scorer in Champions League knockout games with 19. His five strikes in the second match saw that mark rise to 24.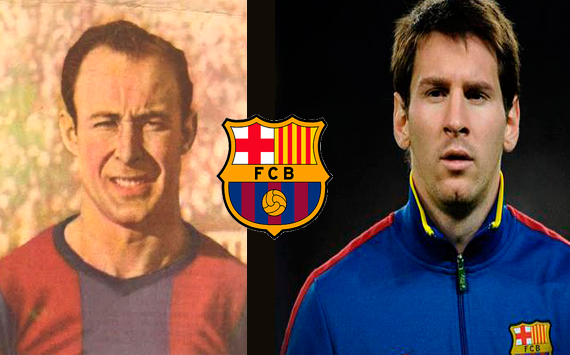 Leo the legend | Messi surpassed Cesar's long-standing record on Tuesday


49 -
The Argentine raised his Champions League tally to 49 as he stuck five in the 7-1 win over Leverkusen, surpassing Alessandro Del Piero (44), Filippo Inzaghi (46), Eusebio (47) and Andriy Shevchenko (48) in the all-time list of scorers for the CL and European Cup. His quintuple also saw him draw level with Real Madrid legend Alfredo Di Stefano in joint-fourth place, behind only Thierry Henry (51), Van Nistelrooy (54) and Raul (71).
54 -
Messi's season-best total for Barcelona was the 53 he netted last term to tie with Madrid's Cristiano Ronaldo in all competitions, but the Argentine surpassed that tally as he reached 54 for the season with his hat-trick against Granada on Tuesday. And there are still potentially 16 games left (and at least 13) for Barca in 2011-12.
66 -
The 24-year-old now has 66 goals in his last 50 home games for Barcelona.
94 -
The Argentine has 94 assists for the Catalan club, including 74 in the last four seasons and 21 already this term.
192 -
Since Pep Guardiola took over as coach at Barca, Messi has netted an incredible 192 goals in 204 official matches.
234 -
In total, the Argentine now has 234 goals for the Catalan club, as he surpassed the record of 232 (reduced from 235 following an investigation carried out by Barca and
La Vanguardia
earlier this week) held for over 60 years by Cesar Rodriguez.
369 -
Messi's next target. That's the total scored at Barca by Paulino Alcantara, although well over 200 of those goals were netted in unofficial matches. But for Messi to be considered the undisputed greatest goalscorer in Camp Nou history, he will need to surpass this total. And at just 24, he has every chance of doing so - especially at his current rate.

Follow Ben Hayward on