ANALYSIS
By Ben Hayward | Spanish Football Editor
Barcelona fans went back to blaming the referee on Saturday night. Some pointed to Alexis Sanchez's disallowed first-half goal which should have stood; others pointed out that Dejan Lekic was offside as he scored Osasuna's second in the Catalans' 3-2 defeat. The conspiracy theorists were out in force: poor officiating was allegedly persecuting Barcelona and, in the process, handing the title to Real Madrid.
But in truth, Barca had done that all by themselves.
Yes, the two decisions could have gone the way of the Blaugrana, but the margins were so fine that the officials cannot be blamed; there is no anti-Catalan conspiracy.
Barcelona started poorly in Pamplona and defended dreadfully. Coach Pep Guardiola picked the wrong team, leaving Xavi, Andres Iniesta and Cesc Fabregas on the bench in favour of an experimental midfield made up of Thiago, Javier Mascherano and Sergi Roberto. And it failed miserably.
The visitors' assault on the Osasuna net almost brought reward, as substitute Cristiano Tello struck a fine effort to reduce the deficit to a solitary goal and Alexis again struck, only to be penalised this time for offside after Sergi Roberto's most delicate headed flick.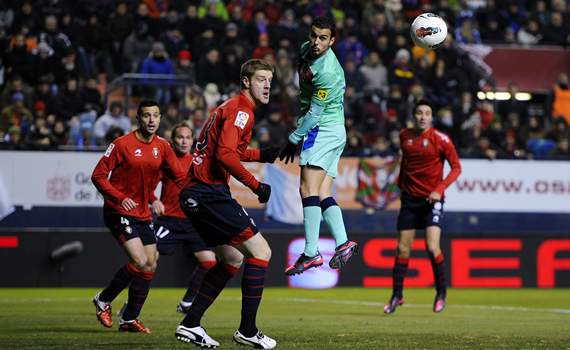 Red alert | Barca may just have conceded the title in Pamplona


Guardiola had said after Wednesday's win over Valencia that his side would be "at the limit" in Pamplona. Decimated by injuries and faced with a potato-field pitch, sub-zero temperatures and a tough away fixture sandwiched between a cup semi-final and a Champions League second-round trip to Bayer Leverkusen on Tuesday, his words were understandable.
But if Pep had practised what he preaches per se, that your next match is your most important one of all, then he would have picked a very different team on Saturday night. Guardiola got it wrong, saw his side play as badly as they have done for some time and if decisions did not go their way, it was because they did not deserve them. You make your own luck.
Indeed, faced with a two-goal deficit at half-time, Guardiola sent on Isaac Cuenca and Tello, not Xavi nor Iniesta. That was telling and, even though the two forwards performed well and helped the Catalans come close to rescuing a point, the introduction of the two midfield masters would surely have made a difference sooner rather than later.
FIRST LOSS WITH PUYOL SINCE INTER





Barca hadn't lost with their captain in the side since the 3-1 Champions League semi-final first-leg defeat at Inter on April 20, 2010. Mourinho was also the big beneficiary back then.




Just over a year ago, Real Madrid travelled to the Reyno de Navarra and lost to Osasuna by a single goal in a game which effectively wrecked the title hopes of Mourinho's men at the end of January, as Barca went seven points clear at the top.
And, 12 months later, the Catalans' defeat in Pamplona means Madrid can move 10 points clear in La Liga on Sunday with a win over out-of-form Levante. It's starting to look extremely difficult for Barcelona now in the Primera Division and it's no use citing dubious decisions, injuries, cold weather and a poor pitch for Saturday's shambles; the champions have only themselves to blame for their latest loss and February 11th may yet be remembered as the night they threw away La Liga.
Follow Ben Hayward on