ANALYSIS
By Paul Macdonald | Deputy Editor
December 10, Santiago Bernabeu. The first Clasico league match of the season. Real Madrid, top of the table and able to move six points clear of Primera Division champions Barcelona at the summit with a victory, have all the incentive they would ever need to reverse their recent underachievement against their oldest adversaries.
Many commentators bestowed the contest with an additional emphasis, believing that in a year where the concept of the Clasico became over-familiar to many, this would prove to be a watermark. A changing of the guard. Madrid, a team on the rise, would make tentative steps towards a new order in Spain, and potentially in Europe. The outcome of this encounter would represent the moment when Mourinho made good on his vow to usurp the Catalans.
Thirty seconds in, and it seemed that the observers were being proven unmistakeably correct. Karim Benzema lashed into the roof of the net, setting the scene for a victory that would be remembered as the moment that the pendulum swung back to the capital after resting on the east coast for three long seasons.
We now know, of course, that fate, intention, destiny, designated a different path. Despite their explosive prologue, the denouement revealed Barcelona as the victors once more, and Madrid exposed as pretenders to, rather than vanquishers of, the dominance of Pep Guardiola's side. His Clasico record as a coach now reads played 12, won 8, and lost only once.
On fine margins, football matches can be won and lost. Yet, on that day, Madrid's manner of defeat seemed as grounded in psychological submission than physical and tactical endeavour. Have Los Blancos been stricken with an inferiority complex when facing the European
GUARDIOLA - CLASICO RECORD AS BARCA COACH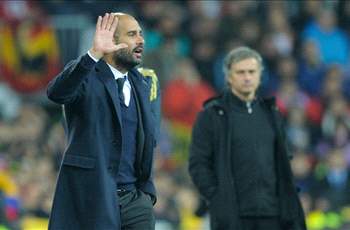 GAMES
WINS
DRAWS
LOSSES
12
8
3
1
champions, and does this, above all else, affect their ability to overcome what has proven to be such an immovable obstacle in recent times?
With the Spanish giants set to meet once again on Wednesday in the first leg of their Copa del Rey quarter-final,
Rhonda Cohen
,
a leading sports psychologist and head of the London Sport Institute at Middlesex University, believes
that Madrid's players have reached a mental state where being able to defeat Barcelona is a concept that they struggle to truly believe in.
She states: "It is really difficult with regular adversaries as you develop a brain pattern that is hard to break. It is even a learned helpless. You don't ever think you can win and that negative energy keeps you down."
After Benzema had fired in that blistering opening goal, rather than engage with the momentum that they had formulated, Madrid regressed, allowing Barcelona back into the contest. When Xavi's deflected effort moved the visitors ahead, any positivity that Madrid had retained seemed to diminish. Barca thrived in the tangible change in attitude from the pitch, the bench, and from the stands, and Cohen feels that harmony among all concerned is a necessity in order to reverse the trend.
"The best thing they can do is to switch off the way they perceive their opponents," she continues. "Imagine them as adversaries that can be beaten, imagine them in a way that takes away all the perceived power that they currently hold over them. This is a case of what the players think as a team and as a unit. They need to work together and see their collective energy as destroying their Goliath."
| | |
| --- | --- |
| V | |




Rhonda Cohen, sports psychologist:


"When others out-psych you as in this case, it knocks your confidence and you also can over-think. You don't ever think you can win, and that negative energy keeps you down. It is always harder not to think about something. [Mourinho must] stay in the present - think about having confidence and moving forward."


And what of Jose Mourinho? The master media manipulator, the most self-assured of individuals, has undergone a marked change in approach to these matches in the past 12 months. During the frenzied 17-day Clasico bubble at the end of last season, the Portuguese pained to paint his side as the victimised party for maximum impact, and he pushed the previously unflappable Guardiola to engage in a expletive rant in response.
The words of Pep, branding Mourinho the f****ng boss of the press room, stunned the Special One, and since the unsavoury altercation with Tito Vilanova in the Spanish Supercopa in August, he has became more philosophical than confrontational.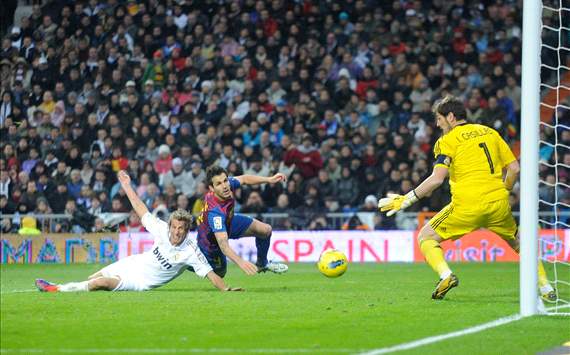 All in the mind | Cesc and Barca may have created a mental block in the Madrid camp
The Copa del Rey is next up, and despite the fact that Madrid lead in the title race and remain capable of winning every competition they are involved in, Mourinho's inherent faith in his team's ability to best Barca seems to have been jolted. A case in point was his lack of reaction to a tactical alteration by his opposite number last December. Guardiola shuffled his pack, shifted Dani Alves into an advanced position, dropped Sergio Busquets deeper, and allowed Cesc Fabregas to maraud forward.
Substitutions aside, Mourinho failed to counteract these measures, and his team ultimately paid the penalty. A combination of Barcelona's continued success and Guardiola's vitriolic riposte may have suitably shaken Jose's reactionary qualities. Have mind games in this case backfired on him?
Cohen opines that an over-analysis of what has come before could be a contributory factor. She adds: "When others out-psych you as in this case, it knocks your confidence and you also can over-think. It is always harder not to think about something.
"[Mourinho must] stay in the present - think about having confidence and moving forward."
V

RONALDO V MESSI:
CLASICO RECORD SINCE 2009

Then, the case of Cristiano is one that Madrid must seek to resolve. Rampant against La Liga's mid-tier sides, he generally cuts a strangely subdued figure when up against Lionel Messi and his companions. Ronaldo is cut from the same boastful mould as his coach, but in the past few weeks a susceptibility to stinging criticism has distracted him, and it originates from two glaring misses in the December derby.
A first-half strike flew wildly off target, then a simple header when his side trailed 2-1 glanced harmlessly wide. These are the chances from which the former Manchester United star has cultivated his reputation, but when facing the Blaugrana, Copa del Rey final aside, he is consistently overshadowed by Messi. The Bernabeu have responded negatively to Ronaldo, arguably for the first time since his arrival in Spain, and with even legendary figure Alfredo Di Stefano apportioning a degree of criticism at the door of the Portuguese, it is understandable that the player has concocted a mental block when taking on Barca.
Cohen feels his problem is a circular one; in trying so desperately to succeed versus the best there is, his anxiety is proving to be counterproductive.
She concludes: "[Ronaldo must] think of all the times when the fans have been on his side. Keep those thoughts of what it will feel like when everyone returns to support you.
"We all swim upstream from time to time; [Mourinho] has to encourage him to let it go. Be in the present, every dribble, every ball ,every kick, every pass. Play for the moment."
Madrid's paradox is that their desire to overcome Barcelona, to firstly claim silverware, then create a similarly lasting legacy, is erecting a deep-rooted mental barrier that must be breached. Their five-point domestic advantage means that they have the opportunity to commence the tectonic shift from Catalunya to the capital - but their biggest obstacle may not be their opponents, rather, themselves.
Follow Paul Macdonald on