EXCLUSIVE

By Ralph Hannah in Asuncion
Spirits are high at Paraguay's most successful club, Olimpia, who celebrated their first league title since 2000 last month; and the future could well be bright, too.
Having won the 2011 Apertura in the first half of last year, the reserves narrowly missed out on the 'double', losing 1-0 in the Clausura final to Libertad just two days after the senior side's triumph. The captain of that reserve team, Marco Pfingst, talked exclusively to Goal.com about his hopes for the New Year and the promising future that awaits him.
The softly-spoken 18 year old is polite and relaxed as he talks about his meteoric rise through the youth ranks at Olimpia before being called up by Gerardo Pelusso to the first-team squad in November.
"I moved to Olimpia's football school when I was about 12 years old and from there I went through all the youth teams" says Pfingst, who at just 16 was called into the reserve team by former Olimpia striker Mauro Caballero.
"I was only on the bench at first" he recalls, also recounting how he was dropped back down to the U17s and U18s before joining the reserves again 18 months ago.
Pfingst plays as a central midfielder, and while comfortable in a defensive role he is blessed with wonderful close control and ability to use both feet - which he attributes to playing futsal competitively until the age of 14.
"I started playing futsal aged seven" explains Pfingst. "It helped a lot when I was younger … it makes you confident [on the ball]."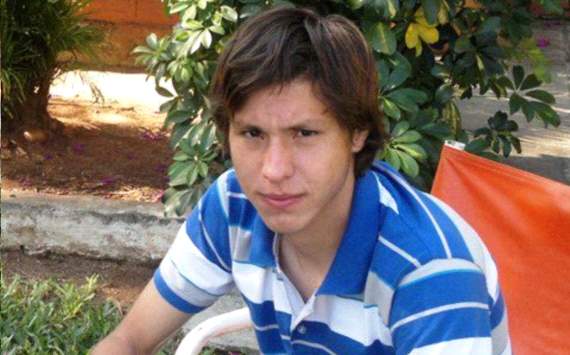 Time to Relax | Marcos enjoys Paraguayan national drink terere in a break from training
His German-sounding name and ability to shoot from distance lends itself to a comparison with Michel Ballack, which he accepts; but as a boy Pfingst says that his idols were stars like Kaka, Ronaldinho and Andrea Pirlo.
The conversation moves onto European football, somewhere the teenager would "love to play". He cites Barcelona ("I think everybody loves how they play") and Arsenal as examples of teams he enjoys watching for their style of football. He sees England as a "faster league" than Spain, where the focus is more "on keeping possession of the ball". But his highest praise is reserved for a team closer to home.
"One of my dreams was always to play for Boca Juniors", adds Pfingst, who grew up watching Bianchi's side win multiple international tournaments. "That's when I became a fan".
He spoke highly of Juan Roman Riquelme, eulogising "his way of controlling the ball and how he plays".
Playing abroad is, of course, the ultimate objective for Pfingst; who believes "with the right mentality one can adapt anywhere". However he refuses to allow himself to dream too big too quickly and fall into the trap of "not all but some" young Paraguayans that in his opinion "begin to play well and lose their humility". Right now he just wants "to play as many games as possible" in the Olimpia first team.
| | |
| --- | --- |
| On his chances of playing for Germany: I always want them to win in the World Cup ... It would be a beautiful opportunity | |
The same objective lies with the national set-up. Early last year, Pfingst was called up to the incredibly talented Paraguay Under-20s team, but more recently under the management of his ex-coach Mauro Caballero, he found himself out of the side.
"I don't know why I was dropped", he admits. His immediate aim is to get back into the team: "I'll do everything possible" he says with solemn determination.
He also has the option to play for his ancestral homeland and concedes that Germany are his second team. "In the World Cup I always want them to win" and he hasn't ruled out playing for the three-time World Cup winners admitting, "It would be a beautiful opportunity."
For now all the doors are wide open for this talented midfielder who is already showing himself to be a dedicated professional. After speaking to Goal.com in the morning he set off on a bike ride with his father to Cacuupe, a town over 50 kilometres away, just two days before starting pre-season training.
His father is one of the many people he wanted to publicly thank for helping him in his fantastic journey with Olimpia to date, as well as much-loved reserve team coach Virginio 'Viki' Caceres. Don't be surprised if in six months' time Pfingst is thanking senior coach Gerardo Pelusso, as he celebrates a successful first season in the Decano first team.