COMMENT
By Kris Voakes | Italian Football Editor
As if Sunday night's huge battle on the pitch wasn't enough, AC Milan and Inter will continue to wage war off the field this week as the Carlos Tevez saga hots up.
The Manchester City striker, who looked set for the Nerazzurri last spring, then Corinthians in the summer, then the Rossoneri in the late-autumn, finally appears to be on the move before the January transfer window slams shut, but his final destination has still to become clear.
The Argentine's long-standing issues with his current employers, which began with his transfer request in December 2010 before reaching the point of no return when he refused to appear as a substitute for September's Champions League trip to Bayern Munich, should finally come to a head in the next three weeks, but the City board are unwilling to let their asset leave for peanuts. To add to that, their decision to refuse Milan's loan deal request has thrown a lifeline to the Rossoneri's neighbours in what is becoming the biggest transfer battle between the pair since David Suazo's 2007 move to Inter.
So where will Tevez end up? And where SHOULD he end up?
He would surely be equally important on the pitch for either Milanese giant. If he were to don blue and black, he would add the kind of energy and heart which has largely been missing from the Biscone's lineup this term. While Diego Milito in particular has stepped back up to the plate in recent matches, the loss of Samuel Eto'o last summer has left a huge hole in a once-potent forward line.
A move to Via Turati, meanwhile, would see a new dimension added to the Milan attack. With Zlatan Ibrahimovic providing a talismanic figure up top, Alexandre Pato's characteristics don't necessarily scream of him being the best partner for the big Swede. Tevez's more unpredictable, wider ranging skill set could well prove to be the perfect counter-balance for the club's leading scorer, making him equally valuable to the Rossoneri as to their neighbours.
| | |
| --- | --- |
| December 12, 2010 | Manchester City confirm rejection of transfer request from Tevez |
| December 13, 2010 | Adriano Galliani rules out Milan moves for Tevez and Mario Balotelli |
| January 6, 2011 | Reports emerge regarding Tevez/Samuel Eto'o swap move to Inter |
| April 8, 2011 | Inter line up €25m move after Tevez visits Milan for treatment |
| May 20, 2011 | After FA Cup win, Tevez says he wants to leave City |
| June 22, 2011 | Branca rules out Tevez deal due to wage demands |
| July 3, 2011 | Mancini reveals City tried to swap Tevez for Eto'o |
| July 20, 2011 | Corinthians move falls through |
| August 18, 2011 | Inter switch attention to Forlan after loan deal deadlock |
| September 27, 2011 | Mancini claims Tevez refused to come on against Bayern Munich |
| November 9, 2011 | Tevez fails to show for City training, prompting further exit talk |
| November 18, 2011 | Cassano surgery sparks Milan loan interest |
| December 8, 2011 | City refuse loan move after Galliani reveals talks with player |
| January 5, 2012 | Inter re-enter race but express pessimism over chances |
| January 7, 2012 | Galliani claims deal is done with Tevez amid City negotiations |
| January 9, 2012 | Moratti expresses intent to pursue Tevez deal down to the wire |
Off the pitch there are many more questions to be taken into account, though. Who would a big-money move suit best? Who could afford it more?
Inter's summer sale of Samuel Eto'o reiterated the club's stance on FFP (Financial Fair Play). Wary of the need to fall in line with the new financial guidelines, they conducted a hugely cautious transfer campaign, allowing the Cameroonian high-earner to leave, very nearly selling Wesley Sneijder to Manchester United, and treading carefully when bringing in players such as Ricardo Alvarez, Mauro Zarate and Diego Forlan.
A huge splurge now would make a mockery of the stance they took in the summer, and would also call into question where their intentions lie in terms of further team strengthening, with the proposed offloading of Zarate nowhere near enough to counter-balance the arrival of Tevez and his wage packet. Their recent renaissance on the pitch has surely not persuaded president Massimo Moratti and sporting director Marco Branca that their ageing midfield and defence can go on forever.
Long-term replacements for the likes of Lucio, Walter Samuel, Javier Zanetti, Esteban Cambiasso and Dejan Stankovic still need to be sought, and splashing out millions on Tevez can only compromise the work they have done so far in cutting back on spending.
Moratti seems intent on showing that his club are still transfer heavyweights despite their loss of status since their treble win of 2010, but with the purse strings now tighter thanks to FFP, while a move for Tevez is possible, it would appear to be an unwise move at best. After their inability to sign the 27-year-old on the cheap last spring he represents 'the one that got away', but that doesn't necessarily mean that ensnaring him now would be the best move for any of the parties involved.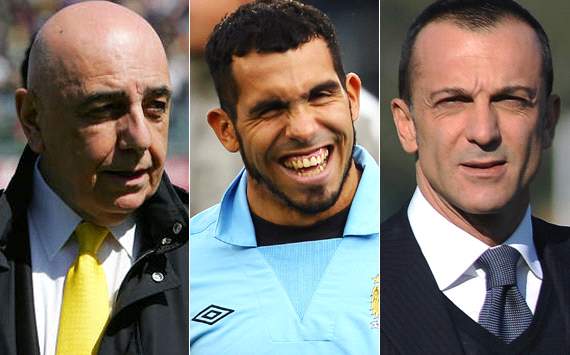 Tug of war | Galliani (left) and Branca (right) are fighting hard over Tevez
Over at Milanello, there is no less concern about FFP, and with Antonio Cassano due back on the field next season after heart surgery, their original loan bid seemed well advised. That would have given them the boost of Tevez's impact for the remainder of 2011-12, plus the opportunity to revisit the situation in the summer.
But City's insistence on some kind of guarantee over a return on their 2009 investment puts a question mark over the Rossoneri's room for manoeuvre. There seems set to be a move made by Milan over an initial loan spell with a compulsion to buy, perhaps triggered by a minimum number of appearances between now and May.
This could well end up satisfying the Citizens, while giving Adriano Galliani time to come up with a plan for the summer, when the return of Cassano could result in a need to offload at least one of their pool of strikers. All that would then need to be negotiated would be the eventual price, with the Italians naturally wanting to knock down the asking price where possible.
President Silvio Berlusconi said upon his recent return to the club that he was willing to back the outfit as much as necessary, and the Tevez situation reminds one of Milan's posturing in the summer of 2010. With the Rossoneri's parent company Fininvest promising prudence, Berlusconi put his foot down and stumped up the cash for the purchases of Ibrahimovic and Robinho. Don't be surprised to see the same happen again.
Pato could well be a key in the transfer, too. If City insist on a guaranteed sale clause in a loan deal, the Brazilian may be the man seen as the spare part come June. Milan's slight edge in the Tevez race will be offset by the quandary it will give them in the summer. And with Paris Saint-Germain sniffing around, the arrival of greater competition for Pato at San Siro could well result in the 22-year-old moving on.
In a tale of two great clubs, two big rivals, and two presidents of real personality, there are set to be more tos-and-fros in this seemingly never-ending saga. But with just three weeks of the window left, City still standing firm in their stance, and a Milan derby to focus on this Sunday, one of the parties needs to back down. But who will blink first? Milan or Inter?
Follow Kris Voakes on