ANALYSIS
By Ben Hayward | Spanish Football Editor
It is surely no coincidence. All of Barcelona's last six defeats share one common factor: they have each arrived in the absence of Carles Puyol.
Barca's courageous captain was missing for all five of the Catalans' losses in an injury-ravaged 2010-11, and even though he is now back from the knee problem which kept him sidelined for much of last season, the centre-back is still short of full fitness. And as Barca lost again on Saturday, suffering their first reverse of the campaign as they went down by a single goal at Getafe, Puyol was absent once more.
The 33-year-old has been missing in six of nine Liga defeats suffered during Pep Guardiola's three-year tenure and in his absence, the Catalans lack the same security at the back. The Barca coach has tried a number of combinations in defence this season, with midfielders Sergio Busquets, Javier Mascherano and even, on occasions, Thiago, filling in at the back. And Guardiola has also started many games with three in defence, pushing full-back Eric Abidal inside to a central position.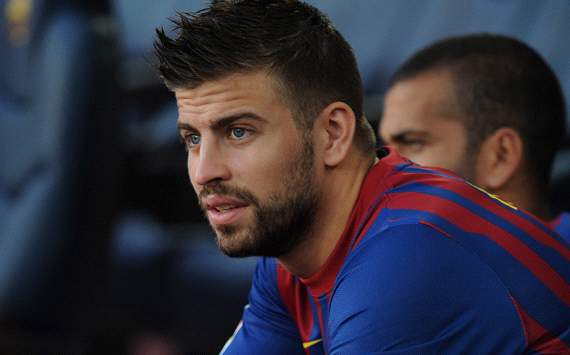 Watching on | Pique was left on the bench in Milan


Results have been largely positive, too. At home, the Catalans have racked up 30 goals without reply in La Liga, but they were exposed by AC Milan when the two teams drew 2-2 at Camp Nou earlier on in this season's Champions League. There was questionable positioning for the Italians' opener, scored by Pato after a matter of seconds, and later poor marking for Thiago Silva's last-gasp leveller.
Up against Milan again in San Siro last Wednesday, Guardiola opted for a three-man backline and while Barca were wonderful in midfield and attack, there were far too many spaces left behind and a better side may have been able to capitalise. Also, inexplicably, Gerard Pique - who had been expected to mark Zlatan Ibrahomovic due to his height and aerial ability - was left on the bench. As it was, Barca won 3-2, but it was far from a convincing defensive display.
The same system was employed at Valencia in September and the Catalans conceded twice within 22 minutes, while Roberto Soldado was presented with an open goal and the chance - which he didn't take - to make it 3-1 before the break.
LIFE WITHOUT PUYOL | Barcelona's defeats in 2010-11

Sep 11 2010

Jan 19 2011

Feb 16 2011

Apr 20 2011

Apr 30 2011
Hercules (h)
La Liga
Lost 0-2

Real Betis (a) Copa Del Rey
Lost 1-3

Arsenal (a) Champs Lg
Lost 1-2

Real Madrid CDR final
Lost 0-1 (AET)

Real Sociedad (a) La Liga
Lost 1-2

Calf problem

Knee injury

Knee injury

Hamstring strain

Hamstring strain

Puyol played in both of those matches, but wasn't involved as Barca could only draw at Athletic Bilbao recently and was also absent as the Catalans tied by the same scoreline, 2-2, at Real Sociedad earlier on in the campaign, having led that match 2-0 before being exposed defensively as the Basques mounted a late revival.
When he is unavailable, the Catalans clearly miss their captain. The 33-year-old brings strength and determination to the Barcelona backline, but also organisation and discipline, making sure his team-mates are correctly positioned. And concentrating.
The Spain star said just last week that he plans to go on playing for another nine years, and although that seems highly unlikely, he evidently wants to continue for as long as he can. And that's great news for everyone at Camp Nou. But even if he does, Barca need to stick to a settled system when he is unavailable because at the moment, Guardiola's chopping and changing of personnel and formation appears to be doing more harm than good.
And the captain is key to their hopes. The last time Puyol played and Barca lost was the 3-1 defeat at Inter in the Champions League semi-final first leg of 2009-10. Jose Mourinho had the last laugh that day, but if Puyol is absent for next month's Clasico, the Portuguese will be smiling once again.
Follow Ben Hayward on