ANALYSIS
By Ben Hayward | Spanish Football Editor
The summer of 2008 was a point of inflection for FC Barcelona, a time for reflection. The Catalan club had looked all set to mark a new era in 2006 as they claimed a second successive Liga title and a first Champions League triumph since 1992. 'Can this team make history?' the players were asked repeatedly. 'Yes we can,' they replied. But they couldn't.
By 2008, Barca had relinquished back-to-back league titles to fierce rivals Real Madrid - even finishing third in the second season - and failed to make waves in Europe, too. They had believed their own hype and fallen flat on their faces. Something needed to be done.
President Joan Laporta took the brunt of the blame. The Catalan chief's extravagant lifestyle had perhaps not set the best example to his millionaire players. The world's greatest team had lost their discipline and the world's greatest player - then Ronaldinho, not Lionel Messi - had lost control.
Locals in Castelldefels - the upmarket beach resort outside of Barcelona that Ronaldinho had made his home - had spoken of all-night parties, large groups of people, loud music and dancing; it was far from a lifestyle associated with one of the world's top athletes.
However, by 2008, Ronaldinho was no longer one of the world's top athletes. He was overpaid, overweight, and underperforming. And Ronnie's demise matched the decline of Barcelona. Deco and youngster Giovani dos Santos were said to be off the rails, too, while Samuel Eto'o was no longer on good terms with the Brazilian. Barca had fallen from the very top - and Frank Rijkaard had lost control of the dressing room.
Hugely popular with the players and the press, the Dutchman was considered too soft to manage the assorted egos at Camp Nou. Earlier, his 'good cop, bad cop' partnership with Henk ten Cate had worked superbly. Ten Cate had worked alongside Rijkaard since the beginning of the project, in 2003, and was seen as the 'mano dura' - firm hand - in the Barca dressing room. So it was no coincidence that when Ten Cate left to join Ajax in 2006, the Catalans began to lose their way.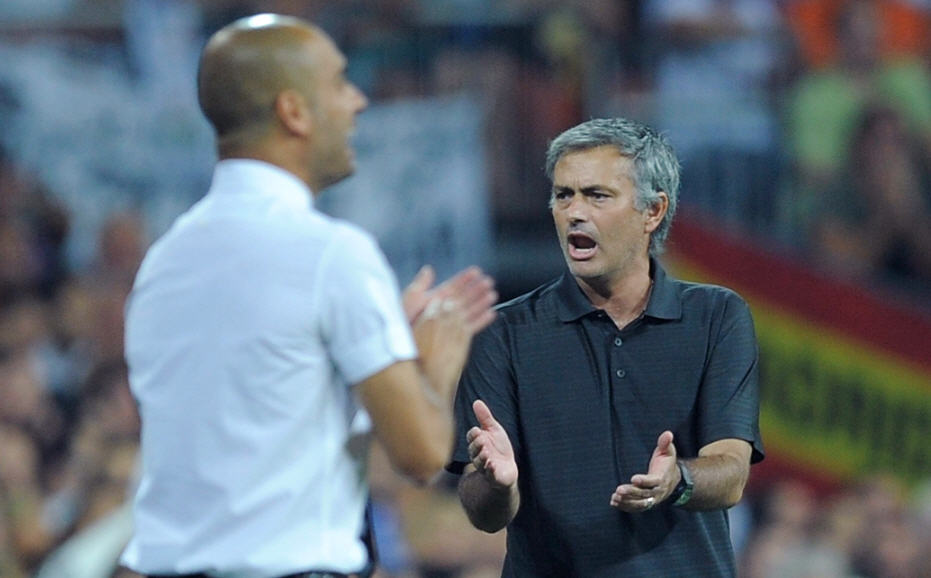 Decisions, decisions ... | Barca chose Guardiola over Mourinho in 2008


Laporta knew changes had to be made. The Barca president survived a censure motion which saw over half of Barca's socios vote him out. That total, nevertheless, was short of the 66 per cent needed for new elections to be called.
But with his popularity at a low, Laporta knew tough decisions had to be made. With a heavy heart, he had announced in May that his coach and personal friend Rijkaard would be leaving the club. Having lost control on and off the pitch, discipline had to be restored. And many of the signs were now pointing towards Jose Mourinho.
The Portuguese coach had been well-liked during his time as an assistant to Bobby Robson and, later, Louis van Gaal, but he had done little to endear himself to the Catalan public with his provocations during the fiery fixtures between Barca and Chelsea in the Champions League. However, he knew the club, he would bring discipline, boasted a proven track record of results, was available - having parted company with Chelsea early in the 2007-08 campaign - and more importantly, he wanted the job.
Mourinho had been upset as Barca dispensed with his services in 2000, after Van Gaal had presented his resignation at the Catalan club. One day, he told himself, he would return. So in the summer of 2008, agent Jorge Mendes was instructed to set up an interview with Barca. And the Catalans, sounding out possible replacements for Rijkaard, duly obliged.
Laporta was keen to arrange a meeting with Mourinho, in the presence of Dutch legend Johan Cruyff, an adviser to the Barca chief. But Mourinho was apparently less keen, concerned by the Dutchman's prickly personality and some of the comments he had made in his newspaper column about the Portuguese' footballing philosophy. Feeling uncomfortable with such a meeting, Mourinho questioned the role of Cruyff, who then held no official post at the Catalan club. 'Why should he be there?' asked Mourinho. 'Why shouldn't he?' was Laporta's reaction.
| | |
| --- | --- |
| Such a decision (appointing Mourinho) would have changed so many things. Guardiola was the right choice for Barcelona and, like Rijkaard, he would never do this club any harm | |
Things, then, did not start well. In the end, Barca sent vice-president Marc Ingla to Lisbon to interview Mourinho. The Portuguese prepared a 27-page PowerPoint document outlining his vision, including his plans for revolutionising the club's traditional 4-3-3 system - much as he had done at Chelsea and later, Inter - and his views on the current squad.
Mourinho planned to keep Deco, a player he had coached to Champions League glory at Porto, and believed Eto'o had a Camp Nou future, too. But he was less convinced by Ronaldinho, dedicating a separate section in his document to the blundering Brazilian. The part was entitled "Problem or Solution", and Mourinho claimed a closer examination would be necessary to determine whether Barca could recover a player who only two years earlier had been on course for era-defining greatness.
As highlighted by Ingla, the Portuguese revealed his intention to bring in his own staff, including fitness coach Rui Faria, now with Mourinho at Madrid, and former scout Andre Villas-Boas, currently manager of Chelsea. He also outlined his plans to work alongside an assistant from Can Barca, a local hero. This is a practice now very much associated with the Portuguese, who chose Steve Clarke as his assistant at Chelsea, worked with Beppe Baresi at Inter and is now operating alongside Aitor Karanka at Real Madrid. For Barca, his options were all former players he had worked with in his time at the Catalan club: Luis Enrique, Albert Ferrer, Sergi Barjuan and Pep Guardiola.
Back then, Guardiola had just completed a successful season as coach of Barcelona B, leading the club's youth team to promotion in Spain's third tier at the very first time of asking. Pep was being groomed as a Barca boss for the future, but few believed he was prepared to assume the position so soon and, at just 37, so young.
Crucially, though, Guardiola had the support of key men at Camp Nou. Mourinho, despite impressing with his presentation, did not. The Portuguese had annoyed Laporta with his unwillingness to meet Cruyff and further antagonised the Catalans during the interview when he had claimed he would not change his provocative nature when dealing with the press. Van Gaal had been a public relations disaster at Barca and ended up with the press on his back. Barcelona didn't want a repeat with Mourinho. There were also doubts over his footballing philosophy, even though he had spoken enthusiastically of an attack-minded Barca.
Everyone was telling me I had to sign Mourinho, but I signed Pep Guardiola. I thought he would be the ideal person for the job. Mourinho is a great coach, but we thought Pep would be, too. He surpassed even our forecasts





- Joan Laporta, former Barcelona president

Mourinho ended his presentation with the words: "I know what Barcelona are like." He had hoped his previous experience at Camp Nou would count in his favour, but he was up against a man who had lived and breathed Barca for almost his entire existence: Guardiola.
Pep was young and fresh, but he knew the club better than almost anyone, having emerged through the youth ranks and later captained the side. He was a symbol of Catalunya and of Barca. And, according to technical director Txiki Begiristain as well as Cruyff himself, he was ready.
So that was that. The board were divided over the appointment of Guardiola, but Laporta had the support of Begiristain and together they managed to win over their colleagues. The former president, although he would never admit it now, had been open to the idea of Mourinho joining Barca, but he surrounded himself with those he respected and trusted. And he listened to them.
"I spoke to Cruyff, who for me is a reference in many ways," Laporta explained. "He told me Pep was ready."
"My technical secretary told me the same thing. So I communicated my decision to the board and there was a logical debate, but we took the decision by an absolute majority in the end. It was a risk because Barcelona had to react at that moment."
React they did. And they have never looked back since.
Follow Ben Hayward on