Lionel Messi has a new rival for first place in the Castrol EDGE Rankings and it isn't Cristiano Ronaldo.
Barcelona's superstar is being reeled in by Bayern Munich's Mario Gomez who remains in second place after another goal-filled October for the German striker. The gap between Messi and Gomez is now a small 89 points while the gap between the Argentine and Ronaldo is a wider 233 points.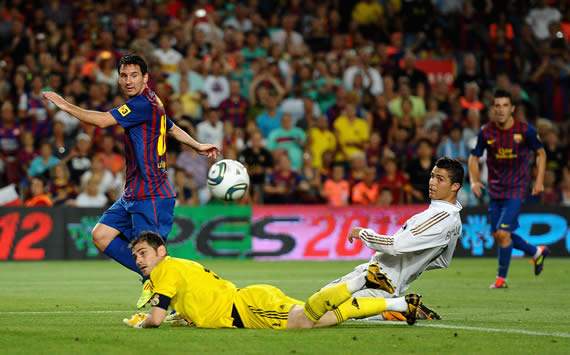 Ronaldo (5th) has slipped down the rankings due to his missed chances in front of goal. He has converted just 21 per cent of shots over the last 12 months, that's less than Messi (26%), Gomez (36%), whom he also trails in terms of shooting accuracy.
Bayern's Gomez (2nd) has scored an impressive 36 goals in 33 games over the last 12 months and is rapidly becoming one of Europe's most feared strikers. Despite his success, Gomez is the sole Bundesliga representative in the Castrol EDGE Rankings top 10.
Six of the top 10 places are taken by Liga players, Messi (1st), Karim Benzema (3rd), Ronaldo (5th), Gerard Pique (6th), Eric Abidal (7th) and Malaga's Willy Caballero (10th) who is the highest ranked goalkeeper.
Former Atletico Madrid starlet Sergio Aguero is eighth and is one of just two Premier League representative in the elite 10.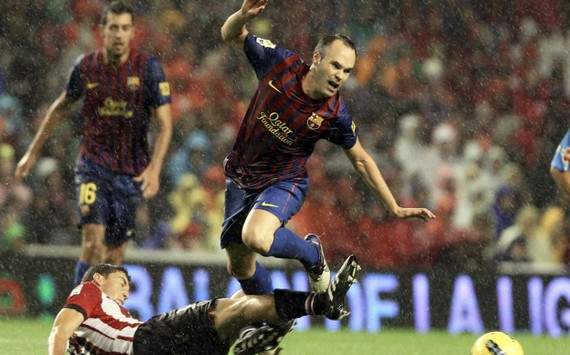 Andres Iniesta has risen one place to 13th and his presence in the Blaugrana squad is vital according to stats generated by Castrol EDGE.
In nine league games without Iniesta in the past year, Barcelona have won just five (56%), picking up two points per game on average. Performances in the 30 fixtures with him saw them record an 83% win percentage, averaging 2.7 points.
Staying in Spain, Real Madrid striker Gonzalo Higuain (543rd) has the best minutes to goals ratio in La Liga over the past 12 months, finding the net once every 69 minutes, and scoring 15 times.
Higuain may be low in the overall rankings but Chelsea's Florent Malouda certainly isn't. Despite not regularly featuring in Chelsea's starting line up this season, he has risen to 16th overall based on his form in the past 12 months. Malouda has created more chances than any other Premier League player (98) during this time.
Antonio Di Natale remains the sole Serie A representative in the top 20. He has scored 33 goals since November 2010 and has been directly involved in 59% of Udinese's 68 goals in Serie A in the same period, having made seven assists. The striker chipped in with three more league goals in October.
Inter's worst start since 1946-47 has had a direct impact on their status within the Castrol EDGE Rankings. A mighty 21 of their current 28 player squad have dropped positions with only goalkeeper Emiliano Viviano (90th) remaining in the top 100.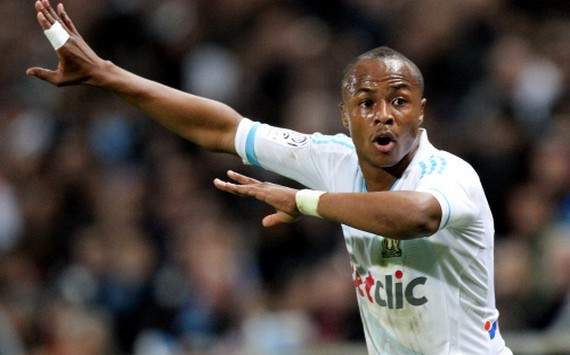 France's Ligue 1 had a good month as Marseille's Andre Ayew picked up the Castrol EDGE Performance of the Month award for his performance against Ajaccio.
Ayew bagged a brace in the game and hit the target with seven of his 10 shots in the game. Only Cristiano Ronaldo has had more shots on target in a single game in the top five leagues this season.


For more insights from the Castrol EDGE Rankings visit CastrolFootball.com What are the Castrol EDGE Rankings?

Combining the expertise used to develop their superior performing oils with their passion for
performance, Castrol EDGE has created the Castrol EDGE Rankings – an innovative football ranking system that rates players on fact not opinion.

Monitoring every single touch from over 2,000 players in every match from the world's top five leagues, the Castrol EDGE Rankings use cutting edge technology and objective analysis to rate player performances over a rolling 12 month period, giving fans the most accurate view of who are the world's top performing players.

The Castrol EDGE Rankings will be next be updated to include performances from November on December 2nd 2011.