COMMENT
By Ben Hayward | Spanish Football Editor
Vicente del Bosque has a problem. Although blessed with the finest generation of midfielders his country has ever seen, the Spain coach is running out of world-class strikers. Fernando Torres hasn't looked like a top-notch forward for some time now. And on current form, David Villa does not, either.
Against England on Saturday, Villa failed to impose himself on a game in which his side needed him as a point of reference in attack. The Barca striker looked low on confidence, was unable to provide the outlet required by La Roja and, most significantly of all, he didn't score.
In the cold light of day, such an analysis may seem harsh; Villa hit the post with a fine effort from distance late on and also rounded England goalkeeper Joe Hart before firing into the side netting from an angle, while other shots were blocked or deflected wide. At this level, though, chances must be taken.
And that is why Villa is in the team. As a guaranteed starter in the best national side on the planet, his is a privileged place. But he has earned the right to start for Spain thanks to his impressive international strike-rate, which has seen him notch 50 goals in 81 appearances for Spain, and his starring roles in both the Euro 2008 and World Cup 2010 successes.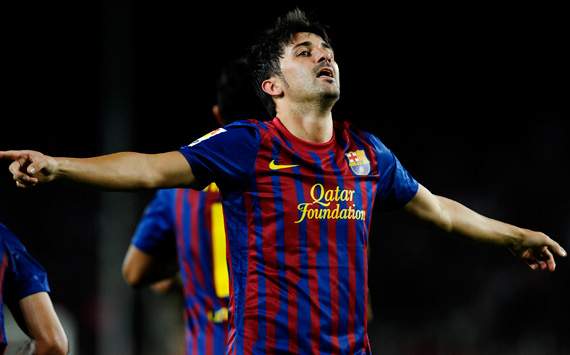 Looking uneasy | Villa's form at Barca is under the spotlight too


The past, however, and according to the slogan utilised as Spain unveiled their new strip last week, doesn't count. And that motto may apply to Villa as well. For the popular Asturian, the past may be brilliant, but the present is concerning and the future uncertain.
Del Bosque defended Villa following the defeat at Wembley, and Barca coach Pep Guardiola recently described the striker as 'indispensable'. Actions, however, speak louder than words and Villa has featured less and less for his club side of late.
The 29-year-old's first season at Camp Nou was a success, even though he found life difficult as he adapted to a role on the left and later endured a barren run towards the end of the campaign. A wonderful goal in the Champions League final victory over Manchester United appeared to silence the doubters, and another fine strike in the Spanish Supercopa at Real Madrid at the start of 2011-12 saw the Spain star begin the new season in style.
Those, however, are isolated moments, and while Villa rarely features for the entire 90 minutes at Barca these days, lately he has been out of the side, too. The former Valencia striker has started just two of the last five games, against Granada in La Liga and Hospitalet in the Copa del Rey - and he has failed to score for the Catalan club since a late goal in the 2-0 win over Czech side Viktoria Plzen on October 19.
| | |
| --- | --- |
| | DAVID VILLA AT BARCA | The story so far |

MORE ON
DAVID VILLA


| | | | |
| --- | --- | --- | --- |
| Season | Games | Goals | Assists |
| 2010-11 | 52 | 23 | 9 |
| 2011-12 | 18 | 7 | 2 |
| Total | 70 | 30 | 11 |
The problem Villa has is that, at Barca, he is unlikely to ever be allowed to operate in his favoured position in the centre. That role is reserved for Lionel Messi and rightly so, given the Argentine's ability to create and score countless goals from a central position. But while Barca can afford to utilise Villa in a more sacrificial role, with the striker some way short of his best, Spain cannot. And crucially, they don't have Messi.
Villa turns 30 in just over two weeks and appears to be on something of a downward curve already. That is a concern for Del Bosque and for Spain fans, too, as La Roja look to become the first side to win a Euro, a World Cup and another continental competition in succession.
Del Bosque will persist with Villa for now, but unless there is an improvement in the striker's form by the end of the season, he may be left with a difficult dilemma. The Spain coach has already been criticised for keeping faith in Torres, but is prepared to support his players in difficult moments and that is one of the reasons he is so popular with his squad.

"Villa is a goalscorer who gives us great security up front and he was one of the principal architects of our World Cup win. We are very happy with him"

- Vicente del Bosque

There are other options, of course. Spain could use David Silva in the role of 'false' nine, supported by the intelligent runs from deep of Cesc Fabregas, possibly even with Villa starting on the left. Alternatively, the former Arsenal man could operate in a 'false' nine role as well, as he has shown at Barca this season.
Those are both options and appealing alternatives. In some matches, however, particularly against more physical sides, Spain will need a presence up front at the Euros. And if Villa cannot provide it, Del Bosque may be forced to look elsewhere. One option is Fernando Llorente, although the Athletic Bilbao striker is not ideally suited to Spain's tiqui-taca, touch football. The same can be said for Torres, too, and the Chelsea forward is somewhat out of sorts anyway, while Sevilla's Alvaro Negredo doesn't look quite good enough and Valencia's in-form forward Roberto Soldado has not even been called up by Del Bosque.
The Spain coach will therefore be hoping Villa can return to his best for both Barca and La Roja - starting on Tuesday night in the friendly against Costa Rica. Otherwise, winning the Euros seems like a distant dream no matter how good the rest of the Spain side may be.
Follow Ben Hayward on