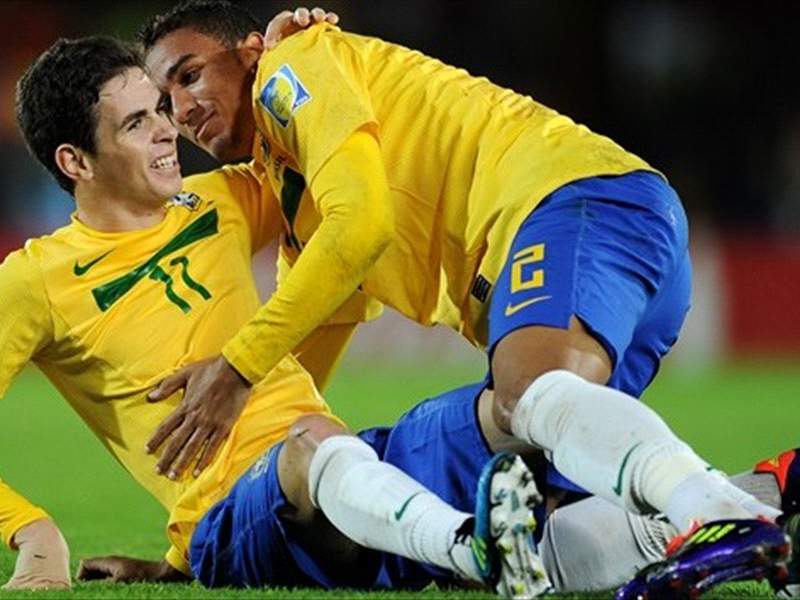 SPECIAL
By Simone Gambino
There is one thing that never goes out of fashion; an Italian habit that can throw up many a great surprise but may also conceal hidden dangers. Italian clubs have always favoured the Brazilian market when searching for young talent, and it has often thrown up astonishing results, not least in recent moves for Kaka, Alexandre Pato, Thiago Silva, Hernanes and Julio Cesar. But then, of course, there are also the examples of Kerlon, Felipe Mattioni and Edinho.
With the January transfer window coming rapidly into view, AC Milan, Inter and Juventus head the queue of Serie A outfits with their sights set firmly on Brazil once more. Many names have been mentioned in the newspapers, from much-vaunted superstars of the future to those who are near-unknowns to an Italian audience.
Below we present the 10 most talked-about talents in the Brazilian market who have become alleged objectives of Italian clubs ahead of the winter transfer market.



CASEMIRO

Club

Sao Paulo

He is the dream signing for the occupants of Casa Milan, and the player who it is believed could be the lynchpin of the Rossoneri's engine room for the next decade. A flexible midfielder, he is a rock but with educated feet, and is effective in attack and defence. Sao Paulo will want a lot for him, though, and competition is fierce.

Position
Midfielder
Age
19
Approx. price

€18m

Similar to...

Felipe Melo




DEDE

Club

Vasco da Gama

The nicknames he has been given by the Vasco fans tell a story in themselves. To them, Dede is 'The Myth' or 'Dedeckenbauer'. Physically imposing at 1.93m, he has great fundamentals and always stands tall. Similar to Roma's Juan, except that in comparison he is faster and more powerful. Juventus are big fans.

Position
Defender
Age

23
Approx. price
€4m

Similar to...
Juan





ELKESON

Club

Botafogo

He is probably one of the least well-known to the general public, but for some time in Brazil people have been backing the qualities of this trequartista, who has already scored eight goals in the league. Physically he looks ready for Italy, while technically there is no question. He's a good dribbler, has great vision and is excellent from set-pieces.
Position
Trequartista
Age
22
Approx. price
€7m

Similar to...
Sneijder




GABRIEL SILVA

Club

Palmeiras

The next big hope of Udinese is said to be full-back Gabriel Silva, who has long been linked with the Friulani. He was a starter in Brazil's Under-20 World Cup-winning side and is one of the jewels of Palmeiras. He is a full-back in the Brazilian mould, with defensive resilience and powerful presence in attack.
Position
Left-back

Age

20
Approx. price
€4m

Similar to...
Clichy


JUAN

Club

Internacional

Napoli and Inter are the sides most interested in the defender who is equally as capable in the centre of the back line or on the left. Physically big, tactically intelligent and with a certain dynamism, he doesn't have the technique of David Luiz, but has greater flexibility.

Position
Defender
Age
20
Approx. price
€4m
Similar to...
David Luiz




LEANDRO DAMIAO

Club

Internacional

The Selecao centre-forward is one of the most coveted players in South America. Milan, Roma, Juventus, Liverpool, Tottenham and Shakhtar are among the clubs to have shown an interest in him. Damiao is a 'mobile tower', with great mobility despite his imposing figure. His price will be that of a top player: at least €20 million.

Position
Attacker
Age
22
Approx. price
€20m

Similar to...
Gomez




LUCAS

Club

Sao Paulo

After Neymar, the Sao Paulo fantasista is currently the best there is in Brazil. A pure talent, he is destined to become a leading light in Europe. His physique and movement has echoes of Robinho, although he plays from a slightly more withdrawn position. Inter are following him, though it may be difficult to get him to move to Italy.

Position
Trequartista
Age
19
Approx. price
€30m
Similar to...
Robinho






OSCAR

Club

Internacional

Oscar's name in circled in red in Ariedo Braida's little black book after the Milan director was entranced by the talent of the versatile midfielder. Showing a mix of Kaka and Iniesta, he can play either as a trequartista or in the centre, and is particularly reminiscent of the ex-Milan man when the ball is at his feet. Barcelona also hold a candle for him.

Position
Trequartista
Age
19
Approx. price
€15m
Similar to...
Kaka


PAULINHO

Club

Corinthians

A defensive midfielder who also has a knack for goals, with seven so far in the league, his best qualities are his intensity and dynamism. Disciplined on the ball and determined in the tackle, Paulinho has been followed in recent months by Milan, Roma and Fiorentina.

Position
Midfielder
Age
23
Approx. price
€5m
Similar to...
Ramires




RHODOLFO

Club

San Paolo

Followed by Juventus, the Sao Paulo centre-back is one of the players most ready to make the jump to the peninsula. Physically imposing, he reminds many observers of Lucio due to his ability to get on top of his attacking adversary. He was very close to joining Bari last year, and was also linked to Genoa.

Position
Defender
Age
25
Approx. price
€8m

Similar to...
Lucio

Follow Simone Gambino on