COMMENT
By Ben Hayward | Spanish Football Editor
Pep Guardiola lives and breathes FC Barcelona. The charismatic coach emerged as a fine young talent from the club's astonishing academy, La Masia, and lived the dream as he went on to captain the team as their midfield lynchpin. Now, he is their leader, the architect of this side being talked about as the best ever. Pep embodies the Catalan club - he's Mr. Barca.
But he won't stay forever.
Just as he did as a player, when he made the difficult decision to leave the club he adored to seek new challenges and broaden his footballing horizons, Pep will move on again.
The former Barca captain is known to be attracted by a move to the Premier League, an experience he had desired but never fulfilled as a player, while Italy looks another certain destination for the Catalan coach as well following his spells with Brescia and Roma on leaving Camp Nou in 2001.
After all of that, however, and possibly a stint as national coach as well, a return to Spain seems likely. And following his considerable success in the last three years, Barca surely will welcome their current coach back with open arms in future. But there is also another Spanish side that intrigues Guardiola: Athletic Bilbao.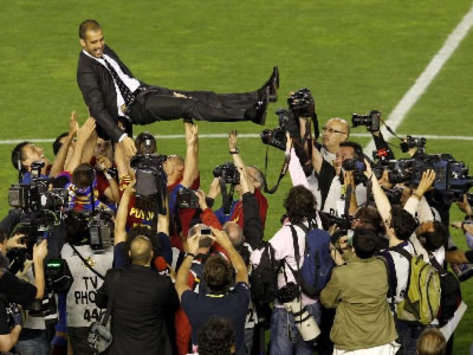 Basking in glory | Guardiola's first trophy as coach came against Athletic
Pep is a known admirer of the Basque outfit and all the club represents. As a player starting out at Barca, he was joined by several outstanding Basque players, including Andoni Zubizarreta and Jose Mari Bakero. Others, such as Julen Guerrero, Joseba Etxeberria and Ismael Urzaiz, were international team-mates in a Spain side coached by Barakaldo-born Javier Clemente.
Clemente had led Athletic to back-to-back titles in 1983 and 1984, and he had done so with only Basque players, a philosophy still maintained by the Bilbao side. And it's a system that appeals to Pep, himself one of Barca's first successful homegrown talents. "Athletic have a smaller market than we do - and they are an example," he said last year.
Barca do indeed have a larger catchment area for their talent at La Masia; Lionel Messi is Argentine, Pedro is from Tenerife, Andres Iniesta was born in Albacete and the new facility has young players from far and wide, including 10 from Cameroon. But the philosophy is a similar one and while Barca provided the backbone of Spain's World Cup side in 2010, two Athletic stars - Fernando Llorente and Javi Martinez - were also in the squad in South Africa. Others, such as Iker Muniain and Ander Herrera, wait in the wings.

"Athletic is a mythical, historic club. San Mames makes you fall in love ... that ground, those fans and that way
of playing which is so clean and honest ...
"

- Pep Guardiola

Guardiola has waxed lyrical before about the Basque team and even took part in the recording of a song paying tribute to the northern outfit some years ago. And his admiration is shared by Marcelo Bielsa, who turned down Inter in the summer to keep a promise to presidential candidate - and subsequent winner - Josu Urrutia.
Bielsa and Guardiola meet on Sunday evening as Athletic host Barca at San Mames. Off the pitch, however, they have met before. After calling time on his playing career, Guardiola travelled to Argentina to speak to several renowned coaches, including Cesar Luis Menotti, Ricardo Lavolpe and Bielsa, as he sought advice on life in the dugout.
Bielsa invited Guardiola to his home in Rosario and over an
asado
- an Argentine meat-feast barbeque - the two talked football for 11 hours. 'El Loco' spoke; Guardiola listened. Indeed, Pep's policy of not giving interviews originates from a tip given to him by the former Chile coach, who reasoned that it was unfair to speak to some media outlets with more power than others. At a press conference, everyone would have a chance to ask a question.
When Bielsa took over at Athletic in the summer, he revealed he had been enticed, even seduced, by the club's romantic aura. And so is Guardiola.

"I have a good relationship with Guardiola and I know that one day he'll coach Athletic - the idea seduces him
"

- Joseba Etxeberria

"It's a mythical, historic club," Pep once claimed in an interview. "San Mames makes you fall in love ... that ground, those fans and that way of playing which is so clean and so honest ... the way they set out to win all of their games, pressing high up the pitch. It goes very much in hand with how I look at the game."
Catalans and Basques have much in common, too, as they traditionally rival Madrid in both politics and football, while their clubs are symbols of the respective regions and harbour a sense of strong national pride. Guardiola gets that; he understands exactly what Athletic means in Euskadi, while he admires the club's old-school approach and focus on producing solely local talent. "For football, not just here, but worldwide, it's great that a team has that idea," he explained ahead of a clash with Athletic in 2009-10.
So will it happen? "I'm open to listening to offers from Athletic," Guardiola revealed last year. "I'd be thrilled. When they get rid of me here, I will listen to offers, let's see if they arrive ..."
With 12 trophies already won and the chance to keep making history with this brilliant Barca team, that's not likely to happen soon. Then there's a move abroad to come as well and perhaps a sabbatical, too. But one day, if Guardiola decides to coach another side in Spain, it will almost certainly be Athletic Bilbao.
Follow Ben Hayward on