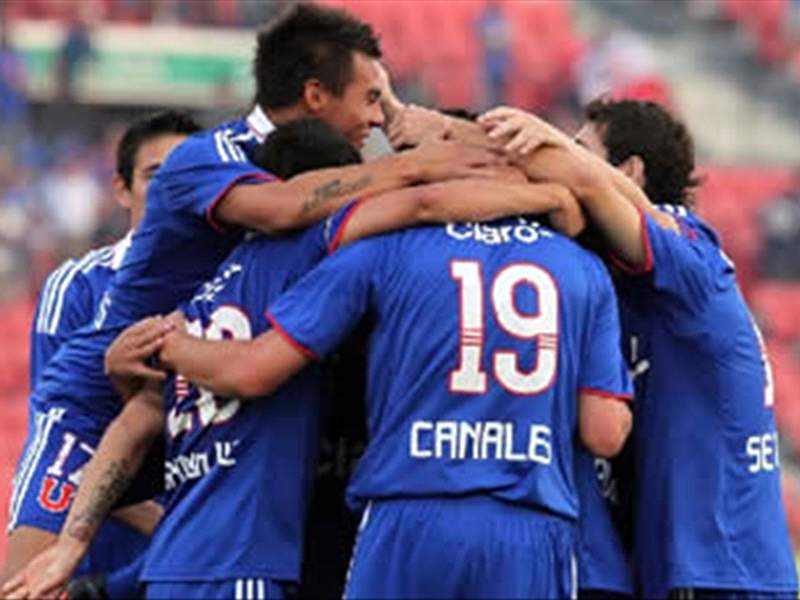 COMMENT

By Nicolas Rosano
While Chile's much-discussed national team has made massive strides in the past four years (albeit with mixed success), no Chilean club has emerged as a South American power since Colo Colo won the Copa Libertadores 20 years ago. That might just change now, though.
Those of us who had watched Universidad de Chile – one of the most popular clubs in Chile, and Colo Colo's fierce rivals – at the start of the year knew something might be brewing. The team blew past every outfit in its path, and kicked off the current Clausura season with nine straight wins and are still unbeaten in 13. In fact, the team has lost just three games in 2011, and mounted a memorable comeback in the Apertura final, beat Universidad Catolica 4-3 on aggregate, overturning a 2-0 first leg deficit.
In the Copa Sudamericana, they knocked out Uruguayan's Nacional with ease, winning 1-0 at home and going 2-0 up in Montevideo before the game was suspended as a result of a projectile thrown at the linesman. However, South America finally took notice when the 14-times Chilean League champions completely dismantled Brazilian title-contenders Flamengo, complete with Ronaldinho, winning 4-0 in Rio de Janeiro with an imperious showing.
As Eduardo Vargas tucked home his second goal of the night, and his team's third, you could be forgiven for thinking the game was being played in Chile. The quick one-two punch right on the stroke of half-time silenced the Engenhao - except for the small but ever-boisterous group of visiting supporters. While the teams walked off to the jeers of the Flamengo supporters, one could not help but begin to think that this Universidad de Chile team is a legitimate contender on the continental stage.
The pair of goals fittingly came as Fox Sports' Argentine commentators were beginning to process what they were seeing. As Vargas turned his defender inside out and beat the goalkeeper one-on-one, the announcers had just finished their latest round of praise for the relentless visitors.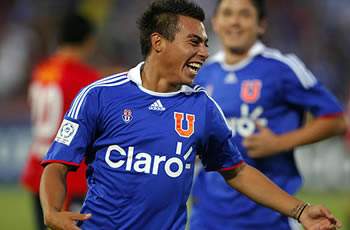 Steady Eddie | Young forward Vargas has been electric since signing for the U
Vargas, of course, has hardly been short of admirers. His pugnacious forward play coupled with no little skill has led to comparisons with Barcelona star Alexis Sanchez, and has meant the likes of AC Milan knocking on the doors of the Santiago club. Observers on Wednesday, however, went further. Justified comparisons were made with the styles of Barcelona and the wildly popular former Argentina and Chile manager, Marcelo Bielsa. Somewhat exaggerated comparisons, yes, but they are not unfounded.
While La U's strong emphasis on ball recovery certainly conjures images of Barca, the easiest comparison to draw is with Bielsa. Just as the label 'the new Maradona' has been thrown around to burden numerous exciting forwards coming out of Argentina, so has the label of 'Bielsa's disciple' been thrown around in regards to Argentine coaches who produce fast and usually vertical football.
While it would be difficult to completely negate Bielsa's influence on many Argentine coaches, it is current U trainer Jorge Sampaoli who has proved to be the one whose strategy is one of the closest representatives of 'El Loco's' aggressive style of football.
In fact, Sampaoli may have something extra on his hands. While Bielsa's Chile was often frail defensively – the aggressive pressing leaving them exposed, with a dearth of top-level defenders accentuating the issue – Sampaoli has opted to often play with four at the back rather than three.
ANNUS MIRABILIS - UNIVERSIDAD IN 2011


Games Played
Games Won
Games Drawn
Games Lost
Goals Scored
Goals Conceded

43
29
11
3
97
37

Additionally, the forwards are tasked with covering plenty of ground, while positioned centrally, but also moving out wide to hassle the opposition full-backs and open up space for the attacking midfielders. With the pacy duo of Francisco Castro and Vargas up top, this has proved especially effective at unsettling opposing defences, not to mention Vargas' technical ability.
However, it must be said that La U's tactical setup and Sampaoli's coaching are only two sides of their recent success. Equally important has been their success in player acquisition, be it in the transfer market or bringing up players through the youth system. Despite the club's Apertura success, the summer of 2011 saw no less than four important players depart: midfielder Felipe Seymour, winger/forward Edson Puch, Manuel Iturra and Miguel Pinto.
While these players had been important contributors to Universidad's success over the years, the club did not err when it came to replacing them. In goal came reliable shot-stopper Jhonny Herrera following three successful seasons at Audax Italiano, while Gustavo Lorenzetti, who scored the fourth goal against Flamengo, has been a lynchpin as a creative midfielder. Marcelo Diaz, a youth product and Charles Aranguiz have shored up the holes left by Iturra and Seymour.
Indeed, much of La U's talent has come through the Chilean transfer market, and they have not only picked up promising youngsters such as Eduardo Vargas from Cobreloa, but they have found success in picking up cast-offs from Chile's other two 'giants'. Paulo Magalhaes came in from Colo Colo while Marcos Gonzalez, originally a Universidad de Chile youth product, came in from Universidad Catolica, and both have shored up the defence quite admirably.
Additionally, the youth system of La U has proved bountiful in recent years. In addition to Diaz, who did a stand-out job in midfield against Flamengo, promising forward Francisco Castro and Chile Under-20 midfielder Felipe Gallegos are other recent youth players who have made an impact in the first team. The best could be yet to come though, with 17-year-old Manchester United target Angelo Henriquez making his competitive debut in the Copa Chile in June.
It remains to be seen how long this blossoming project can last in the chaotic world of South American football, where teams can be built and picked apart in a flash. Looking to the near future, though, the club has comfortably qualified for the domestic play-offs, almost certainly in first place. On Wednesday night, and barring disaster on home soil, they should also pass into the next round of the Copa Sudamericana to face Arsenal de Sarandi.
Even if the stress of two competitions eventually proves too much for La U, at the very least they will have had a 2011 to remember.
Follow Nicholas Rosano on